Parents Split on Chicago Union Deal Securing Remote Learning, Mask Mandate
Nearly a month after Chicago Teachers' Union (CTU) reached its deal with the nation's third-largest school districts, parents in the city remain divided on the provisions of the agreement, some thrilled that their kids went remote amid COVID-19 outbreaks and others frustrated that mask mandates remain in place.
Last month, a major labor dispute between the union and Chicago Public Schools (CPS) kept students at home for five days as teachers battled with the district in a fight for more COVID protocols amid the city's latest Omicron wave. In a narrow rank-and-file vote, the CTU finally agreed to return to in-person classrooms provided that the district would expand COVID testing, lower the threshold for schools to flip remote and distribute more KN95 masks to staff and students.
While parents who spoke with Newsweek said nothing has substantially changed since the deal was reached on January 12, some are thankful that the small wins the union was able to secure were at least in place amid the tail-end of the surge in infections.
CPS parent Kristin Brody said that had it not been for the deal—in which it was established that individual schools would flip to remote learning if 40 percent of students were in quarantine or if 30 percent of staff were absent due to COVID for two consecutive days—her son's school would not have gone virtual less than two weeks after the agreement was reached.
"Until the day we closed, what changed in our school was absolutely nothing," Brody said. "We found out on a Friday night that we had hit the new metric from the CTU/CPS agreement for being able to close our school and our safety committee voted to close the schools."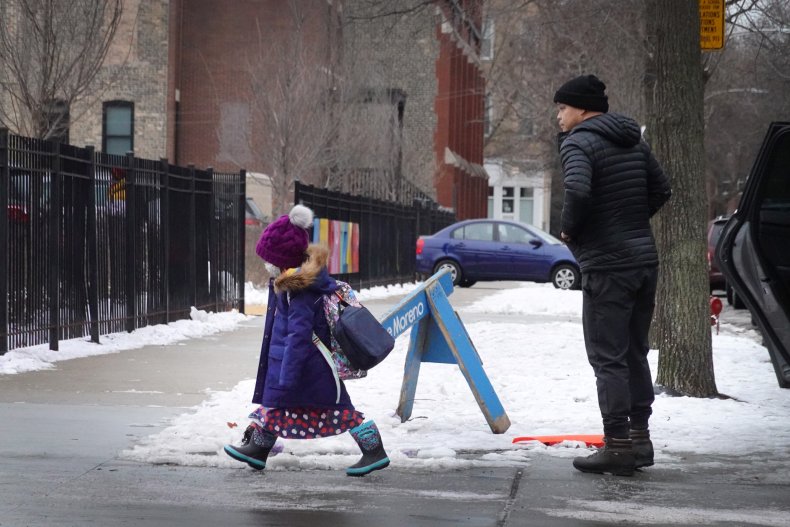 She said while she was grateful that the union deal allowed the school to go remote, she was concerned that no additional support was provided to the school while students were online learning.
"Our school closed for five days. There was no additional staff brought in for cleaning. There was no testing distributed to our students," she said. "We have a testing day once a week that CPS does and that day it was negative three degrees [Fahrenheit outside], so only two of our 500-plus students were tested."
"The only thing that has changed was that we closed for five days," Brody added. "We were given no additional support whatsoever, which is mind-boggling to me."
Nicole Granacki, another CPS parent, said that while the district and the union agreed to "increase student participation in screening testing and student vaccination" as part of the deal, that's exactly where those efforts ended at her daughter's school.
"What noticeably happened after the CTU work stoppage is that our principal, our school administration called everybody and encouraged them to sign up for the testing and to sign up for a vaccination clinic being hosted at our school," she told Newsweek.
"We actually had a huge jump in pre-K—It was something like 35 percent were enrolled in December and now it's 70 percent of our pre-K students are involved in testing," she said, adding, "but there's not actually more testing being done at our school because they don't tend enough people [to conduct testing]."
CPS told Newsweek that 360 staff and students were tested last week.
Granacki, who has been advocating parents at her child's school to enroll in testing, said there are over 630 students enrolled—meaning four in ten students in the program are not able to access testing. She also said families have been waiting four to five days for results when the district had vowed to return them in 24 to 72 hours.
"Whatever reason they have for me is not good enough, especially as a mom of an unvaccinated child," Granacki, whose four-year-old is too young to be vaccinated, said. "I'm relying on that weekly testing."
Ahead of the weekend, an Illinois judge struck down the statewide mask mandate in schools, ruling that Governor JB Pritzker exceeded his authority by imposing it.
However, in a Sunday statement, CTU pointed out that the agreement reached last month guarantees that mask mandates remain in place.
CPS reiterated that universal masking would still be required for students and staff come Monday, despite the ruling.
"Masking and vaccination have been key parts of keeping the virus transmission low in our classrooms this school year and successfully allowed our faculty and students to safely teach and learn in person, " the district said in a statement. "We will stay the course."
While some parents celebrated the decision, others insisted that CPS follow Friday's ruling and lift the mandate.
Over the weekend, a group called Awake Illinois called on parents to print a copy of the ruling to place in their children's backpacks and to help volunteer to put up flyers near schools that read: "Court ruled that Governor Pritzker is NOT the parent. YOU are!"
Illinois Attorney General Kwame Raoul's office has already filed an immediate appeal of the decision on behalf of the governor.
"We can only imagine the chaos in Chicago Public Schools had our members not fought and sacrificed for an agreement with the district," CTU wrote on Twitter on Monday. "Love and solidarity from our union to educators and administrators throughout Illinois dealing with threats to student and staff safety today."