Baby Found Starved to Death in Indiana Home, Parents Arrested for Murder
A mom and dad have been arrested on suspicion of murder and neglect after allegedly allowing their baby son to starve to death, police say.
Caylin Monroe, 23, and Jakob Scott, 22, were taken to jail on Tuesday, April 26, accused of the death of Silas Scott, who was almost three months old.
The Warrick County Sheriff's Office was called to the couple's home in Honeysuckle Drive outside of Evansville, Indiana, to provide aid to an unresponsive infant back in February.
But when the first responders arrived, they found that the baby was already dead.
A police report, seen by Newsweek, detailed how the coroner had forwarded a doctor's report to investigators, in which the doctor had "stated that his opinion for the case of death for [Silas Scott] to be neglect in the form of malnourishment and starvation."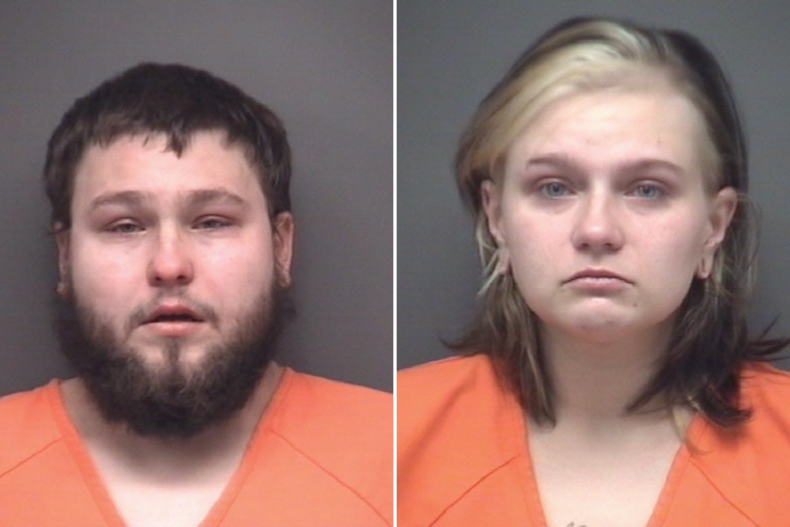 Investigators have been preparing a case ever since the baby's death, and Scott and Monroe were taken to jail on Tuesday, where they are currently being held without bond.
They were each charged with murder and neglect of a dependent resulting in death.
A heart-breaking tribute to the child, posted on an online obituary site, shows a photo of a tiny baby smiling in someone's arms. It says baby Silas had been given the nickname "Shuggie Bear" and his dates of birth and death are given as November 22, 2021, to February 15, 2022.
Mourners were provided with details about a chapel service at the Koehler Funeral Home on February 21, with a burial held nearby at Freedom Cemetery in Boonville, Indiana.
Sheriff Michael Wilder released a statement about the case on his force's Facebook page saying: "The investigation began in February 2022 after the Warrick County Sheriff's Office responded ... in reference to an unresponsive infant.
"Upon arrival, medical units determined the infant was deceased. As the investigation continued, investigators gathered enough information to submit the case for review by the Warrick County Prosecutor's Office.
"The Warrick County Sheriff's Office was assisted by the Warrick County Coroner, Warrick County EMS [Emergency Medical Services], the Boonville Fire Department, and the Indiana Department of Child Services."
He went on to detail the two charges laid against the parents and added: "Mr. Scott and Ms. Monroe have been lodged in the Warrick County Jail with no bond."
News of the case sparked shock and anguish online.
Hundreds of people commented after the sheriff's post to express their outrage upon learning of the child's death. Meanwhile, other commenters focused on baby Silas, wishing him peace.
According to the Centers for Disease Control and Prevention (CDC), in 2019 the infant mortality rate in the United States was 5.6 deaths per 1,000 live births. The five leading causes of infant death in 2018 were birth defects, preterm birth and low birth weight, injuries, sudden infant death syndrome, and maternal pregnancy complications.
Update 04/28/22, 9:53 a.m. ET: This article was updated to include elements from a police report.