A Third Of Parents Say Gathering With Family At Thanksgiving Is Worth COVID-19 Risk
Around a third of parents believe gathering with family at Thanksgiving is worth the risk of getting or spreading the coronavirus, according to a new poll.
With COVID-19 cases surging across the country, officials are urging people to avoid gathering in large groups over the upcoming holiday.
But the C.S. Mott Children's Hospital National Poll on Children's Health at Michigan Medicine, which received responses from 1,443 parents of at least one child aged 12 or under, found some parents may prioritize continuing holiday traditions over reducing the risk of transmitting the virus.
One in three parents said the benefits of gathering with family for the holidays are worth the risk of getting or spreading the virus, according to the poll.
It also found more than half of parents say it is very important for their child to see extended family over the holidays and share in traditions, but three-quarters of those surveyed also believe it is important to prevent the spread of COVID-19 at family gatherings.
The survey found that among parents whose children usually see extended family on Thanksgiving, almost two-thirds (61 percent) still plan to meet in-person for the holiday.
Those who are proceeding with in-person Thanksgiving celebrations said they will take precautions to keep people safe, according to the report.
Eighty-eight percent of parents said they would ask family members with COVID-19 symptoms or exposure to not attend. And two-thirds of parents said they will not invite family members who haven't been following guidelines to limit the spread of coronavirus, such as wearing masks.
The poll also found that two-thirds of parents plan to ask their guests to maintain social distancing as much as possible, but Sarah Clark, the poll's co-director, cautioned that enforcing rules may prove challenging.
"It may be difficult to maintain distance between children and high-risk adults throughout a multi-day visit or even during a lengthy dinner," Clark said. "Parents should be realistic about how feasible it will be to limit contact and think carefully about whether to gather in person with high-risk family members."
Clark said half of the parents surveyed said the pandemic has "substantially" decreased the amount of time children spend with extended family members —and some may be growing weary of it.
"As COVID-19 cases spike, many families are struggling with whether and how to continue their holiday traditions while balancing risks and benefits," Clark said.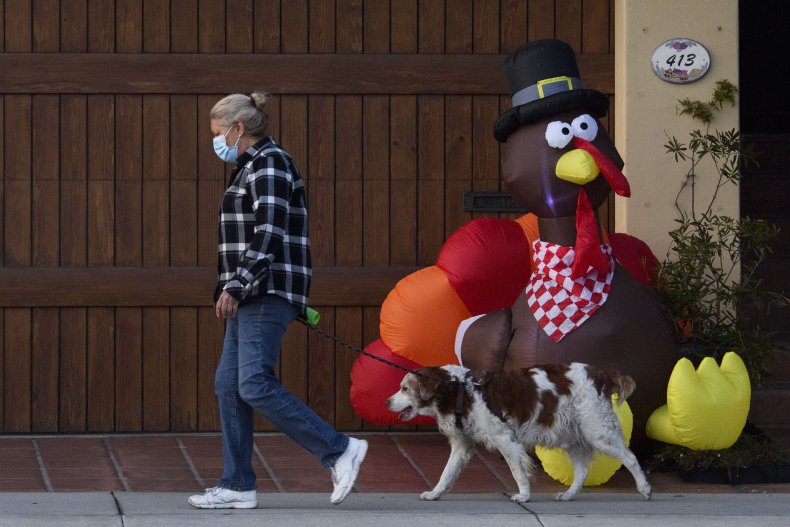 "Our report suggests that while many children have spent less time with relatives during the pandemic, some parents may have a hard time foregoing holiday gatherings in order to reduce COVID-19 risks."
But Clark added that with some children having returned to school and other activities in some places, it may be more dangerous for them to reunite with older relatives, who are are at the highest risk of getting seriously ill if they contract the virus.
"Families may need to consider alternative, safer ways to celebrate and preserve traditions in order to keep loved ones safe," Clark added.
She said a key strategy to minimize the risk of COVID-19 transmission will to be to limit the number of households getting together and choosing the people to include in celebrations carefully.
But she added: "We all know that large public gatherings carry great risks of spreading COVID-19. But small and casual social gatherings where people feel most 'safe' are also part of what has been fueling transmission.
"With COVID-19 cases increasing in every state, it is essential that all family members do their part to prevent further spread. That may mean celebrating the holidays a little differently this year."