Parents on Twitter Vent About Homeschooling Now That Schools Are Closing For Who Knows How Long
Along with the general need to stay socially distanced, American parents are facing a whole new dilemma: unintentionally homeschooling their children. American schools are closed for the foreseeable future in an attempt to slow the national spread of the coronavirus.
The extra time at home with children has many parents speaking out online about the stresses that come with answering questions from kids—generally trying to get everything done without distractions.
Coronavirus has forced teachers and students to turn to e-learning for at least the next few weeks, with some colleges even shutting down until the end of the spring semester. For most grade schools, middle schools and high schools, reopening classrooms seems to depend on when the coronavirus spread slows or ends.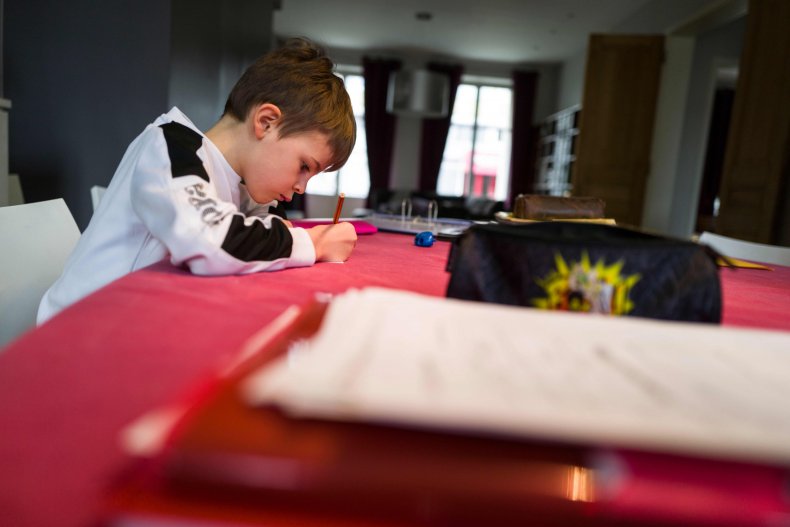 In the midst of their lifestyle change, parents have begun sharing on Twitter their odd new schedules, their honest thoughts on homeschooling and their gratitude for teachers.
It seems parents have a few different approaches for how to handle all the free time, and study time, with their children. It's made some parents put together strict and detailed guides for what their days should ensure. Others wrote about less scheduled and less supervised improvisations for their extended time with the kids.
Teachers around America seem to know what to say when kids ask difficult questions. Apparently, some parents were unprepared for the creative requests from their new students. Parents took to Twitter to reveal the strangest questions they've received so far, and how they're handling it.
Teachers are digitally stepping in to help parents navigate the uncharted waters. Some shared digital resources online or even offered to help chat with parents about productivity techniques.
Despite the confusion for some American parents, the general feeling is that teachers and children should not be in school as the virus continues spreading. In Britain, teachers and parents are demanding that Prime Minister Boris Johnson close schools.
Some American schools are still open, even as most politicians, medical experts and celebrities ask Americans to practice social distancing and "flatten the curve" of the virus' outbreak. The aim is to slow the spread of the virus and not overwhelm the country's medical system.