Parents And Voters, Not Teachers' Unions, Should Control Our Public Schools | Opinion
"You can recall the governor. You can recall the school board. But how are you going to recall me?" So taunted United Teachers Los Angeles (UTLA) union president Cecily Myart-Cruz regarding parental opposition to her role in keeping schools closed in the nation's second largest school district.
In a bombshell interview published last week, the UTLA's top boss brushed aside widespread concerns about the closures' impact on students. "There is no such thing as learning loss," she said. "It's OK that our babies may not have learned all their times tables.... They know the difference between a riot and a protest. They know the words insurrection and coup."
Los Angeles is just one of many places where parents' advocacy for reopening in-person learning was thwarted for far too long by special interests. Despite the fact that, as early as February, an overwhelming majority of parents voiced support for reopening, and despite robust scientific evidence to vouch for reopening's safety, teachers' unions continue to resist, often using the pandemic as pretext to push a radical agenda unrelated to education. UTLA, for its part, argued "safe and equitable conditions" for reopening the schools should include defunding the police, Medicare for All and a moratorium on new charter schools.
On the national level, top American Federation of Teachers (AFT) union officials interfered in the Centers for Disease Control and Prevention's February school reopening guidelines. As a result, the agency backtracked its plan to allow in-person instruction independent of the virus' community spread levels.
Other major school districts faced similar opposition throughout the pandemic. The powerful Chicago Teachers Union opined in a now-deleted December 2020 tweet that "The push to reopen schools is rooted in sexism, racism and misogyny." The Miami-area United Teachers of Dade sued the state of Florida in July 2020 to keep schools closed. AFT affiliates in Baltimore and in Fairfax County (just outside Washington, D.C.) each opposed at least four different reopening proposals, while the Philadelphia Teachers Union rejected three. The list goes on.
Why do teachers' unions across the country have the power to dictate the terms of school districts' reopening, while the tax dollars of parents—nearly 80 percent of whom supported in-person instruction—continue to flow towards those districts?
The answer is that, in nearly every state, the heads of public-sector unions have at least some power to force teachers, police officers, firefighters and other public employees into one-size-fits-all contracts that make public services more responsive to the interests of union bosses than to those of the public.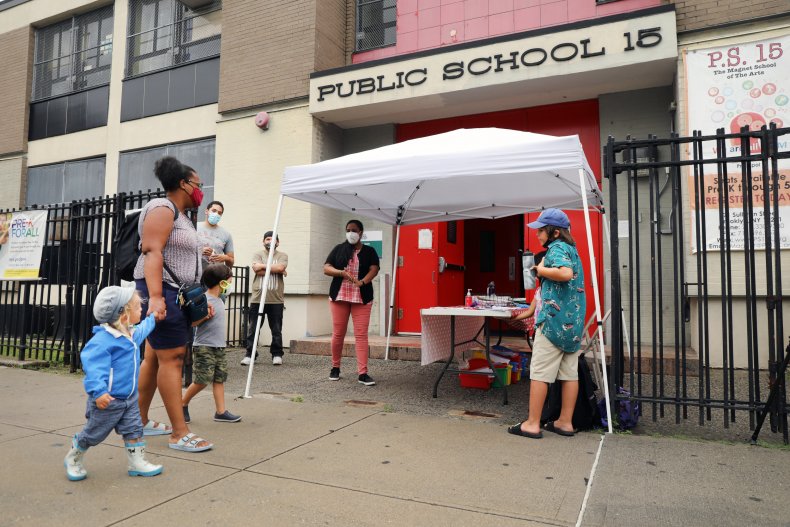 This means union leaders get to "bargain" with local government officials over policies concerning education, police and other public services, hamstringing the ability of elected officials to fight for the wishes of their voters. Should changes to those policies become necessary—for example, due to a spike in coronavirus cases—expect unions to take the opportunity to extract concessions during the newly needed "negotiations."
The monetary cost of letting union officials and their enablers in government perpetuate this system is steep. States with a high percentage of unionized public employees have significantly higher tax burdens than those with a low percentage, according to National Institute for Labor Relations Research data. But this doesn't even take into account the human costs associated with neglecting the public interest in favor of union agendas.
Union-prolonged school closures alone have wrought havoc. Three million of the most marginalized children in our nation's education system are estimated to have gone without a single school lesson. Obesity and eating disorders became more common among kids and teens, while mental health-related emergency room visits were 31 percent higher among American teenagers in 2020 than they were in 2019, per CDC data. Suspected suicide attempt emergency room visits among girls aged 12-17 early this year were up 50.6 percent.
Many parents responded to the madness by moving their kids into private or charter schools. However, union-label president Joe Biden has been intent on bailing out predominantly unionized school districts. His $1.9 trillion American Rescue Plan threw $200 billion at them, to be used primarily for "hiring"—in other words taking on more dues-paying unionized teachers—despite dwindling enrollment.
In the devastating wake of COVID-19 and the misguided policies that came with it, now is a better time than ever to take a close look at how public-sector unions became the entrenched special interest group they are today. Ending union officials' monopoly bargaining privileges would strike at the root of the problem while protecting the freedom of association of teachers and other public employees who do not feel that these unions represent them.
Otherwise, any time union bosses cry "crisis"—COVID or otherwise—will just be another opportunity for them to hold the public hostage in pursuit of radical political agendas.
Mark Mix is president of the National Right to Work Committee.
The views expressed in this article are the writer's own.