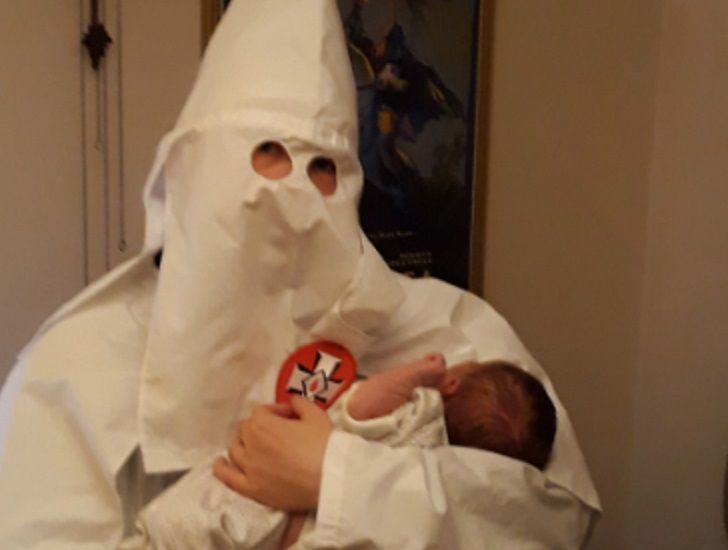 A couple who named their baby boy Adolf in admiration of the Nazi leader Hitler have been found guilty of being members of a banned British terrorist group.
Adam Thomas, 22, and Claudia Patatas, 38, were found guilty following a trial of being members of the far-right organization National Action, a white nationalist group who were proscribed by the British government in December 2016 after being accused of glorifying terrorism.
During the trial at Birmingham Crown Court, the jury was shown pictures of Thomas holding his baby son while wearing a Ku Klux Klan robe, as well as the couple posing with a Swastika flag. Thomas was also convicted of possessing bomb-making manual the Anarchist Cookbook, reports The Guardian.
A third defendant, Daniel Bogunovic, 27, was also convicted of being a member of National Action after being found to be a key figure in one of the white nationalist group's chapters. He was convicted of inciting racial hatred after posting National Action stickers on the grounds of a university.
Three other defendants, Joel Wilmore, 24, Darren Fletcher, 28, and Nathan Pryke, 27, all previously admitted their membership before the trial started, West Midlands Police said in a statement.
All six were arrested on 3 January and later charged with being concerned in the commission, preparation and instigation of acts of terrorism under Section 41 of the Terrorism Act 2000; namely on suspicion of being a member of a proscribed organization.
Barnaby Jameson QC, prosecuting, told the court earlier in the trial: "National Action is a group of vehement neo-Nazis, glorifying Hitler and the Third Reich," reports the Independent.
"Openly and aggressively Nazi, National Action is anti-black, antisemitic, anti-Islamic and anti-gay. The world into which this case will take you is a world in which any right-thinking person would wish did not exist."
The British government's Home Secretary, Amber Rudd, announced in December 2016 that National Action will be banned under the Terrorism Act 2000, making it illegal to be a member of the group or show support for them in any way, including recruiting for them or displaying National Action flags, posters or banners. It was the first time a British far-right group had been banned by the government.
Following the convictions, West Midlands Counter Terrorism Unit (WMCTU) Detective Chief Superintendent Matt Ward, said: "These individuals were not simply racist fantasists; we now know they were a dangerous, well-structured organization.
"Their aim was to spread neo-Nazi ideology by provoking a race war in the UK and they had spent years acquiring the skills to carry this out. They had researched how to make explosives. They had gathered weapons. They had a clear structure to radicalize others. Unchecked they would have inspired violence and spread hatred and fear across the West Midlands."
All six are due to be sentenced at a later date.