From Pariah to Pundit in Two Years: Mapping Eliot Spitzer's Comeback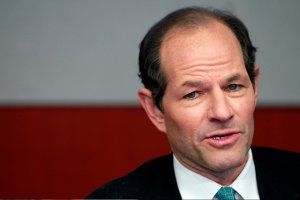 Today CNN announced that Eliot Spitzer would be co-hosting a talk show in the prime-time 8 p.m. slot. It's a remarkable comeback for the once disgraced governor of New York. Here's how he did it.
On March 10, 2008, The New York Times connected the dots between a prostitution ring, busted four days earlier, and Governor Spitzer. The article's opening was devastating. "Gov. Eliot Spitzer, who gained national prominence relentlessly pursuing Wall Street wrongdoing, has been caught on a federal wiretap arranging to meet with a high-priced prostitute at a Washington hotel last month, according to a law enforcement official and a person briefed on the investigation."
He gave a press conference in which he admitted he was Client 9, a john who used the services of Emperor's Club VIP, as the Times alleged. "I have acted in a way that violates my obligation to my family and violates my or any sense of right or wrong," he said. "I apologize first and most importantly to my family. I apologize to the public, to whom I promised better."
The governor did not address his political future. He cleared his schedule and holed up in his Manhattan apartment with, according to the Times, "advisers and friends, his wife and, eventually, three criminal defense lawyers."
On Wednesday, March 12, he resigned. And went underground for eight and a half months. Then, on Nov. 16, just days after federal prosecutors decided not to press charges against him, he wrote a piece on financial regulation for The Washington Post. Just a couple of weeks after that, on Dec. 3, he started writing columns for Slate—and even attended its holiday party at a former massage parlor in Manhattan. When asked by the FT's John Gapper how he was enjoying life as a columnist, he replied, smiling, "It sucks. I used to be governor of New York." Around the same time, the prostitute he was connected to in the scandal, Ashley Dupre, began writing her own column for the New York Post.
In April 2009 he was profiled in NEWSWEEK. In July 2009 he was profiled in Vanity Fair. By fall he was teaching at City College in New York, had lectured at Harvard, and had been on Real Time With Bill Maher on HBO. In all his interviews—indeed, in any appearances he made—he was candid and good-humored. In January of this year he even gave an interview to the Web site Big Think in which he directly addressed his scandal, down to whether or not he kept his socks on during sex.
Around this time pundits began talking of a political comeback for Spitzer—less than two years after he was disgraced. Even two books on the scandal—The Journal of the Plague Year, by former adviser Lloyd Constantine, and Rough Justice: The Rise and Fall of Eliot Spitzer, by Peter Elkind, did not stop his comeback. "That is part of what I have to deal with," Spitzer told the Times—the same paper that had revealed his transgressions—in April, "and staying under a rock won't change that."
In April he started filling in occasionally for Dylan Ratigan as host in the 4 p.m. slot on MSNBC. In may he covered Ratigan for a week. Buzz began to circulate that he might take a job at that network. But his name was also mentioned in connection with the 8 p.m. slot at CNN. Today it was announced that he would fill that role, with conservative Washington Post columnist Kathleen Parker. No mention of his scandal was made in the press release.