The First Day the U.S. Can Legally Withdraw From the Paris Agreement Is November 4
The first day the U.S. can legally withdraw from the Paris Climate Accord is November 4—the day after the presidential election. The outcome will decide whether the country will remain part of the agreement, with Biden pledging to opt back in and Trump to continue the withdrawal process.
Climate change is one of the key issues of the forthcoming election for many people in the U.S. Research from Pew published October 6 showed it is considered a very important issue by 42 percent of registered voters. A further 26 percent said it was somewhat important.
How much climate change will influence the outcome of the election remains to be seen, but there is speculation it could be significant.
The Environmental Voter Project, which aims to increase turnout among environmentally-minded voters, says that traditionally this group has had a poor record for showing up on election day. Should the campaign be effective, it could amount to millions of additional people giving their vote to Biden.
Mark P. Nevitt, associate professor of law at Syracuse University, specializes in climate change law and policy. He told Newsweek it is too early to tell whether 2020 will see the rise of the "climate change voter," but said "there is certainly more energy around climate change during a presidential election than at any time in my lifetime."
Climate change has been high on Joe Biden's agenda, with him recently announcing a $2 trillion plan for clean energy and environmental justice. He has also spoken about the climate in terms of job creation and renewable energy, and said it is one of the four crises currently facing the U.S. —alongside the pandemic, the country's economic situation and racial injustice.
Trump, on the other hand, has consistently downplayed climate change as a problem. While he has conceded humans have played a role in the global warming trend, throughout his tenure he has undermined efforts to mitigate anthropogenic impacts and placed climate change skeptics in high-profile governmental positions.
"I don't think he will do much of anything [in terms of climate change]," Nevitt said of Trump, should he win another term. "He has historically been skeptical of the science and would not look to push climate legislation or re-join the Paris Climate Accord. In fact, he would likely continue to prioritize jobs over environmental protection."
Trump withdrew the U.S. from the Paris Climate Accord in June 2017. On 4 November last year, the White House served notice to withdraw from the agreement—exactly three years after its start date in the U.S. This notice takes 12 months to take effect, meaning November 4, 2020 is the first day the country can legally withdraw.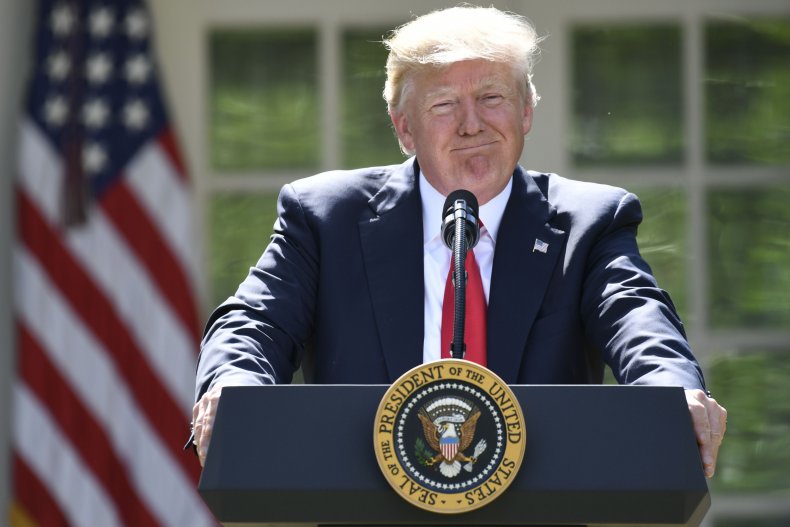 If Biden wins, he has said the U.S. will recommit to the Paris Agreement. Nevitt expects this to be announced immediately.
Jeff Colgan, Richard Holbrooke Associate Professor of Political Science at Brown University, agrees, saying the accord will be a top priority for a Biden administration. "Biden can't do anything about it until he takes office on January 20," he told Newsweek in an email. "But yes, I expect Biden would recommit to the Paris Agreement quickly, as he has promised—either on that day or soon thereafter.
"If Trump wins, I expect he would withdraw the U.S. on November 4. It would deepen the damage his administration has already done to the U.S. standing in the world, as global surveys repeatedly show."
Colgan is one of the scientists at Brown that published a foreign policy guide on climate change for the next president. The report sets out recommendations that would help the U.S. become a leader in addressing climate change through executive orders, rather than legislative actions. Rejoining the Paris Climate Accord is one of them.
"Biden can re-enter the Paris agreement fairly easily, since it doesn't need to go to Congress and does not bind the U.S. to specific emissions targets," he said. "Instead, it has only 'nationally-defined contributions,' which are not legally binding." Colgan also said Biden's campaign has pledged to reverse "a long list" of the environmental deregulations that have taken place under Trump.
The role of the environmental voter in the forthcoming election is unknown. Nathaniel Stinnett, founder and executive director of the Environmental Voter Project, told Newsweek that in 2016, just 2 percent of voters were what they consider "climate first." This has now risen to 12 percent.
"If, as many predict, presidential turnout passes 150 million voters this fall, that means the number of climate-first voters could be as high as 18 million this November, or more than triple the number of NRA members," he said.
The project is now targeting non-voting environmentalists in battleground states, and hopes to have directly contacted millions by November 3.
Nevit says that if Biden wins, it would be the "first real chance of climate legislation in many years."
"Congress last attempted a comprehensive climate legislation package in 2009, but this died in the Senate," he said. "The Obama Administration was forced to rely upon executive action, but these actions can be rescinded by future administrations. Climate legislation would be viewed as a legacy item—not unlike Obama's Affordable Care Act.
"We will also see the U.S. re-enter the world stage on climate change. The U.S. is the world's largest historical emitter of greenhouse gas emissions and the second-largest annual emitter behind China. The world needs U.S. leadership and innovation on the climate stage."