What We Know About Paris Shooting Suspect Karim Cheurfi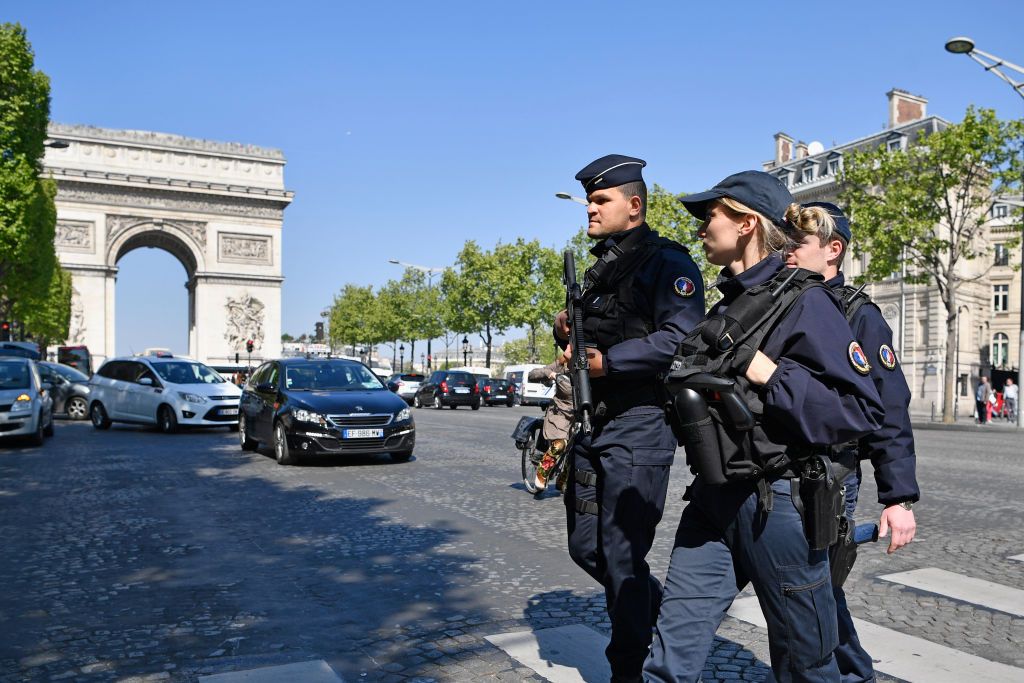 On Thursday night, a gunman opened fire with an automatic weapon on a police bus parked on the famous Champs Élysées in Paris, killing one officer and wounding two others before being shot dead as he tried to flee the scene. The attack came just three days before the first round of France's presidential elections.
Now, a picture is emerging of the man believed to be the attacker, named by the Associated Press Friday as 39-year-old Karim Cheurfi. A violent serial offender who held radical Islamist beliefs, he had a history of targeting police officers.
Police had arrested Cheurfi in February on suspicion of planning to kill police but released him because of a lack of evidence.
After the attack, police carried out raids in the suburb of Chelles, east of Paris, where Cheurfi's family home was located and took three members of his family into custody.
It has since emerged that Cheurfi had been convicted in 2005 on three counts of attempted murder, with police officers as two of the targets, they told AFP.
BFMTV reported he had opened fire on police during a car chase, then wounded another officer after taking control of a gun while in police custody.
He had been originally sentenced to 20 years in prison in 2003, and his sentence reduced to 15 years , La Parisien reported. It is unclear when he was released.
French prosecutor François Molins said at a press conference in Paris, "The identity of the attacker is known and has been verified," reported Liberation.
The Islamic State militant group (ISIS)claimed responsibility Thursday for the attack, claiming via its al-Amaq news agency it was carried out by one of its "fighters" it called Abu Yussef al-Balgiki, which experts said suggested the attacker was Belgian or spent time in Belgium. A Belgian prosecutor said there was no indication the attacker was Belgian, reported France 24.
Sources told AFP that a handwritten note in praise of ISIS was found near the attacker's body, and a Koran in his vehicle nearby.
In Antwerp, a man for whom Belgian police had issued a "wanted" notice in the wake of the attack surrendered himself to investigators on Friday, said France's interior ministry.
French Interior Ministry spokesman Pierre-Henry Brandet told Europe 1 on Friday police were hunting a second suspect flagged by Belgian security officials.
French President Francois Hollande called a meeting of the country's defense council on Friday, to discuss the attack. After the meeting Prime Minister Bernard Cazeneuve said that elite police units were on high alert for the election, and 50,000 officers had been assigned to special election duties.
"The government is fully mobilized. Nothing must be allowed to impede the fundamental democratic process of our country. It falls to us not to give in to fear and intimidation and manipulation, which would play into the hands of the enemy," said Cazeneuve in a statement released after the emergency meeting.
In an apparent bid to burnish her hardline anti-Islamist credentials, far-right presidential candidate Marine Le Pen has spoken out in the wake of the attacks, insisting the Socialist government adopt one of her campaign pledges and deport all foreign terror suspects.
In recent years there have been a series of high-profile terror attacks by violent extremists in France, with 86 people killed when Mohamed Lahouaiej-Bouhlel drove a truck into crowds celebrating Bastille Day in Nice, and an elderly Catholic priest murdered in an attack on a church in Normandy weeks later.