What Eagles of Death Metal's Paris Show Means for Bataclan Survivors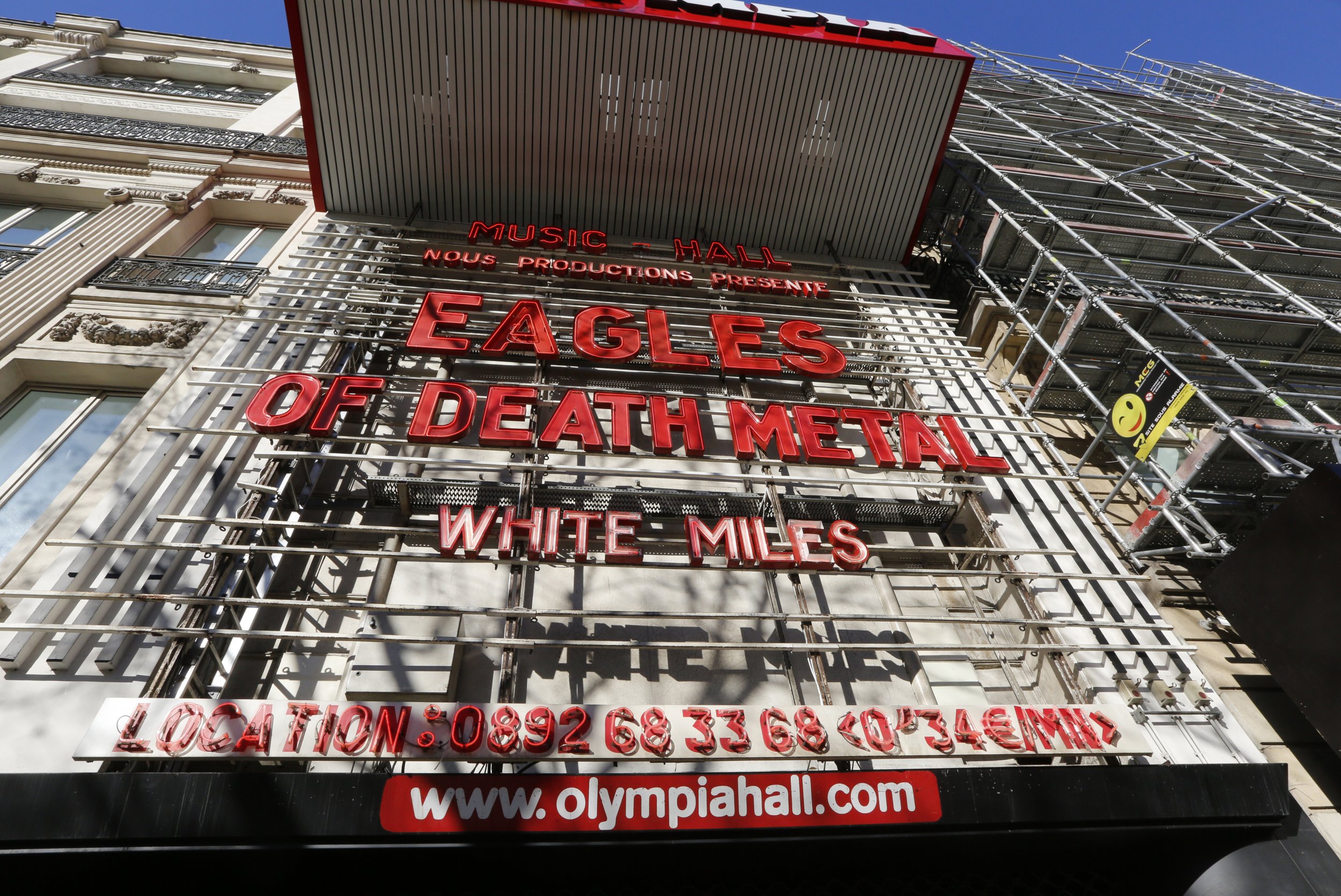 On Tuesday night, for the first time since a horrifying militant attack interrupted their set in November 2015, the band Eagles of Death Metal are returning to play a headline show in Paris. They'll walk out onstage at the city's 1,700-capacity Olympia music hall and, in front of an audience including survivors of the atrocity, will finish what they started.
"I'm kind of a raw nerve," frontman Jesse Hughes told France's iTele in an interview to promote the event. "I haven't had any nightmares and I've slept fine, but when I'm awake is when I see things that are nightmares."
Many of his fellow survivors will likely be able to sympathize. While 89 of the 1,500-strong crowd at the group's show at the Bataclan concert hall were killed by gunmen from the Islamic State militant group (ISIS), many others suffered scars both physical and mental. Some 350 were injured in the attacks, and more than 1,000 have since received state psychological support, according to The Guardian. Some are reportedly doubtful as to whether they can bring themselves to attend tonight's event, which will be protected by a heavy police presence and where psychologists will be on hand to help anyone in distress.
But what could be the mental impact of attending? "There are three categories of possibilities… that someone could experience," says Christina Buxton, a psychotherapist and Leader of the MSc in Psychological Trauma at the University of Chester. One group, she says, consists of people who have been experiencing severe mental health symptoms following the event and will simply decide not to attend.
Then, "there is the other category on the other end of the spectrum of people who perhaps have processed the event who haven't experienced it as quite as traumatic." This group will find it "useful," Buxton thinks, "because that will give them a sense of 'yes, I can go back into this environment, I can be safe.'" This group will not have developed any serious condition such as post-traumatic stress disorder (PTSD), says Buxton, but "it is normal to experience some sort of traumatic response… [and] that memory of the event, of the fact that they went to a concert and it was supposed to be an enjoyable thing it didn't turn out to be the case… will still be quite present only a few months down the line." Such people could find "closure" in Tuesday's event. They "can now experience the world as having some degree of safety in relation to that environment again, that without that attendance they wouldn't have been able to do."
But, adds Buxton, there may be a more problematic group of "those who feel that they have dealt with any symptoms and processed any traumatic memory." Such a group may, finding themselves in an environment very similar to the one they were in in November, experience traumatic memories, or even a total re-experiencing of the original event, what Buxton calls "a very scary and lonely place to be in."
"Often when we process a traumatic event our sensory memories get separated from our autobiographical memories," she says. "So we [can] have a sensory recall that almost bypassess the cognitive part of the brain." Such people could be surprised by the strength of their flashbacks.
So for some, Tuesday night could be an exorcism, for others a journey back into horror. But the band, at least, is determined to see it through. Hughes told iTele that he felt a "sacred duty" to complete the concert: "I can't let the bad guys win."