Paris Attacks: France and Belgium Widen Their Investigation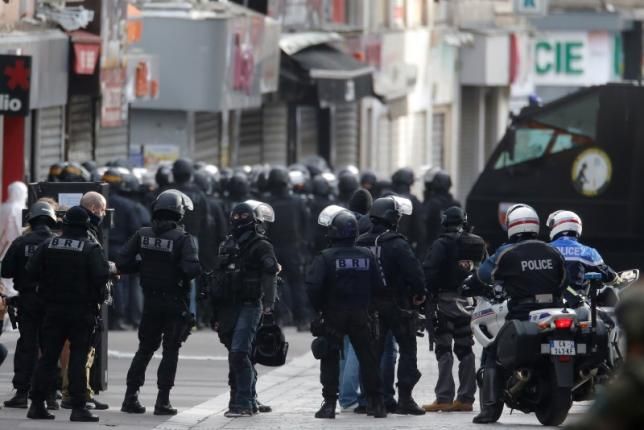 An investigation into the Nov. 13 attacks in Paris widened on Tuesday when French prosecutors said a man who provided lodging to the suspected ringleader must have known of a terrorist plot, and Belgium issued a warrant for a new suspect
Painting a chilling picture of ringleader Abdelhamid Abaaoud, the Paris prosecutor said that after dropping off the gunmen and suicide bombers at the cafes and bars where the attacks were to take place he had later returned to the scene while the killing spree was in full swing.
The coordinated attacks, in which 130 people were killed, prompted France to declare a national state of emergency and to step up air strikes in Syria on Islamic State, the militant group which has claimed responsibility.
President Francois Hollande, who is trying to rally global support for the military campaign against Islamic State, won the support of U.S. President Barack Obama on Tuesday during a whistlestop visit to Washington.
In Paris, prosecutor Francois Molins said Islamist militants who died during a shootout with police on Nov. 18 had been plotting an attack on the capital's business district. Reuters exclusively reported the plot to attack the district of La Defense on Nov. 18.
Molins said he had put under formal investigation a Frenchman who had provided lodging for Abaaoud and his associates at the apartment in the suburb of St. Denis targeted in the shootout.
"Jawad Bendaoud himself welcomed the terrorists on Nov. 17 towards 22.45 pm. He could not have been in any doubt ... that he was taking part in a terrorist organization," Molins told a news conference.
Bendaoud said before he was detained by police last Wednesday that he had been asked to put up two people for three days in the apartment, but that he had no idea one of them may have been the suspected mastermind of the Nov. 13 attacks.
Abaaoud died during the police raid along with Hasna Aitboulahcen, a woman believed to be his cousin, and an as yet unidentified third person.
BRUSSELS LOCKDOWN
French investigators are still piecing together exactly who did what when and have launched a hunt to find Salah Abdeslam, who is suspected of being the eighth attacker mentioned by Islamic State when it claimed responsibility.
RELATED COVERAGE
' FACT BOX: The hunt for the Paris attackers
' Paris attack ringleader returned to scene of crime: prosecutor
Abdeslam, 26, fled to Belgium the day after the shootings and his presumed presence in Brussels was one of the factors behind a security lockdown in the city over the past few days.
Fearing an imminent Paris-style attack, Belgium has extended a maximum security alert in Brussels until next Monday. About half the stations on its metro system will re-open on Wednesday along with city schools, but 300 more police officers and 200 soldiers will be deployed.
Belgium has been at the heart of investigations into the attacks since France said two of the suicide bombers in Paris had lived there. Five people, including two who traveled with Abdeslam back to Brussels, have been charged with terrorist offences in Belgium. Abdeslam's brother Brahim blew himself up.
Belgium's state prosecutor, in a statement announcing details of other people charged in the case, said on Tuesday it had issued an international arrest warrant for Mohamed Abrini, who was seen with Abdeslam two days before the attacks.
Abrini, 30, was filmed with Abdeslam at a fuel station in northern France on Nov. 11 and was driving the Renault Clio car that was later used by the attackers in the French capital.
An accompanying police wanted poster described Abrini as "dangerous and probably armed".
While major shopping centres in Brussels remained closed on Tuesday, two Ikea furniture stores on the edge of town reopened, along with some of the larger supermarkets in the city.
The Magritte museum remained shut, however, and Brussels had yet to decide whether to open its Christmas market on Friday in the historic Grand Place, where workers have set up stalls with an armored personnel carrier in the background.
"We are at the time of year when we are supposed to have a lot of people, and increase business," said Brussels toy shop worker Laeticia Shalaj. "People are scared and are afraid of leaving their homes."
Since the Paris killings, France has moved its flagship Charles de Gaulle aircraft carrier into the eastern Mediterranean to step up its bombardments of Islamic State targets in Syria and Iraq.
France said late on Tuesday its warplanes had destroyed an Islamic State command center at Tal Afar, some 45 kms west of Mosul in Iraq.
After talks with Hollande at the White House, Obama said: "We are here today to declare that the United States and France stand united in total solidarity to deliver justice to these terrorists and those who sent them and to defend our nations."
RELATED COVERAGE
' Lodger of raided French flat knew he was helping terrorists: prosecutor
' War of words as Belgians rebuff French security sneers
' Flight bookings, travel stocks fall as warnings rise after attacks
As millions of Americans prepare to travel for the U.S. Thanksgiving holiday on Thursday, the State Department issued a global alert of "increased terrorist threats".
Hollande is due to visit Moscow on Thursday, where he and Russian President Vladimir Putin are expected to discuss ways of boosting their campaign to crush Islamic State.
EXPLOSIVE BELT?
Tracing Abdeslam's movements since the attacks has been a main focus of the investigations in Paris. An explosive belt was found dumped near the capital on Monday, close to a location where his mobile phone was detected the night after the attacks, the prosecutor said.
Molins said the belt was similar to those used by the bombers during the Nov. 13 attacks though it was still being established on Tuesday whether the belt was Abdeslam's.
One theory was that Abdeslam had intended to blow himself up in the 18th district of Paris but had abandoned the plan, although it was not clear why.
In a sweep facilitated by the state of emergency, police have conducted 1,233 searches of homes since Nov. 13, taking 124 people into custody and confiscating 230 weapons, of which half were rifle-size or army-grade, according to the Interior Ministry.
Police backed up by helicopters descended on a southwestern French village on Tuesday where Salafist preacher Olivier Corel, nicknamed the "White Emir" and suspected of mentoring young jihadists, lives, a source close to the case said.