Paris Attacks Present Opportunities and Peril for GOP Hawks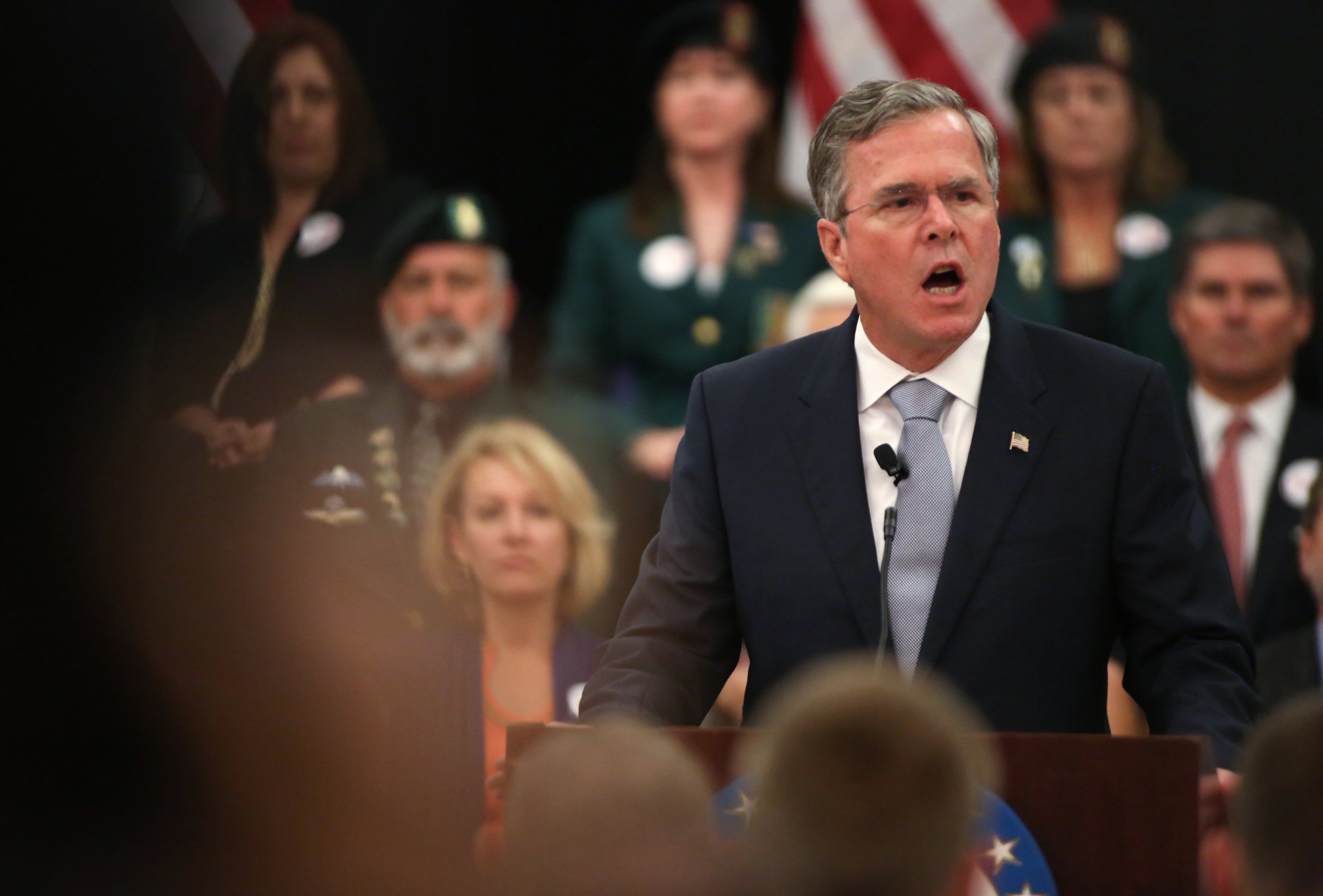 The Paris attacks have reopened the Republican Party's divide between its traditional "peace through strength" hawks and the fiscally conservative, libertarian-leaning Tea Party wing. The hawks seem to be betting the fallout gives them the upper hand.
In a speech at the Citadel in South Carolina on Wednesday, former Florida Governor Jeb Bush told the military school's audience that as president, he would "fight to restore the Patriot Act's metadata program," reiterating a pledge he made Monday morning on MSNBC. The controversial program allowed the National Security Agency to conduct bulk collection of Americans' phone records (though not the content of phones calls, themselves). The spy practice was one of many exposed by NSA contractor Edward Snowden in 2013 and banned under the USA Freedom Act that Congress passed by wide margins in June, with 22 Republican votes in the Senate and 196 in the House.
But now the intelligence community is citing the Paris attacks to raise questions about post-Snowden curbs on surveillance. And on Wednesday, Bush echoed the sentiment, arguing that the metadata program is needed "to ensure we have the ability to connect the dots between known foreign terrorists and the potential operatives here in the United States of America."
Marco Rubio is going even further. Florida's junior senator and presidential candidate signed on to new legislation Wednesday proposing to postpone the Freedom Act from going into effect until 2017 (it's due to kick in November 29) in the wake of the Paris attacks, which left 129 dead and hundreds more wounded. "The USA FREEDOM Act signed into law earlier this year left our intelligence community with fewer tools to protect the American people and needlessly created more vulnerabilities and gaps in information gathering used to prevent terrorist attacks at home and abroad," Rubio said in a statement.
And Rubio is hitting fellow GOP senator and 2016 contender Ted Cruz of Texas for supporting the measure in the Senate. Cruz and Kentucky Senator Rand Paul have been some of the Senate's most outspoken critics of security programs that they say threaten American's civil liberties, including NSA spying and drone surveillance. Paul, who's also running for president, voted against the Freedom Act in June but only because he thought it didn't go far enough in protecting citizens' privacy.
"I think it's a distinctive issue of debate in the presidential race," Rubio said Monday at a forum hosted by the Wall Street Journal in Washington, D.C. "At least two of my colleagues in the Senate aspiring to the presidency, Senator Cruz in particular, have voted to weaken the U.S. intelligence program."
Both Rubio and Bush, moreover, are hammering lawmakers in Congress for allowing cuts to the defense budget as part of the spending caps under sequestration. Fiscal conservatives in the House and Senate have been content letting the 2013-enacted sequestration cuts go into effect as part of an effort to pare back government spending. This has created a rift with the party establishment and veteran defense hawks, including Senator John McCain and now-retired Representative Buck McKeon, who chaired the House Armed Services Committee. In his remarks at the Citadel, one of six senior military colleges in the United States, Bush talked of "careless, chronic neglect" of the military by the president and Congress.
And he laid out a long—and expensive—wish list of new or expanded programs he has in mind, including adding 40,000 more active duty soldiers, a new generation of aircraft, a larger naval fleet and an acceleration of America's submarine program. Bush did not specify what kind of weapons systems he was talking about or how much they would cost.
Rubio presented an equally if not more ambitious plan for expanding the military earlier this month that included reversing cuts to the Marine Corps and Army, building and fielding new bombs and expanding the naval fleet. Like Bush, he wants to reverse the defense spending cuts that have occurred as part of the sequester.
It's easy for candidates to talk up new programs and spending when they don't have to make the budget trade-offs required to actually implement them, particularly as Americans' fears about ISIS and national security spike after the Paris attacks. But the hawks in the GOP presidential race also risk getting ahead of public opinion, particularly when it comes to dispatching thousands of ground troops to the Middle East. Before last Friday's attacks, a majority of Americans opposed sending ground troops to Iraq and Syria, a figure that had held steady for over a year. A new poll released Wednesday by Bloomberg showed Americans were split on the question.
In his speech, Bush offered tentative support for a bigger ground presence in Syria to fight ISIS, beyond the few dozen special operations forces President Barack Obama has authorized. But he suggested it would still be limited. "The United States, in conjunction with our NATO allies and more Arab partners, will need to increase our presence on the ground, the scope of which should be in line what the military generals recommend," Bush said. He added, however, that "the bulk of these ground troops will come from local forces."
Another 2016 Republican candidate, Ohio Governor John Kasich, also offered an endorsement for ground troops at his own national security speech Tuesday morning in Washington, D.C., but was similarly vague on the size of the force and America's role in it. "We will not stop this with air power," Kasich said of ISIS, saying it would require a ground force supported by a coalition of "many different countries," including but not limited to NATO. "We absolutely need the Saudis and the Jordanians and the Egyptians and the Gulf states."
Asked about the number of American troops that would be necessary, Kasich replied, "That's a case where the military and the civilian experts will make recommendations."