France Declares State of Emergency After Attacks in Paris Kill More Than 100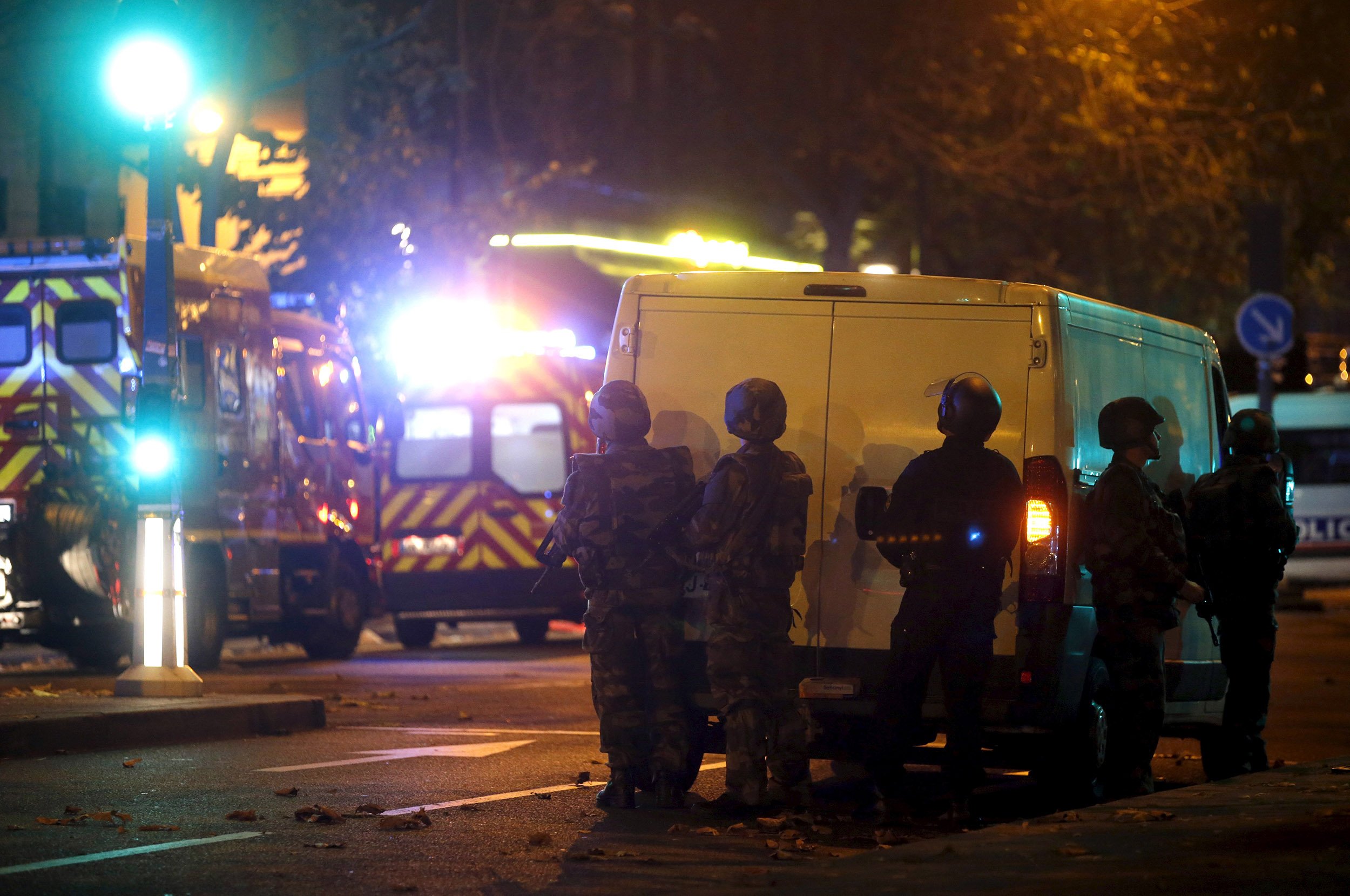 Updated | France implemented tight border controls late on Friday after a series of attacks in Paris left more than 100 dead and dozens more injured. At least six separate attacks were reported, including a shooting at a restaurant, two explosions at a nearby stadium and a hostage situation at a local concert hall.
French President Francois Hollande made the decision to tighten its borders about an hour after the attack. He also called a state of emergency. French cabinet officials will meet later on Friday to discuss the attacks. Numerous metro lines were shut down. Paris police have asked residents not to leave their homes or businesses "unless absolutely necessary." Late Friday, Paris public prosecutor François Molins said the death toll in the attacks is likely to exceed 120, while some outlets reported an estimated death toll of 140 or higher.
"What terrorists want is to make us afraid, to seize us with fear," Hollande said at a press conference Friday. "There is something to be afraid of but faced with this fear, there's a nation that defends itself and mobilizes itself. Once again we'll be able to overcome the terrorists."
Former French President Nicolas Sarkozy rallied behind Hollande on Twitter, saying he supported his decision to declare a state of emergency. "The terrorists have declared war on France," he tweeted. "Our response must express a firmness and a determination every moment. In these tragic circumstances, the solidarity of all the French is required."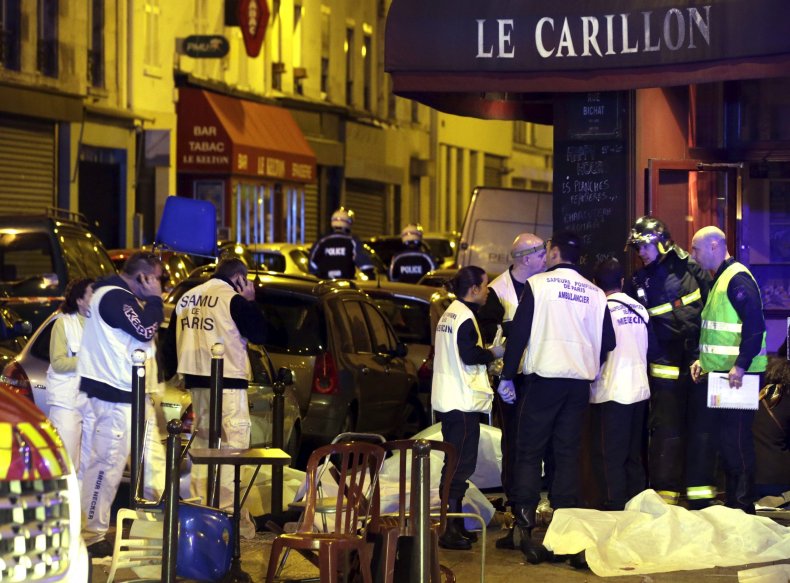 United States security officials believe the attacks were coordinated. France has launched an investigation, though French official have not confirmed if the attacks were indeed acts of terrorism.
"This is an attack on all of humanity and the values we share," U.S. President Barack Obama said during a press conference on Friday. "We're going to do whatever it takes to work with the French people and nations around the world to bring these terrorists to justice."
U.K. Prime Minister David Cameron agreed, tweeting: "I am shocked by events in Paris tonight. Our thoughts and prayers are with the French people. We will do whatever we can to help."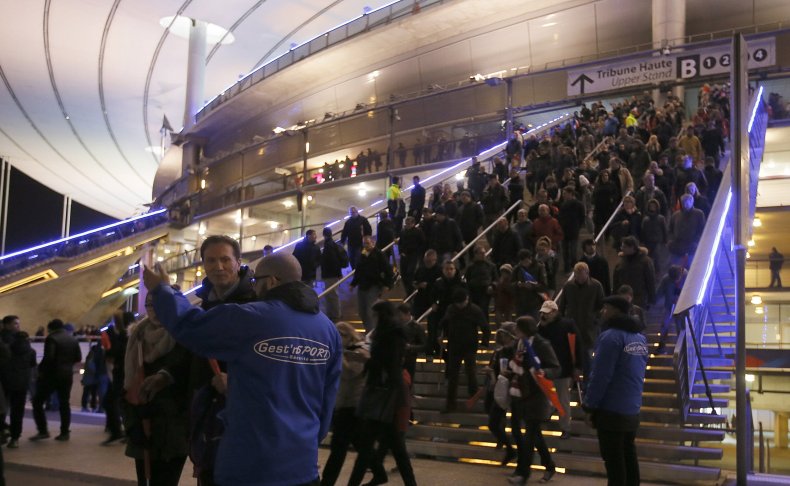 Many were taken hostage at the Bataclan concert hall on late Friday, where the band Eagles of Death Metal was performing. Just after midnight, 15 to 20 hostages were able to leave the Bataclan escorted by police, some walking with their hands above their heads. The deputy mayor of Paris confirmed the siege ended around 1 a.m.
In total, at least five attackers were killed on Friday, Molins, the Paris public prosecutor told the press. And the head of the Paris police, Michel Cadot, reportedly said all assailants involved in the carnage are thought to be dead. It remains unclear how many people were involved in planning the attacks and if they're still at large.
"We were at a cafe [near the concert hall] called Ober Mamma smoking a cigarette outside," Charlotte Pautoin, 29, tells Newsweek. "We saw people running towards us and police arriving. Someone said there was some kind of attack so we ran inside.There were 80 of us inside the restaurant. They turned off the lights and we all lay down on the ground until the police arrived and then told us to leave the restaurant so we left and ran down the street."
Around the same time, an explosion was reported at a bar near Stade de France, where France's soccer team was hosting Germany. A second explosion was reported moments later at the stadium. President Hollande, who was watching the soccer match, was evacuated.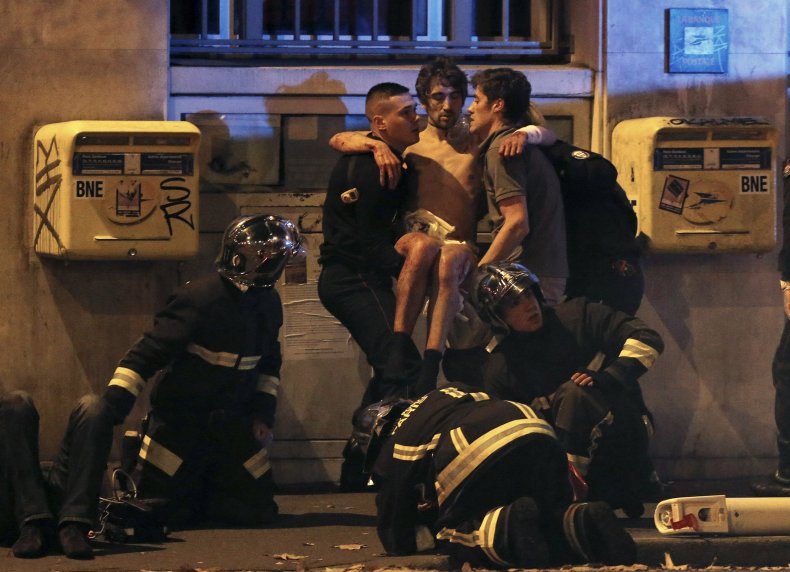 "We heard shots and thought people were celebrating," Salim, a 30-year-old at the stadium who declined to give his last name for safety reasons, tells Newsweek. "But then there was an explosion and everyone started running—it was like a stampede, people climbing over each other. I saw kids that had fallen to the ground, people that had been hit. Some people were badly injured."
Shootings occurred in the 10th and 11th arrondissements (quarters) in Paris at the same time, including at the bar Le Carillon. "I saw five bodies on the ground covered in a white sheet," says Sabien Caron, 15, who lives nearby a restaurant where one of the shootings occurred. "I saw two more people lying on the ground with the emergency services trying to resuscitate them It's a very calm neighborhood and nothing like this has ever happened before."
In the aftermath of the attacks, other cities around the world were on high alert. "The NYPD is in close touch with our French police counterparts as well as our FBI partners here, following the tragic events in Paris," the department said in a statement.
No one has taken responsibility for the assaults, but jihadists on social media were praising them, using the hashtag "Paris is burning" on Twitter.
A map of the locations targeted:
Additional reporting by Max Kutner and Lucy Westcott