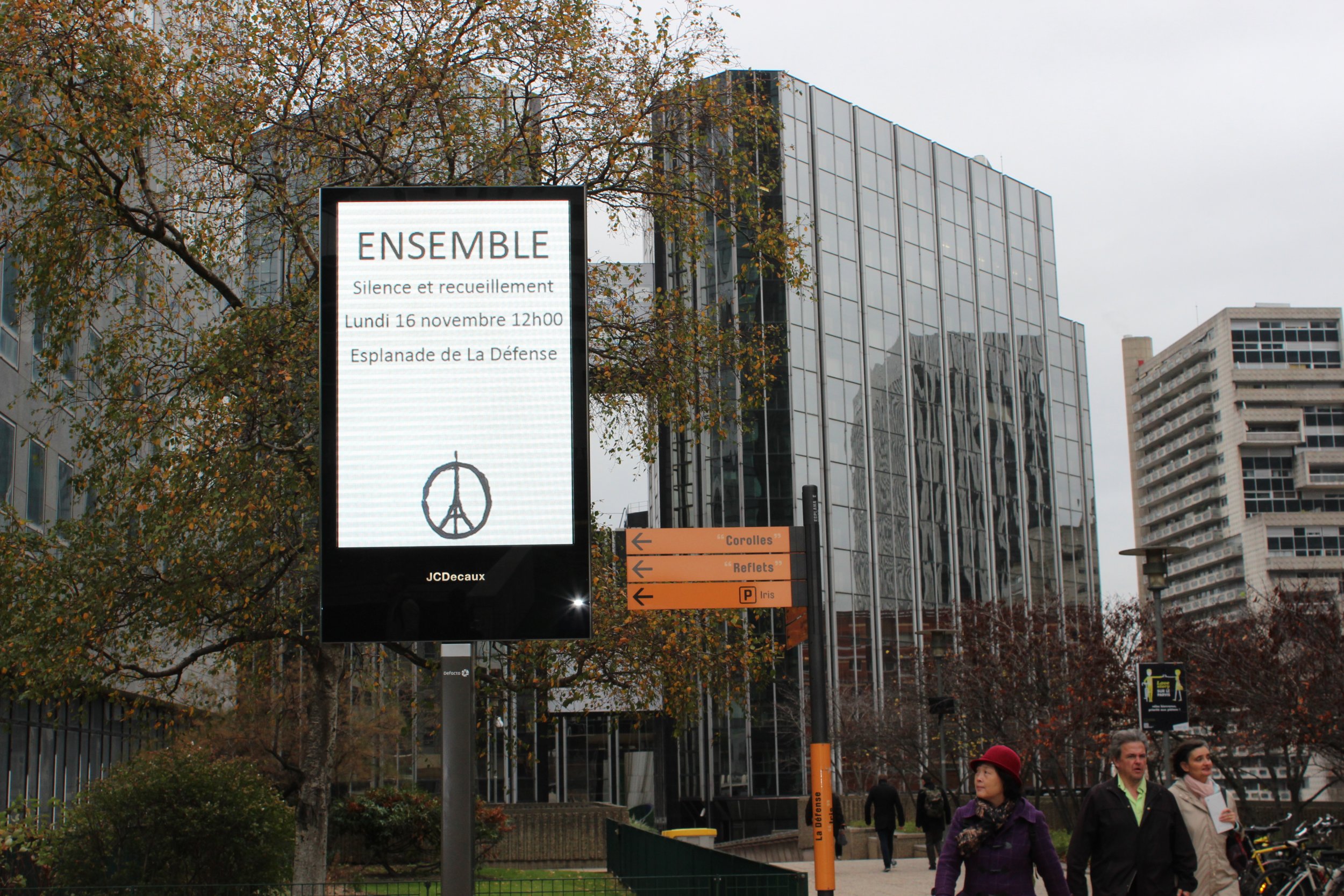 In many ways, it was a Monday morning like any other in Paris. Traffic snarled around the Gare du Nord and thundered down the Champs-Élysées. As the dark began to lift, the Métro filled with the usual mix of rush-hour commuters—impatient, tired and irritable.
But this Monday was also different from the one last week or the week before that. For the first time since the attacks last Friday that killed at least 129 people, the city went back to work. After a weekend when anyone walking the streets of Paris would pass seemingly endless rows of shuttered facades, small actions like stepping onto the Métro or opening a cab door took on new significance. They became about overcoming a brief flash of anxiety and ignoring the internal question: Is it safe?
For Stefan Locatelli, a 32-year-old financial consultant, it had one similarity. "Every Monday I don't feel good about going to work," he says, laughing. As the Métro sped toward his office on the Champs-Élysées, Locatelli echoed what so many Parisians have said about the attacks: "Life goes on."
But not everyone is as stoic as Locatelli. "People are a little stressed that something might happen," he says. "Everyone knows someone caught up in the attacks." But, he insists, how workers feel today is not the issue. "It's more about how people will look at each other," Locatelli says. "The medium term and the long term, how people will look at Muslims—stupid things like that." As the train reached his stop, Locatelli shrugs. If there are more attacks, he says, so be it. "I had a good life."
The train rumbled on to La Défense, the city's financial district at the end of the line. The area is somewhat incongruous, with gleaming skyscrapers rising from behind brutalist apartment blocks. Workers clustered together outside their office buildings smoking cigarettes, and it's only when armed soldiers round the corner that things started to feel unusual.
Away from the soldiers stood three women, talking about their weekend and stealing a quick smoke before heading back to work. Deborah, a computer consultant, says coming in today was difficult. "Of course we are afraid, we are traumatized," she says. "We fear around the clock for us, for our children." But, she adds, taking the day off work simply wasn't an option. "We must live, we must work," she says. "Life is not finished."
Deborah's friend Rym, 32, interjects, "But this is not Paris. It is like being in a movie, people are so afraid." Yet despite this, the women don't know anyone who has taken the day off, and despite safety concerns, they do not wish to stay at home.
But those in the financial district are somewhat sequestered from the events of central Paris. La Défense is both geographically separate and entirely alien—its skyscrapers the opposite of Paris's historic architecture. But in central Paris, as in the financial district, it was also business as usual. The Boulevard Hausmann was bustling again, with all its shops and cafés open.
Those who may have struggled most with returning to work are the employees based close to the sites of the attacks. On the Boulevard Voltaire, a few hundred feet from the Bataclan concert hall, is the restaurant Les Délices du 24. It is named for its street number. The Bataclan—where gunmen killed 89 people—is at number 50.
The menu at Les Délices du 24 is a mixture of French and Turkish cuisine—omelets are listed next to different types of kebabs. At lunchtime on Monday, the small restaurant was almost empty. "We are definitely less busy than normal," says the manager, Yusuf Aoudi. "People are clearly afraid."
But Aoudi was adamant that he was not scared. "Maybe I was a little yesterday, but not today," he says. "There's no point staying at home. What can you do there—just sleep?" Like the other business owners nearby the Bataclan, Aoudi says he is determined to keep his restaurant open and not worry about future attacks. "It's important to stay positive," he adds.
A couple of hours later, Parisians started heading home again, weaving their way through the various arrondissements by car, bicycle, bus and Métro. Their return home marked both the end of France's three-day mourning period and their victory over fear and doubt. Though the city has a long way to go before it is healed, the workers of Paris showed today—as they have all weekend—that they would not be cowed by terror.