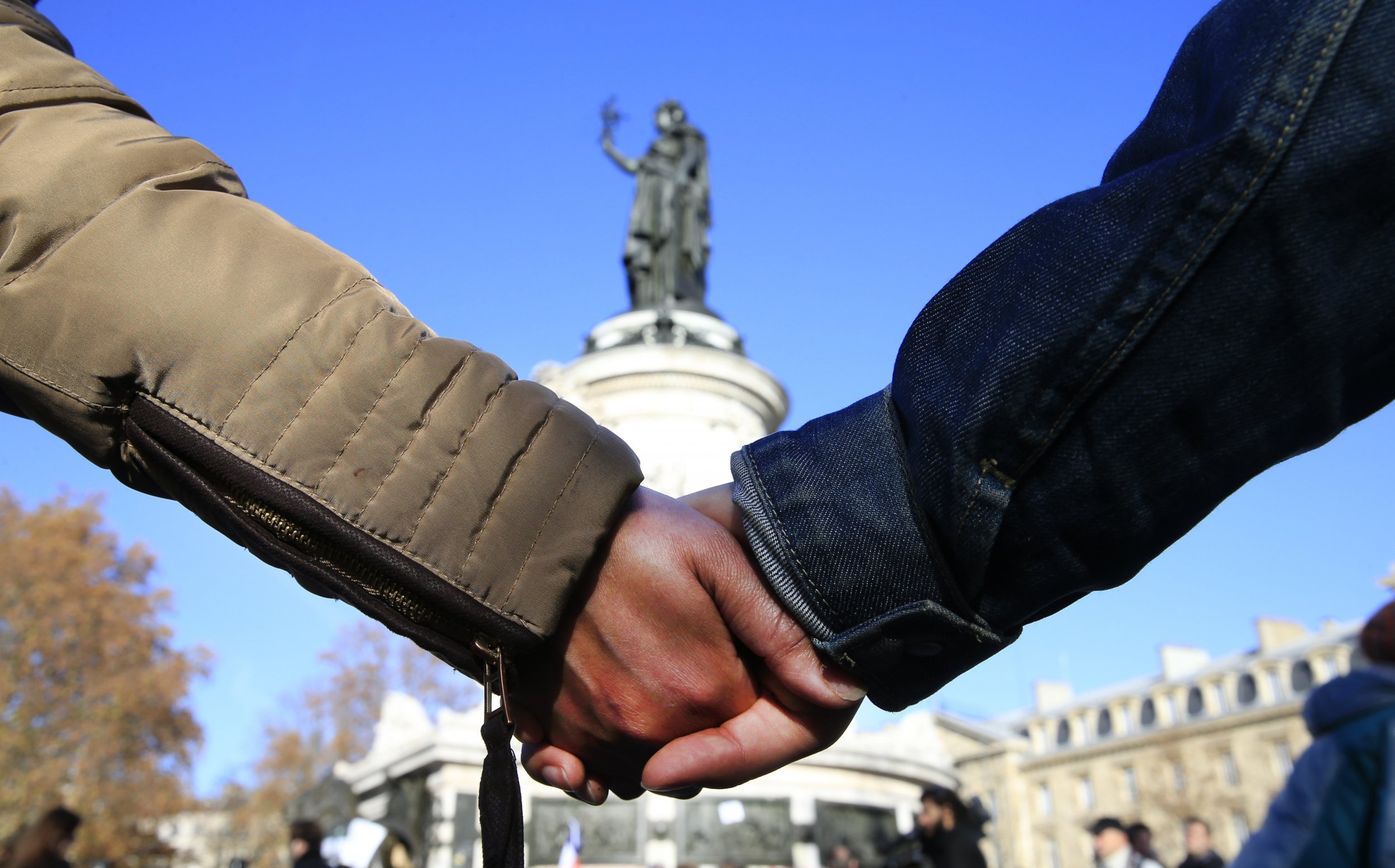 Updated | Even though Friday's attacks in Paris made it seem like the entire globe was at a standstill, the world continues to spin on its axis. As far-flung communities attempt to make sense of a senseless tragedy, the manhunt for suspects in the attacks that killed at least 132 people and wounded hundreds more is ongoing, stretching into Belgium and beyond.
Many of the victims, young people, had just wrapped the work week and kicked off their weekends in the City of Lights at a concert, a cafe, a soccer match. On Saturday, the first identities of those who perished in the attacks began to surface. They were French and Tunisian, Romanian and Spanish, of the law and of creative industries. It's evident that the attacks were non-discriminatory, given that these were people of all colors and creeds, upbringings and ambitions.
People from at least a dozen nations have been reported dead, and the majority have yet to be identified amidst the carnage. The militant group ISIS has since taken responsibility for the attacks.
- At the Bataclan Concert Hall, 87 people died in the worst of the coordinated attacks. A 26-year-old Parisian criminal lawyer, Valentin Ribet, was among those who died in the shooting at the venue, The Guardian reports. In a statement, Ribet's firm, Hogan Lovells, described him as "a talented lawyer, extremely well liked, and a wonderful personality in the office." He specialized in white-collar crime.
- El Mundo reports that a Spaniard, Alberto González Garrido, 29, didn't make it out of the concert that night. His wife managed to escape and survive. Garrido had been a nuclear energy specialist and had been with Électricité de France since 2009. The Spanish government, offering condolences to Garrido's family, said his death represented "the pain of the entire Spanish community."
- Thomas Ayad, 34, was killed while at the Bataclan concert as well. He had been an international product manager for for Universal Music Group's Mercury Records imprint, according to the Los Angeles Times. Lucian Grainge, a chairman for Universal Music Group, wrote in a statement to his colleagues: "I cannot even begin to express the depth of my sorrow," calling the attacks "an unspeakably appalling tragedy."
Another former Universal Music Group employee, Manu Perez, is among those who died at the concert. His girlfriend, Précilia Correia, died alongside him.
- Mathieu Hoche, 38, perished at the concert, reports AP. He worked as a technician at France24, a news channel. Another fatality at the Bataclan, 37-year-old Maud Serrault, had just been married, reports Reuters. "It is all so senseless," a friend, Caroline Pallut, told the news agency.
- The members of Eagles of Death Metal, the band performing a sold-out concert at the Bataclan, managed to escape, but some of their own also died. SPIN reported that Nick Alexander, the merchandise manager for the rock group, was among those who lost their lives on Friday. Dan Auerbach, of the band the Arcs, had been rehearsing close by when the mayhem ensued. Alexander, 36, was also the merchandise go-to for Auerbach and others: "He was a really nice guy, always with his mod haircut and his big smile," he told Rolling Stone.
- Guillaume Decherf, a French music journalist writing for the magazine Les Inrocks, died at the concert, according to a statement from the magazine. A father of two, he was 43. On Twitter, the magazine remembered Decherf and posted a review he had written about Eagles of Death Metal's album, Zipper Down.
- Fanny Minot, an editor for Canal + Supplement, died at the Bataclan, her colleague Hugo Clement confirmed.
- Luis Felipe Zschoche Valle, 33, of Chile, died at the concert. A musician and guitarist for the band Captain Americano, Valle had been living in Paris for eight years along with his French wife, according to USA Today.
- Musician Romain Dunay, 28, died at the show. "You are immortal," a friend wrote of him on Twitter.
- Cedric Mauduit, a director of modernization with Calvados, died while attending the concert with friends, the government said via a statement.
- Pierro Innocenti, an Italian restaurant owner, posted a photo of the Bataclan's front facade to Facebook before he died. Fellow restaurateur and friend Stéphane Albertini died there, as well.
- Lola Salines, 28, who skated with Paris roller derby team La Boucherie de Paris, was killed during the Bataclan attacks. Her father, Georges, confirmed her death via Twitter.
- A music fan from St. Tropez, 33-year-old Aurélie de Peretti, had been visiting for the weekend. She died at the Bataclan, her sister confirmed to TIME.
- Buzzfeed confirmed that German Ferey, 36, was at the Bataclan with his girlfriend when he was killed.
- Filmmaker Maxime Bouffard, a rising talent, had also been at the rock show when he died, according to France Bleu.
- Nicolas Classeau, director of the Universitaire de Technologie in Marne-la-Vallée, was remembered by his students and fellow co-workers on Twitter. He had been enjoying a night of live music.
- The architect Quentin Mourier, 40, didn't make it out of the Bataclan alive. He had been a mainstay in France's well-established urban farming community, and fellow members mourned his passing online.
- Chilean Patricia San Martin Nunez, 55, and her French daughter, Elsa Delplace, 35, also died in the attacks. They had attended the concert together, according to AFP. According to Chile's Foreign Ministry, the two women were the niece and grandniece of Ricardo Nunez, Chile's ambassador to Mexico.
- Students number among the deceased, as well. Nohemi Gonzalez, a Mexican-American college student at California State University, Long Beach died at the restaurant Petit Cambodge, where she was having dinner with fellow students from California. She was 23 years old, a senior industrial design major, and had been studying abroad in Paris at Strate College of Design, according to Buzzfeed. Tim Mraz, Gonzalez's boyfriend, wrote an elegy on Instagram, saying: "Such a bright soul and the sweetest girl with a smile on her face."
- Elodie Breuil, 23, was studying at another design college, Conde. She died in the Bataclan shooting, reports TIME, and had marched after the Charlie Hebdo militant attacks earlier this year that took the lives of dozens working at the satirical French paper.
- An Italian Ph.D. student, Valeria Solesin, 28, didn't even make it inside the Bataclan. She died while trying to enter the concert venue, reports Reuters.
- Friends of French couple Marie Lausch and Mathias Dymarski took to Facebook to both announce their deaths in the attacks and mourn their passing. They had been at the concert together.
- Two Belgians who lived on the same street as the Bataclan, Milko Jozic and Elif Dogan, died in the shootout, confirms DH.be.
- Moroccan citizen Mohamed Amine Benmbarek died in the attacks, and his wife remains in critical condition after being shot three times, his cousin wrote on Facebook.
- Algerian violinist Kheireddine Sahbi, 29, was reported dead by the paper Chouf Chouf. He had been living in Paris, studying music.
- Le Figaro reports that two Tunisian sisters, Halima and Houda Saadi, 37 and 35, respectively, were out celebrating a friend's birthday at a cafe when they died. Halima died on site, and Houda passed away later.
- Asta Diakate, cousin of the French soccer player Lassana Diara, died in the shootings. On Twitter, Diara confirmed the news and called for peace.
- Manuel Dias, 63, of Portugal, was near the Stade when he was killed. He was a tour bus driver, according to Expresso.
- Ciprian Calciu and Lacramioara Pop, a couple of Romanian descent, were shot and killed in a drive-by shooting outside the bar Belle Equipe. In a statement, Romanian government official Anton Rohian said the pair had "bad luck to be in the wrong place."
- Michelle Gil Jaimes, a Mexican woman with dual Spanish nationality, was confirmed killed by Veracruz Governor Javier Duarte. She was killed at the bar La Belle Equipe.
- According to the Associated Press, Frenchwoman Djamila Houd, 41, of Dreux, is among those who died in one of the attacks at an outdoor cafe. She worked for the acclaimed fashion house Isabel Marant.
- Claire Camax, 35, a mother of two young children, was remembered by a friend as "exuberant" to the newspaper Liberation.
- The advertising agency Publicis Conseil wrote on Facebook that one of its own, Fabrice Dubois, had been killed in the attacks. He was 46.
- Amine Ibnolmobarak, 29, was an architect. A former professor remembers him as "engaged, intelligent and creative."
- François-Xavier Prévost, 29, an ad man, died at the Bataclan, according to La Voix du Nord.
- Thomas Duperron, 30, died at the concert hall. He had posted a song by the band, "Complexity," along with the caption "ROCKNROLL TONITE !!!"
- Music programmer Grégory Fosse, 28, died at the show. He is remembered for his "inimitable smile" by colleagues at his group D17, according to Linternaute.
- Véronique Geoffroy de Bourgies, 54, was the founder of the humanitarian organization Zazakely Sambatra.
- Matthieu Giroud, 39, was visiting Paris from the village of Jarrie, when he died. He had a young son.
- 32-year-old artist Alban Denuit, who went to the Eagles of Death Metal concert with his girlfriend, died there.
- Renaud Le Guen, 29, was at the concert with his co-workers during the attack.
- Hélène Muyal, a fashion photographer, was among those who didn't survive the Bataclan shooting.
- Christophe Lellouche, 33, was found dead at the Bataclan. A friend, who told the French paper Liberation of his passing, said his friend would be going "straight to paradise."
- Ludovic Boumbas was gunned down at La Belle Equipe. He was born in Congo and worked for Fedex, according to the paper.
- Hyacinthe Koma, 34, who had been with friends at La Belle Equipe, died there, according to Liberation.
- Guillaume Le Dramp was celebrating his 33rd birthday at Le Belle Equipe the night he was gunned down.
- Romain Didier, a member of the Crocodiles Rugby team, was among those killed. His teammates wrote a tribute to him, saying: "It's hard to say we will never see your smile and that we hear your laugh more."
- A German man, who was eating with colleagues at the Cambodian restaurant that was attacked, has also died. His name has yet to be released.
Authorities have said thus far that nationals from Sweden and Russia were also among those killed, but have yet to confirm the names. There are many more who have yet to be remembered.