As Tourists Cancel on Paris, Some Stand By the City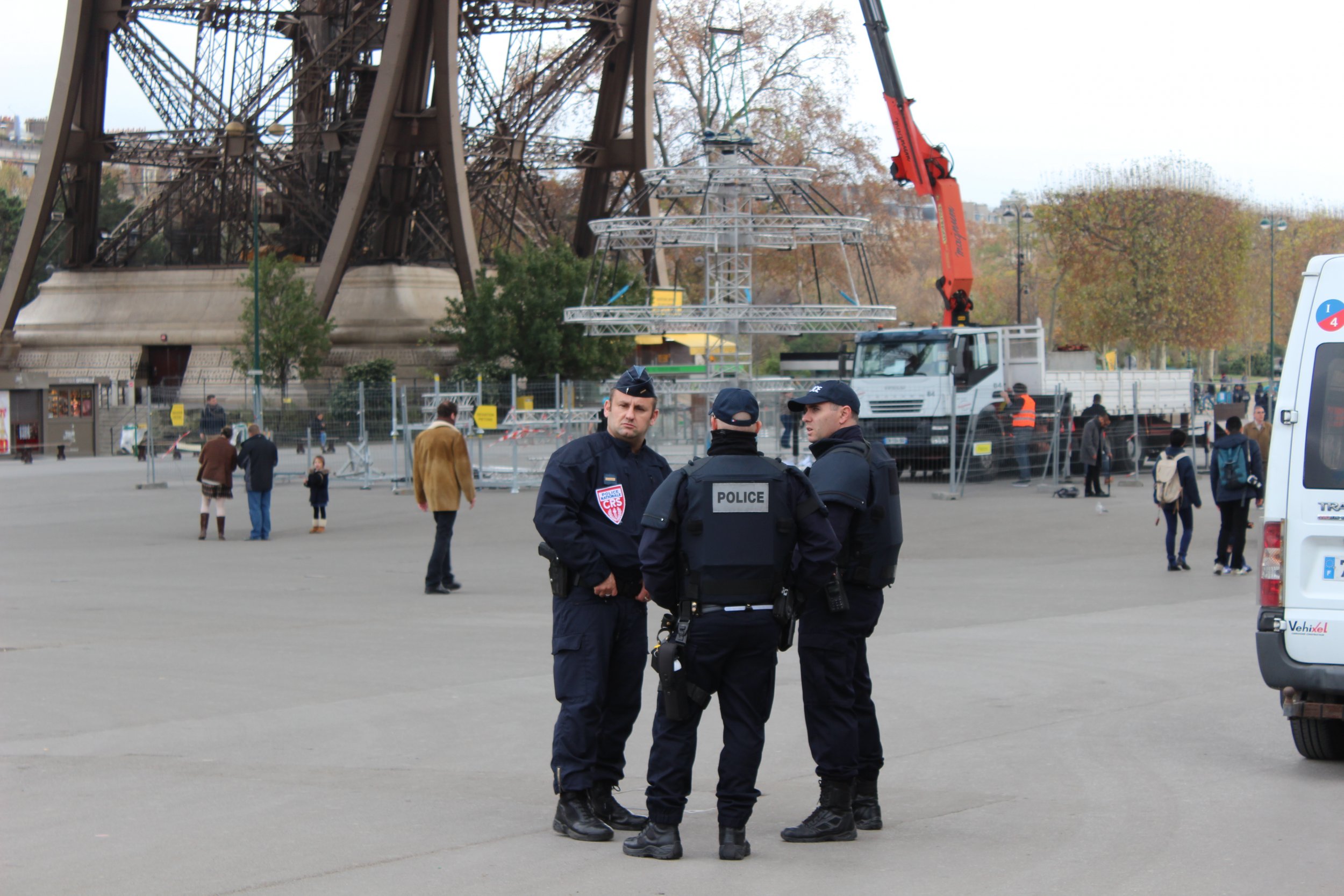 When the Eiffel Tower was first built in 1889 it was both hailed as an architectural wonder and condemned as a stain on Paris' beauty. An anecdote about the novelist Guy de Maupassant tells that he often ate at a restaurant at the tower's base to avoid having to see its edifice. Whatever people thought of it, the city's iconic landmark has always pulled in huge crowds.
But in the days after Friday's attacks, security fears meant nobody was allowed access to the Eiffel Tower. The site reopened late Monday afternoon, but earlier that day there were only a few tourists milling about; the plaza was all but deserted. Even for a Monday in November, it was eerily quiet
The same scene was repeated across the city over the weekend. Museums, art galleries, even Disneyland Paris were shut for two days as the country reeled from the worst attacks since World War II. After hearing news of the tragedy, many people who had planned trips to Paris cancelled their hotels and flights. The first Eurostar train of Saturday morning, which had been fully booked, pulled into Paris half empty.
For a city that relies heavily on tourism revenue—and was ranked the world's third most popular travel destination in this year's MasterCard Global Destinations City Index—the attacks may have serious long-term economic effects. If tourists no longer feel safe in the City of Lights, its residents could start losing out.
On Monday morning, the only people strolling around the Eiffel Tower were bands of armed soldiers and police. A little way down the road, more policemen sat in an idling white van. The added security may seem excessive. But with the Islamic State militant group (ISIS), who are believed to be behind Friday's attacks, promising more of the same, Paris can't be too careful.
Walking past the officers were Bogdan and his daughter, visitors from Romania. Bogdan (who declined to give his full name, for security reasons) and his family arrived Sunday, after watching the attacks unfold on television. "We thought that if we cancelled the trip, it's like we are in fear of those—I cannot say 'people'—terrorists," he said.
His 11-year-old daughter agreed. This trip to Paris is the first time she has ever been abroad. Back in Romania, when they first found out about the attacks, Bodgan's wife had asked jokingly if they should stay home. Their daughter started to cry. "It was her dream," Bogdan said.
The pair had planned to go to Disneyland Paris on Monday, but were happy to wait until Wednesday when the park reopens. "Paris is the city of love, hope, friendship," Bogdan said. "I think life is continuing."
At a restaurant near the Eiffel Tower, manager Idrisa Diallo, 33, was frustrated. It was almost noon and his establishment was empty. "I am scared for the restaurant," he said. "No-one is here—people are afraid." Diallo had had some weekend customers, mainly tourists. But they had asked to sit inside, at the back of the restaurant, their meal haunted by the knowledge that during Friday's attacks, gunmen had shot at people seated outside restaurants and bars.
But while Paris' cultural attractions are slowly recovering in the aftermath of the attacks, its material ones are open for business. Under the awning of the massive department store Galeries Lafayette, the Emery family peered at a map. Naomi, her mother Sharon, and sister-in-law Kristin had come from the city of Stoke-on-Trent in central England to celebrate Naomi's 30th birthday.
"It was a difficult deciding whether to come," said Sharon, 54. "But we thought if we changed our plans, the actions of a very few people would have succeeded. We thought that by coming here, in a small way, it showed our solidarity with Paris."
The trio had to cancel a birthday lunch for Naomi at the Eiffel Tower, but said they're still enjoying the city. "I was worried that I'd feel afraid, but I haven't at all," Naomi said. "It's one of those things," Sharon added. "It could happen anywhere."
For a while, at least, visitors to Paris had to miss out on some of the city's more famous offerings. But these days there are some other deeply moving sights dotted around the city. At the Place de la République, a monument to France's values of liberty, equality and fraternity is adorned with flowers, messages and candles. At the cordoned off streets where the attacks took place, visitors come across similar tributes.
Visiting the Place de la République on Monday were Paul and Catherine Sas, who had flown over from Vancouver on Friday night. They knew about the attacks, but go ahead with their trip. "We thought we'd like to be with France," said Catherine, 53. At their 45-room hotel, there were 25 cancellations.
Catherine has visited Paris before, but this trip means so much more to her. "If you want to be a tourist, you can't," she said. "But though you can't see the Louvre, you can see Paris."