The EU's Next Frontier: 'The Security Union'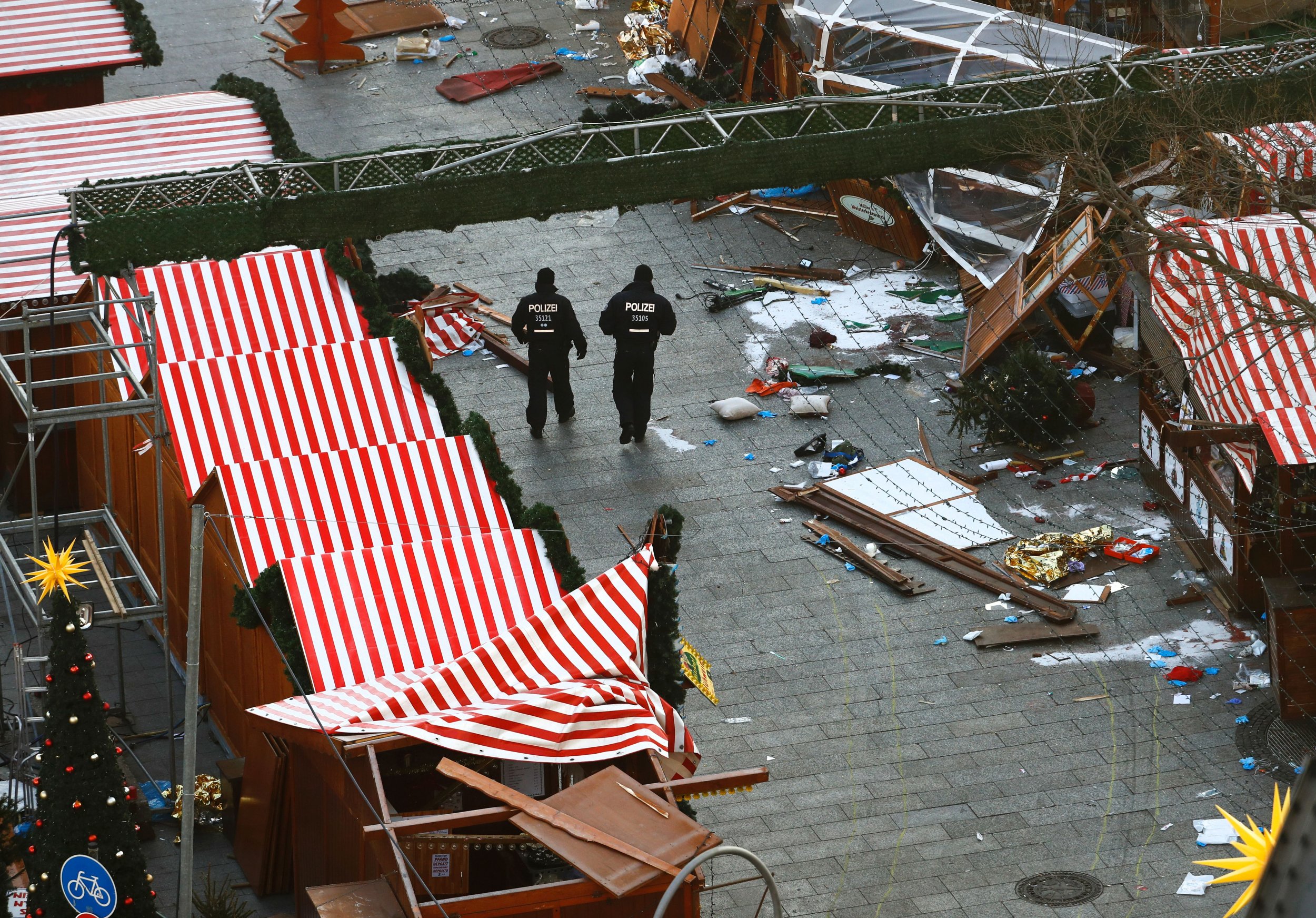 Calls are growing louder across Europe for the tightening of border controls and wider security measures in the aftermath of the December 19 attack in Germany that killed 12 people. The incident capped off a year of high-profile atrocities across the continent, and with key elections in France and Germany—which have borne much of the brunt of this year's attacks—security issues will be a dominant theme in European politics in 2017.
With much of Europe still on high security alert, the increasing demands for tighter border controls follow the revelations that the presumed perpetrator of the German attack, 24-year-old Tunisian Anis Amri, traveled more than 500 miles, to Italy via France, after committing the attack. This is despite the fact that he was the target of an intensive manhunt as Europe's most wanted criminal at the time.
At this stage, it remains unclear whether Amri received substantive outside help with his attack. Authorities are still investigating his professed affiliations to the Islamic State militant group (ISIS), which were revealed in a video of him pledging allegiance to the group released after the attack.
Core security issues aside, the reason why the border control issue is so politically charged is that Euroskeptic parties—in the U.K., France, the Netherlands and Germany—are championing this agenda. For instance, French far-right National Front leader Marine Le Pen, and former leader of the U.K. Independence Party Nigel Farage—the self-styled "Mr Brexit" and confidante of U.S. President-elect Donald Trump—have demanded that Brussels ends the Schengen agreement that permits passport-free travel across most continental EU states—except for the newer members of Romania, Bulgaria and Croatia.
Read more: German politicians call for greater surveillance and tougher security measures
In the context of the forthcoming elections in Europe, and possibility of other 'snap polls' in 2017 too, including in Italy, where Euroskeptic parties are also gaining popularity, the continent's leaders will now be under intense political pressure to 'double down' on security measures at the EU and national levels. This will build not just on existing measures in place, but also on the EU's announcement in Brussels this month to clamp down on terrorism financing and organised crime.
At the heart of this is a growing sense that Europe needs to have a more coordinated, pan-continental approach, in much the same way that U.S. security has been organised post-September 11, 2001 by the Department for Home Security—which was created after the attacks in New York City and Washington. The current sub-national, let alone continental, fragmentation on information and intelligence sharing is highlighted by the split between Germany's law enforcement authorities which are constitutionally vested across the country's 16 states.
It's not just recent terrorist attacks that have brought EU security policy under scrutiny, but also the ongoing refugee crisis as people continue to flee violence and poverty far beyond Europe's borders. European Council President Donald Tusk said in September that "people expect that the EU...will again be a guarantor of stability, security and protection." Several leading politicians are calling for a 21st-century European-style pact for security—and a carefully crafted package of measures, including greater EU intelligence cooperation and strengthening Europe's border force, could gain high-level political traction in 2017.
Given current disagreements within Europe on the wisdom of wider integration initiatives, particularly in economics and finance, security is one of the few areas right now where there is significant consensus across the member states and in Brussels on the continent's best way forward.
In 2017, the EU celebrates the 60th anniversary of the Treaty of Rome, one of its founding treaties, and a good opportunity to emphasize the resilience and integrity of the continuing EU project. It may be an opportune time for movement on the security agenda.
Read more: German politicians need to overhaul the counter-terror structures or face more attacks
On a related theme, Brussels also now senses a window of opportunity to push forward a proposed European Defense Action Plan that advocates greater military cooperation between the EU member states. The debate over this issue dates back to at least the 1950s when an initiative to form a European Defense Community failed to materialize.
Today, however, the impulse toward greater integration is being driven by Russian assertiveness post-Crimea; financial pressure on national defense budgets; plus the threat of incoming U.S. president Trump to scale down the U.S. security commitment to NATO, who said repeatedly during the campaign that Washington should not defend European allies who aren't paying their "fair share" of contributions to the military alliance. And Britain's vote to leave the EU could now also eliminate a longstanding obstacle to greater European cooperation in this area—given that successive U.K. governments have been opposed to deeper defense integration at the EU level.
One signal of potential movement on the issue came when European Commission President Jean Claude Juncker asserted the EU needs its own army, a proposal welcomed by German Defense Minister Ursula von der Leyen, so that Europe can "react more credibly to the threat to peace in a member state or in a neighbouring state." While such a force is at best a longer-term aspiration, a new European Defense Action Plan was discussed at December's EU summit, with a goal of reversing around a decade of defense spending cuts by EU member states—more than 10% in real terms.
The proposed new action plan has four main pillars. These are joint financing of mutually agreed defense capacities through a European Defense Fund; new funding of defense research; unlocking of EU investment in defense supply chains; and creation of an enhanced internal market and an industry fit for purpose to deliver capability priorities for the future.
The Berlin attack will likely intensify political pressure on European leaders to tighten security in 2017. And with anti-EU parties pushing for the termination of Schengen, terrorism and security could become key election issues across the continent. It may well be time for the EU to take the next step, and become a Security Union.
Andrew Hammond is an Associate at LSE IDEAS (the Centre for International Affairs, Diplomacy and Strategy) at the London School of Economics