Paris Hilton has transitioned from reality star to pop singer, to TV chef and campaigner—and has hit the headlines again after marrying entrepreneur Carter Milliken Reum.
The pair have been together since 2019, and the first pictures of their nuptials began circulating on November 11.
Hilton wore a floral lace wedding dress from Oscar de la Renta and her bedazzling engagement ring, which was custom-designed by Reum and jeweler Jean Dousset.
But who is her new husband, and how did they meet? Newsweek has the lowdown on Carter Milliken Reum.
Who is Carter Milliken Reum?
Reum is a businessman who has collaborated on numerous projects with his brother, Courtney Reum.
He was born on February 5, 1981, making him 40 years old. His father, Robert Reum, was also a businessman as the founder and CEO of manufacturing firm Amsted Industries.
He and his brother attended Columbia University together and went on to work at Goldman Sachs, before setting up vodka brand VEEV in 2007. The unique selling-point of their liquor was its ingredients, being the first-ever liquor made from acai.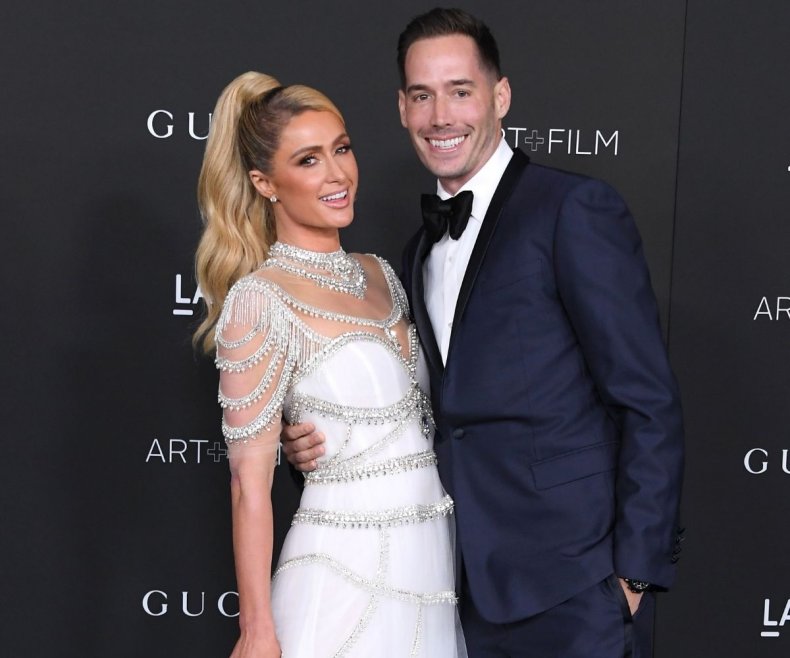 The start-up grew and was named in the 250 Fastest Growing Companies in the U.S. by Inc. Magazine.
They sold the business in 2016, with Carter Reum saying of the deal: "While we were focused on building VEEV, we often worked with other brands as investors and board members with a very successful hands on approach.
"We took VEEV Spirits through every stage of development: seeing the market opportunity, developing the product, selling it out of the back of our cars, building our customer base, marketing it nationally, creating brand extensions, and successfully selling the brand to a larger company."
The company, according to Courtney Reum, was sold for more than seven times their annual revenue, which was reported to be $5 million a year by 2009. This would mean the business sold for at least $35 million.
They launched M13, a venture capital firm, off the back of selling VEEV, which invests in many food brands like Back to the Roots, a company which sells home produce-growing kits.
According to Forbes, in July this year M13 had $450 million in assets under management.
He and his brother wrote and released a self-help book, Shortcut Your Startup, in 2017.
Inside Paris Hilton's Wedding to Carter Reum
The pair were reportedly family friends, and began their relationship in 2019. They became engaged in 2020, with Reum giving Hilton a custom-designed ring worth a reported $3 million.
The ring, designed by Reum and Jean Dousset, the great-great grandson of Louis Cartier, was worn by Hilton on her wedding day, along with a lace dress designed by Oscar de la Renta.
At the moment, few images of the wedding have been shared, but it is likely to have been a star-studded affair with little expense spared.