Paris Hilton Hires Dog Psychic, Pet Detective to Find Missing Pup
Paris Hilton has sent out a desperate plea for her missing dog to be returned to her and has even sought the help of a psychic and a pet detective.
Diamond Baby, the heiress' chihuahua, went missing during a photo shoot last week and Hilton said that she has been doing "everything in my power to get her back."
In a lengthy and heart-filled Monday Instagram post, the 41-year-old explained how "incredibly hard" it has been searching for her beloved pooch.
"My family and friends have been helping me search high and low throughout my entire neighborhood and have gone door to door but we still haven't found her," Hilton wrote.
"We have hired a pet detective, a dog whisperer, a pet psychic and looking into dog finding drones now."
Most people will be familiar with the concept of a pet detective from the Jim Carrey movie Ace Ventura, but real pet detectives actually do exist.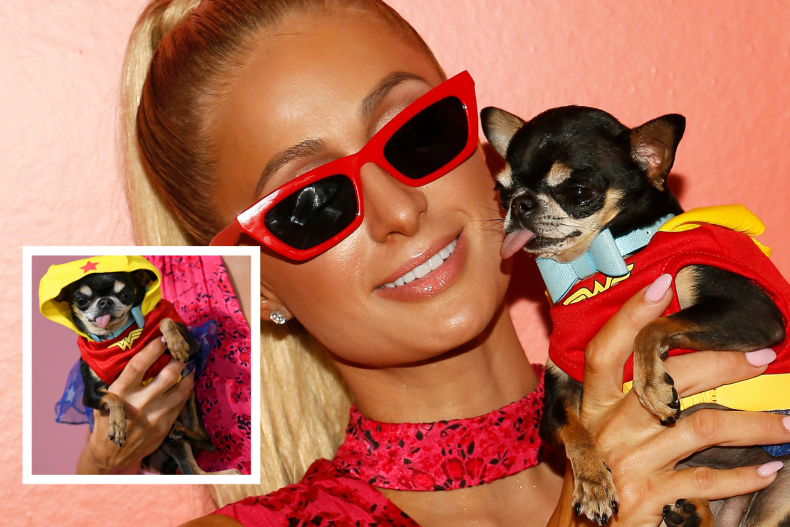 According to the American Animal Hospital Association, there are a handful of pet detectives operating in the U.S. and they use a variety of methods to track and search for lost pets but primarily use other dogs to sniff out the missing pets.
"Anyone who has ever loved a pet and lost a pet will understand this pain that I'm feeling," Hilton continued, adding that her heart is broken.
"I have been in tears, so sad and depressed," she continued. "I feel like part of me is missing and nothing is the same without her here. Diamond Baby is my everything, truly like a daughter to me. We were inseparable, she was my best friend and always by my side. I've been scared to put out an APB to the public for her because people can be cruel and I worry about her safety but I'm desperate and the more time that passes, the farther away I feel from the chances are of me getting her back."
Hilton's plea comes after a teenager who was charged with stealing Lady Gaga's dog in 2021 was recaptured after he was released in error. Two of the pop star's French bulldogs, Gustav and Koji, were stolen and their dog walker was shot in an attack in Los Angeles.
Hilton finished her post with a plea to fans with any information on Diamond Baby's whereabouts to get in touch.
"If you have ANY tips about Diamond Baby's whereabouts or feel like you have seen her - Please reach out to the email address: finddiamondbaby@gmail.com
There will be a big reward for her return and NO questions asked. Please, please, please email if you know ANYTHING and please keep an eye out for my baby."