Paris Hilton's Net Worth Increases by $2 Million After Fiancé Chris Zylka Gifts Her Engagement Ring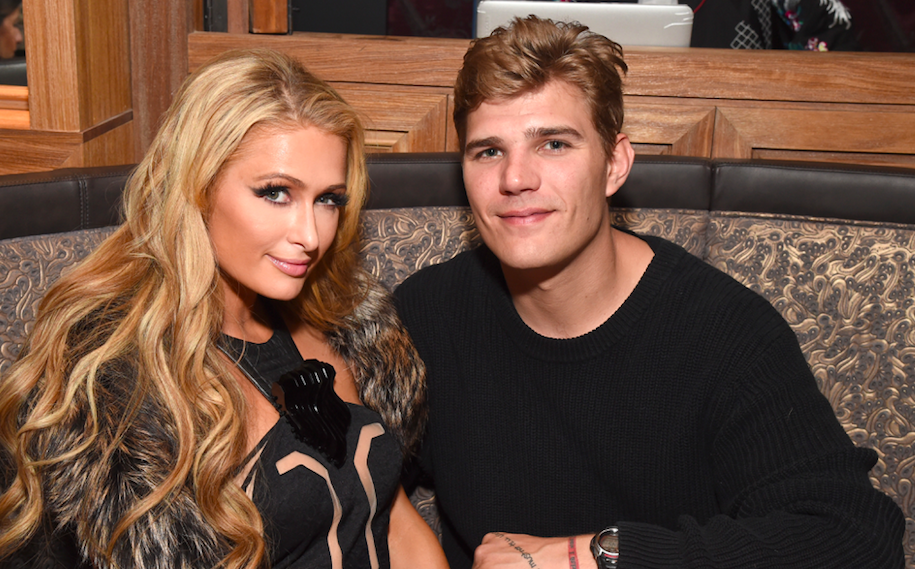 Paris Hilton's net worth increased over the holiday weekend after beau Chris Zylka got down on one knee. And he didn't present her with any old rock. Zylka gifted Hilton a 20-carat diamond pear-shaped sparkler that cost more than some houses.
Before the engagement, Hilton had a rumored net worth of $300 million. For reference, socialite-turned-entrepreneur Kim Kardashian has an estimated net worth of $175 million. Now, Hilton is likely at $302 million thanks to her new piece of jewelry.
Before the proposal, Hilton, 36, hinted to Zylka, 32, what she wanted.
"Paris at one point in time told Chris she really loved her mother's pear-shaped diamond, and when Chris came to me that was his request," diamond expert and celebrity jeweler Michael Greene told People magazine on Tuesday. "The pear-shape really jumped out for him and ultimately for her. He did some fishing, but in the end it was all him. He's a smart guy, and hangs out a lot with the family, and I think she realized how much she liked her mom's ring."
The Leftovers actor designed the ring himself, keeping it a secret from Hilton.
"Paris was not involved. Chris did it all," Greene said. "He wanted to do everything so perfectly. He wants the best thing for his princess. And he did all the right things. He told me he had to set up a time to meet up with Paris' father to ask for her hand in marriage. He did the whole thing. All the traditions."
It was a speedy process. Normally, it would take three weeks for a team of people to put the ring together. But for Hilton and Zylka, it was done in two days. He wanted it to be ready for their trip to Aspen, Green said.
The actor was thrilled Hilton accepted his proposal. "Paris is the most beautiful and incredible woman both inside and out," Zylka told People magazine.. "I feel like the luckiest man in the world to be marrying my dream girl. I can't wait to spend the rest of our lives together."
Hilton took to Instagram on Tuesday to reveal her engagement. "I said Yas," she wrote with a barrage of IG pictures. "So happy & excited to be engaged to the love of my life. My best friend & soul mate… So dedicated, loyal, loving & kindhearted. I feel like the luckiest girl in the world! You are my dream come true! Thank you for showing me that fairytales do exist." She added: "The most romantic moment of my life!"
The post was liked more than 480,000 times by her 7.9 million followers.
Hilton and Zylka dated for nearly two years before he proposed. They weren't shy about their romance, with the heiress regularly posting pictures of the actor on Instagram and Twitter. Zylka doesn't have social media.
This story was updated to include a second social media post from Hilton and a statement by Zylka.