Paris Hilton says sharing her experiences at a boarding school for so-called troubled teenagers has been the "most healing experience" of her life.
The hotel heiress and influencer first opened up about her time at the Provo Canyon School in Utah in a harrowing 2020 documentary called This Is Paris.
Now, along with other former inhabitants of congregate-care facilities, Hilton aims to examine the "dark secrets and controversial practices" of such schools in the podcast Trapped in Treatment.
"Sharing my story publicly was the most healing experience of my life," Hilton told Newsweek ahead of the podcast's launch on January 26.
"I created Trapped in Treatment to give survivors, employees and family members the opportunity to share their truth," the 40-year-old added.
"This is our war cry. Provo Canyon School won't be able to hide any longer. Listeners, buckle up and journey into the shocking world of Provo Canyon School with me."
Hilton has alleged that she was beaten, spat on, deprived of sleep and forced into solitary confinement as a teenager at the school. She was sent there for 11 months at the age of 17.
Newsweek has contacted the school for comment.
In October last year, she visited Capitol Hill to speak in favor of legislation to establish a bill of rights for teenagers in congregate-care facilities.
She is pushing for bipartisan support for a law to crack down on abuse in such facilities and guarantee children placed in the schools the right to call their parents, be free from restraints, and have access to clean drinking water and nutritional meals.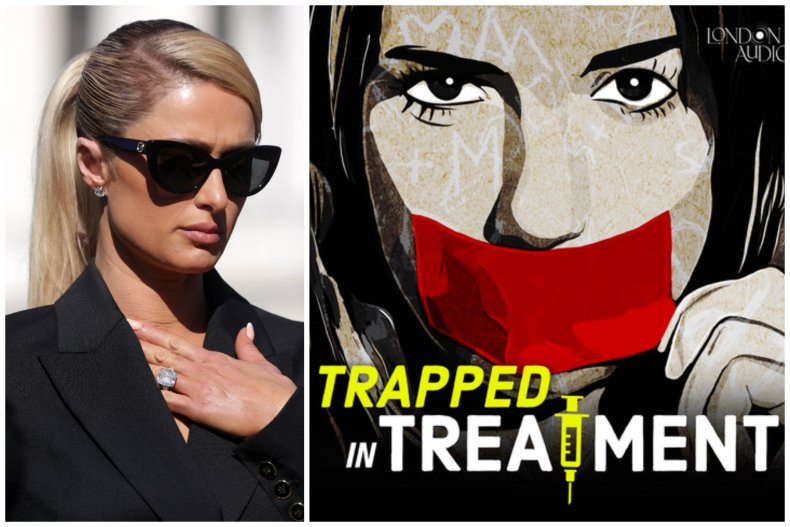 Ahead of the podcast's launch, Newsweek can exclusively share a clip from Episode 2, which is called "Taken in the Middle of the Night."
Hilton and other former inhabitants have spoken about the school's practice of removing teenagers from their homes at night-time.
"The beginning of every survivor's journey—the transport," the episode description reads. "Survivors detail being kidnapped in the middle of the night, and the tumultuous and traumatic trip to Provo Canyon School."
The below clip features a woman named Natalie discussing how her brother was taken.
"They [parents] were instructed to wait in the car outside with our dog. Michael was sleeping in his bedroom and two men came in and put him in handcuffs and basically, in my mind, kidnapped him in the middle of the night," Natalie says in the clip.
Natalie later explains that her brother was put on a plane in handcuffs and had no idea where he was going until he arrived in Utah.
When allegations were first made about the school, a spokesperson told The New York Times it did not "condone or promote any form of abuse" and any alleged or suspected abuse is reported to state regulatory authorities, law enforcement and Child Protective Services immediately.
The school has come under new ownership since Hilton's time there.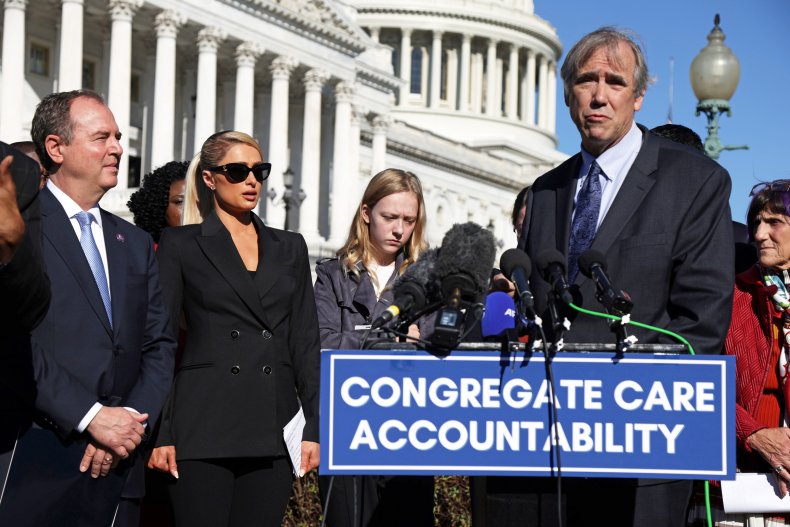 The podcast is hosted by Caroline Cole and Rebecca Mellinger. Cole is an activist and trauma-focused women's transformation coach, as well as a survivor of a locked-down behavior modification facility. Mellinger works with Hilton to reform the "troubled teen industry" through policy and public awareness.
According to the podcast's creators, each season is set to focus on one youth treatment facility, through the stories of former inhabitants and the "traumatizing abuse at the hands of their captors."
Trapped in Treatment will be released on January 26 by the iHeartPodcast Network and available wherever you listen to podcasts.