Paris Hilton's Comeback Savaged in Viral Tweet: 'She's Still a Racist'
Paris Hilton has faced backlash online for her past racist and homophobic comments, with one tweet going viral suggesting "she offers nothing culturally."
The heiress and reality star has been back in the news after revealing she welcomed her first child in January. Hilton announced last month that she and husband Carter Reum became parents of a baby boy via surrogate.
But she has now been called out for using the n-word when referring to Black people and derogatory comments against gay and Jewish people.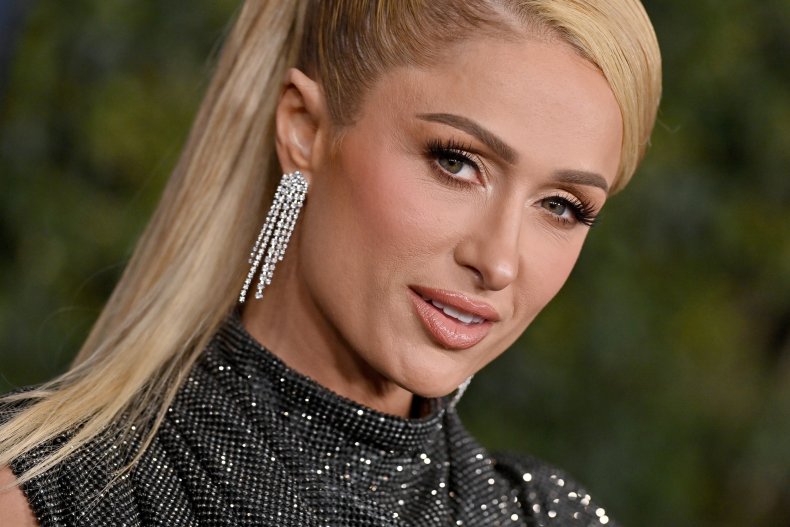 "Paris Hilton is a perfect example of what shutting up can do for a person. She's pretty awful, she offers nothing culturally, but she's had this full rebrand partially by rarely talking," wrote Twitter user sicksadke.
"Now everybody's convinced she works for her money (she presses play on Spotify playlists) when doesn't have to (she was disinherited... publicly), and she's a fashion icon (maybe to people who have never been outside)."
They added in the Twitter thread: "to everybody coming to tell me about her horrible childhood, that is so sad! she's still a racist so I'm not sure what I'm supposed to say tbh. I had a pretty bad childhood and I'm not a racist so idk you guys!"
Newsweek has contacted Hilton's representatives for comment.
In 2007 a website called parisexposed.com published a series of media that was owned by Hilton obtained from a storage locker she once rented, but let her payments lapse.
Some of the contents published on the site came from Hilton's journals, home videos and other personal information, as reported by Buzzfeed this week.
One of the videos showed Hilton dancing with her sister Nicky to Notorious B.I.G.'s "Hypnotize" at a house party. Hilton goes toward the camera and says: "We're like two [n-words]!"
In another clip she describes someone at the party by saying, "f***** hoodlum broke, poor b**** from, like, Compton. Public school b****." She also calls a male friend a "f****" multiple times.
The matter was discussed on mainstream media in 2007 including on CNN and The View.
A 2020 article by Jezebel also unearthed antisemitic comments made by Hilton when she changed the lyrics to Sister Sledge's "We Are Family."
Hilton sang: "I am a fat ugly Jewish b****/ I'm a little jap-y Jew / I am a little Black whore, I get f***** in the butt for coke / I'm a [n-word] and I'm Black and I steal s***."
A Daily Mail reporter also claimed to have seen footage of Hilton calling two Black men "dumb [n-words]" behind their back when they approached her and friend Brandon Davis in Paris. Author Mark Ebner seemed to confirm the anecdote in his 2009 book Six Degrees of Paris Hilton, but wrote she said "dirty" instead of "dumb."
Davis eventually turned on his friend and told the National Enquirer that Hilton was "racist" and that "she was forever using the n-word. I told her not to use it. It was offensive. But she just laughed. She is a racist, plus an idiot."
"Every Black person she referred to was a [n-word]," he added. "She uses the word all the time, and I've known her all of her life. It's '[n-word] this' and '[n-word] that.' She's a disgrace. She is a racist." he told the Enquirer at the time.
"She puts down Jews and other minorities, too. And I'm Jewish. I found it depressing. I finally had enough of her attitude six months ago, and I finished with her. I don't want anything to do with her. I don't need anything from her. She is no longer my friend. She's just not a nice person."
Over the years Hilton has tried to refute the accusations or blame alcohol and her age on her comments through her then publicist, Elliot Mintz.
"I'm not going to make any attempt to spin this. It happened. I'm not going to deny it happened. Each of us has used words we have regretted later. This was six years ago. She was 20 at the time. It was New Year's Eve. She had been obviously drinking. She sincerely regrets using those words. She is not a racist or an anti-Semite," he said in 2007.
As for the incident with Davis, Hilton said after Ebner's book was released:
"I am deeply hurt by recent reports. Anyone who knows me knows that this is not me. I love everybody and am not a person who discriminates against anyone—ever," she said.
Celebrity profiler Neil Strauss also had a conversation with Hilton in 1999 when she allegedly told him she dumped a guy after she realized he was Black.
In his book, Everyone Loves You When You're Dead, Strauss claimed Hilton pointed to a man and told him, "we were making out, but then we went somewhere where it was bright and I saw that he was Black and made an excuse and left.
"I can't stand Black guys. I would never touch one. It's gross. (pauses) Does that guy look Black to you?"
Strauss then said he asked her: "How Black does a guy have to be?" To which Hilton reportedly answered, "one percent is enough for me."
Another alleged incident of homophobic comments by Hilton came in 2012, when audio of the heiress was published on RadarOnline.com.
She was reportedly recorded without her knowledge while in a cab with a gay friend who was explaining the app Grindrto her and how he could easily find sex using it.
To which she replied: "Ewww. Eww. To get f*****? Gay guys are the horniest people in the world. They're disgusting. Dude, most of them probably have AIDS."
A spokesperson for Hilton defended her comments to the media outlet.
"Paris Hilton's comments were to express that it is dangerous for anyone to have unprotected sex that could lead to a life-threatening disease," the spokesperson said in 2012.
"The conversation became heated, after a close gay friend told her in a cab ride, a story about a gay man who has AIDS and is knowingly having unprotected sex. He also discussed a website that encourages random sex by gay men with strangers.
"As she was being shown the website her comments were in reference to those people promoting themselves on the site. The cab driver who recorded this, only provided a portion of the conversation. It was not her intent to make any derogatory comments about all gays. Paris Hilton is a huge supporter of the gay community and would never purposefully make any negative statements about anyone's sexual orientation."