Paris Hilton Didn't Enjoy 'Anything Sexual' Until She Met Husband
Paris Hilton has opened up on her sex life and how she did not enjoy the deed until she met her husband, Carter Reum.
The couple who married in November 2021 after falling in love during the Covid-19 pandemic, welcomed their first child via surrogate in January.
Hilton, 42, rose to international infamy in the early 2000s when a sex tape with her and ex Rick Salomon was leaked against her consent. She said she felt asexual in her 20s.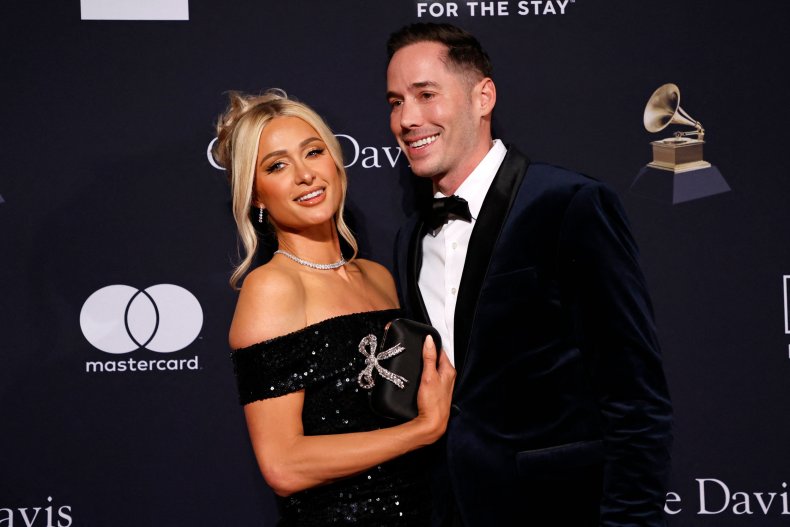 "I was known as a sex symbol, but anything sexual terrified me," the socialite told Harper's Bazaar magazine. "I called myself the 'kissing bandit' because I only liked to make out. A lot of my relationships didn't work out because of that."
Hilton added: "It wasn't until Carter that I finally am not that way. I enjoy hooking up with my husband."
The heiress explained that a string of terrible sexual experiences including the 2003 sex-tape leak and being groomed by a male teacher in middle school led to her feeling asexual.
"I just feel like, after all the hell I've been through, I'm finally getting what I deserve, which is someone I can trust and someone to build a real life with," Hilton said of her author husband.
In the cover interview with the magazine, Hilton spoke about becoming a mother for the first time which she announced via a post on Instagram on January 24.
She uploaded a picture of her newborn's hand wrapped around her own and wrote, "You are already loved beyond words."
The baby boy is Hilton's first child, while Reum has a 10-year-old daughter with reality star Laura Bellizzi.
"It's always been my dream to be a mother and I'm so happy that Carter and I found each other," Hilton told People magazine in December 2022.
"We are so excited to start our family together and our hearts are exploding with love for our baby boy."
Hilton also spoke in 2021 about how important it was to her to start a family.
"So, I'm really excited to just move on for the next step of my life, and finally just have, like, a real life. Because I really do believe that having a family and having children is the meaning of life," Hilton told The Trend Reporter in January of that year.
"And I haven't got to experience that yet, because I didn't feel like anybody deserved that love from me, and now I finally found the person who does."