Paris Hilton Subtly Supports Johnny Depp Amid Rihanna Fashion Show Backlash
Paris Hilton seemingly showed her support for Johnny Depp amid backlash over his appearance in Rihanna's Savage X Fenty fashion show.
The Pirates of the Caribbean actor, 59, made a nearly 40-second appearance in the Amazon Prime Video series while modeling pajamas, an olive green robe and layers of silver chain necklaces.
On November 9, Depp teased his cameo via Instagram with the caption, "Thank you @badgalriri #SAVAGEFENTYSHOW Vol.4 Out Now @primevideo."
In response, Hilton, 41, posted a fire emoji, a comment which has since garnered more than 4,400 likes.
While the clip was praised by the Simple Life alum and his fans, others condemned the collaboration following his controversial court case.
Years and Years singer Olly Alexander took to Twitter to express his disappointment in the "Umbrella" artist's brand.
On November 3, the 32-year-old used a sad face while quote-tweeting a post from PopCrave about the initial news.
"Johnny Depp will become the first man to have his own spotlight segment at Rihanna's 'Savage X Fenty' fashion show, according to TMZ," the tweet read.
When a fan commented "But, 'Savage X Fenty' is you baby....... you wear it so well," the England native responded, "Thank you but after this news I won't be wearing it anymore."
Alexander previously worked with Savage X Fenty and did several paid Instagram partnerships.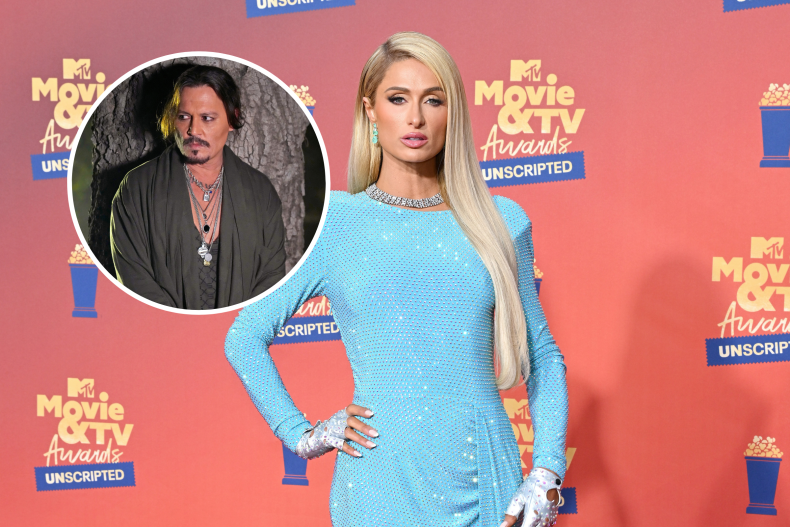 Producer and activist Drew Dixon also slammed the new mom, who recently gave birth to a son with boyfriend A$AP Rocky.
"Johnny Depp has been embraced as a hero by unhinged right-wing misogynist extremists, and now he's been invited to appear in the @SavageXFenty show," she tweeted. "Never expected such a powerful woman to succumb to the #MeToo backlash. Really disappointing @rihanna."
Depp sued ex-wife Amber Heard for $50 million after she published an op-ed in The Washington Post in 2018 titled, "I spoke up against sexual violence—and faced our culture's wrath."
Though the Aquaman actress, 36, did not name the dad of two—who shares kids Lily-Rose Depp, 23, and Jack Depp, 20, with ex Vanessa Paradis—his attorneys argued there was enough in the piece to affect his career and damage his reputation.
Heard later countersued for $100 million.
In June, a jury sided with Depp and awarded him $10 million in compensatory damages and $5 million in punitive damages. Heard, meanwhile, was awarded $2 million in compensatory damages and no punitive damages.
At the time, Heard said she was "heartbroken" by the outcome.
"The disappointment I feel today is beyond words," Texas native—who is a mom to daughter Oonagh Paige Heard—wrote via Instagram.
As for Depp, he also took to Instagram in June to share his thoughts.
"From the very beginning, the goal of bringing this case was to reveal the truth, regardless of the outcome," he said. "Speaking the truth was something that I owed to my children and to all those who have remained steadfast in their support of me. I feel at peace knowing I have finally accomplished that."
The trial captivated the U.S. and even garnered worldwide attention, with many voicing their strong opinions on social media.
Following the verdict, Bot Sentinel, a research firm that specializes in identifying misinformation and disinformation, found that Heard and her supporters were subjected to "one of the worst cases of cyberbullying and cyberstalking by a group of Twitter accounts."
The Savage X Fenty Show Vol. 4 is now streaming on Amazon Prime Video.