Paris Hilton has shown solidarity with Britney Spears by wearing a "Toxic" outfit during a DJ set in Las Vegas Thursday night.
The socialite and reality star is currently in Nevada for a new hotel-casino opening on the Strip where she performed a DJ set.
The 40-year-old was photographed with her parents Rick and Kathy Hilton as well as her sister, Nicky.
Guests at the event have shared photographs and videos of Hilton's set and she appears to be wearing the iconic blue air stewardess dress worn by Spears in the video for the 2003 hit "Toxic."
It seems as though Hilton is showing a gesture of solidarity with the pop star who on Wednesday provided testimony about her life under a strict court-appointed conservatorship.
Local journalist Janna Karel shared a video of Hilton's performance to Twitter.
".@ParisHilton is DJing at @ResortsWorldLV tonight and wearing an outfit highly evocative of @britneyspears' 'Toxic' outfit which I have to assume is a show of solidarity," Karel tweeted.
Another clip doing the rounds on Twitter shows Paris saying to the crowd: "We love you, Britney. Free Britney."
Spears has garnered huge support from fans and fellow celebrities alike as she pleaded with a judge to end the arrangement, saying that she wants her life back and has been unhappy and traumatized for some time.
The "Lucky" singer mentioned Hilton in her testimony this week.
In a documentary released earlier this year, Hilton claimed that she was verbally and physically abused at the Provo Canyon School in Utah when she was 17 years old.
Spears referenced the claims in her testimony, telling judge Brenda Penny: "I didn't want to say it openly, because I honestly don't think anyone would believe me. To be honest with you, the Paris Hilton story on what they did to her at that school, I didn't believe any of it. I'm sorry. I'm an outsider, and I'll just be honest. I didn't believe it.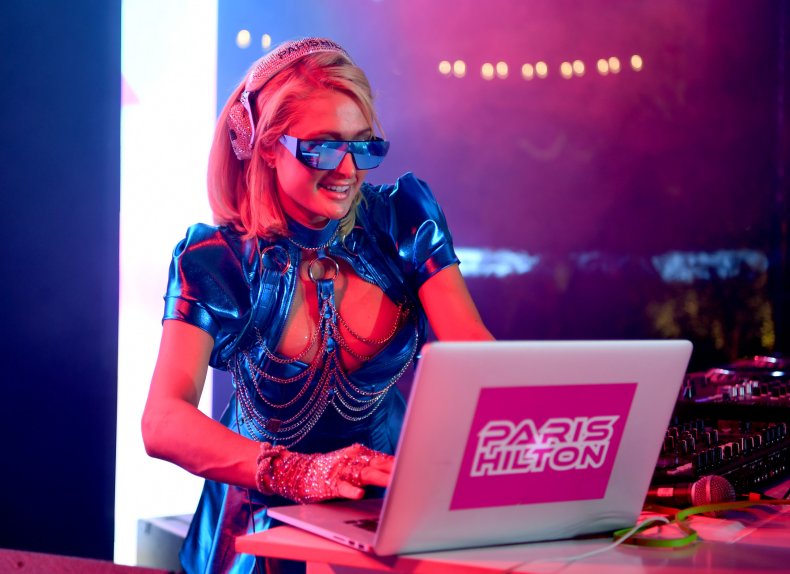 "And maybe I'm wrong, and that's why I didn't want to say any of this to anybody, to the public, because I thought people would make fun of me or laugh at me and say, 'She's lying, she's got everything, she's Britney Spears.'"
Ahead of Spears' court appearance this week, Hilton told Access Hollywood: "I'm so proud of her. I love her so much, I'm sending her so much support and hope that she will be just, happy and well."