The Most Shocking Things Paris Jackson Told 'Red Table Talk'
Paris Jackson, 23, is the only daughter of late pop legend Michael Jackson, and has two siblings, Michael Joseph "Prince" Jackson Jr., 24, and Prince Michael "Blanket" Jackson II, 19.
In a recent interview with Willow Smith on Red Table Talk, a Facebook Live show hosted by Smith, Paris Jackson revealed some astounding truths about her life.
Her PTSD means she experiences auditory hallucinations
Paris Jackson was thrust into the limelight as a child of Michael Jackson. She and her brothers were regularly seen covered in masks, net bags and blankets to shield them from the paparazzi's glare.
This had a lasting effect on Paris Jackson, who has sought EMDR (Eye movement desensitization and reprocessing) therapy to help her escape auditory hallucinations, caused by post traumatic stress disorder (PTSD).
She told Smith: "It's always been pretty gnarly, my social anxiety... I experience audio hallucinations sometimes of camera clicks, and severe paranoia.
"I have been going to therapy for a lot of things but that included. I'll hear a trash bag rustling and I flinch and panic. I think it's just standard PTSD... I have nightmares but it's primarily if I'm out in public during the day."
Paris Jackson went on to explain how she avoids going out in the day, and how her continued struggle with PTSD effects "every aspect of your life."
She asks people to sign NDAs due to struggles with trust
Smith explained to Jackson how she struggles to trust people, specifically when it comes to information. In response Paris Jackson made a shocking revelation, saying she is "constantly looking over your shoulder."
She said: "Everyone that walks into my house signs an NDA. It's gnarly. It does a lot to your nervous system because you're constantly in fight or flight.
"Fight, flight, freeze collapse, you're constantly walking on eggshells, constantly looking over your shoulder, like you have to sit up straight and act right. Because if you don't it not only reflects on your reputation but your family's reputation."
Jackson said she has worried about this causing "permanent damage," but has some close friends she can trust to help cope with these feelings.
She had to realize it "was not her time" after attempting suicide
Paris Jackson attempted suicide as a teenager multiple times, and spoke candidly about how she has come to a place of gratitude about her life.
However, she was forced to reconcile with her failed attempts, using a method of "radical acceptance" to help her.
She said: "Initially, I think it was, it's kind of morbid, the radical acceptance that it just wasn't meant to be. Just like, 'OK, I've tried and tried and tried and it's really not working, maybe it's just not my time...'
"For a while I was like I'll just wait it out and it was just so dark... During that waiting time I've found more and more joys in life and more ways to cope and more ways to really live instead of just exist."
Paris Jackson has previously opened up about the pain caused to her by social media, and admitted to Smith people had told her to "kill herself" online.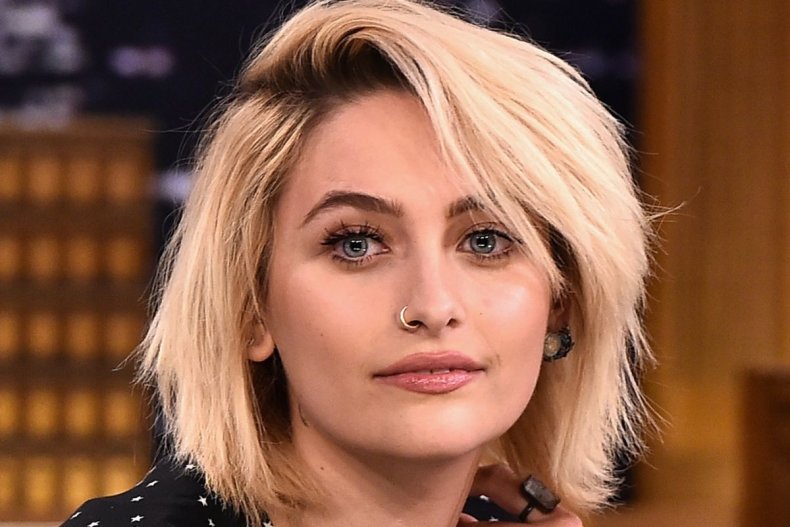 Her name came from a pact her father made with Paris Hilton's mother
Paris Jackson admitted she "didn't understand" her first name for many years, until she realized it came from a pact her father had with Kathy Hilton, the mother of Paris Hilton.
She said: "I've been told that Kathy Hilton and my dad were really close growing up, they were like best friends. They made some kind of a pact that they were going to call their first daughter Paris."
Hilton, according to Paris Jackson, goes by P1, while she is P2, as they share their first name. But Jackson also connected with her father in visiting her namesake, Paris, France.
She added: "My dad really, really loved that city so much. When I got to truly explore Paris I felt really connected to him. I didn't understand my name for a long time but I went there and, I get it, this is awesome."
The Jackson family struggled to accept her sexuality
After her father's death in 2009, Paris Jackson moved in with her grandmother, Katherine Jackson, who Smith explained raised the children in a "strict" religious home as Jehovah's Witnesses.
Paris Jackson explained how she does not talk about her sexuality with her family, having come out as bisexual aged 14 years old.
She told Smith: "I'm still kind of figuring it out. My family is very religious and a lot of homosexuality is very taboo, so they don't like to talk about it.
"It's not very accepted. But I've got to a point where I respect them, I have love for them, I respect their beliefs, I respect their religion.
"Right now I'm at a point where to expect them to put aside their culture and their religious expectations to me leads to resentments and what people think about me isn't my business. But there were moments where it felt really hard, you feel alone, you feel excluded."
She said her brothers have been more understanding, and told a story of how her elder Michael Joseph "Prince" Jackson Jr. joined a Gay-Straight Alliance (GSA) club in high school to learn more about it.
If you have thoughts of suicide, confidential help is available for free at the National Suicide Prevention Lifeline. Call 1-800-273-8255. The line is available 24 hours every day.