Paris Jackson on Skin Bleaching: 'Please Stop Lightening My Skin to Make Me Look More White'
Paris Jackson has seen the photos of herself appearing lighter and darker than what she really is, and she's not okay with them.
The second child and only daughter of the late Michael Jackson took to Twitter Wednesday to call out those who have been retouching images of her. "I appreciate everything y'all make for me, I enjoy every single edit I see. But please stop lightening my skin to make me look more white. And please stop darkening my skin to make me look more mixed," she wrote.
"I am what I am," the 19-year-old added. "I'm aware of what I look like and I [am] finally happy with it."
Jackson makes her big screen debut in Gringo, alongside Charlize Theron and David Oyelowo, which hits theaters Friday. In preparation for the film's release, Jackson attended press junkets, meeting with reporters and taking dozens of photos, some of which were retouched to make her skin appear lighter or darker. She was also photographed on the red carpet at the 2018 Academy Awards on Sunday, and, again, appeared lighter than usual in some photos and more tan in others.
It should comes as no surprise that Jackson is outspoken about skin-bleached photos. Her father was taunted by the media for whitening his skin, and growing up she endured a long battle with low self-esteem.
Following her father's death in 2009, a greiving Paris suffered from drug addiction, depression and anxiety, all while dealing with cyberbullies criticizing her appearance. The pressure became so bad, she attempted suicide three times. The first time came in 2013 when she was 15; she swallowed 20 Motrin pills before slitting her wrist.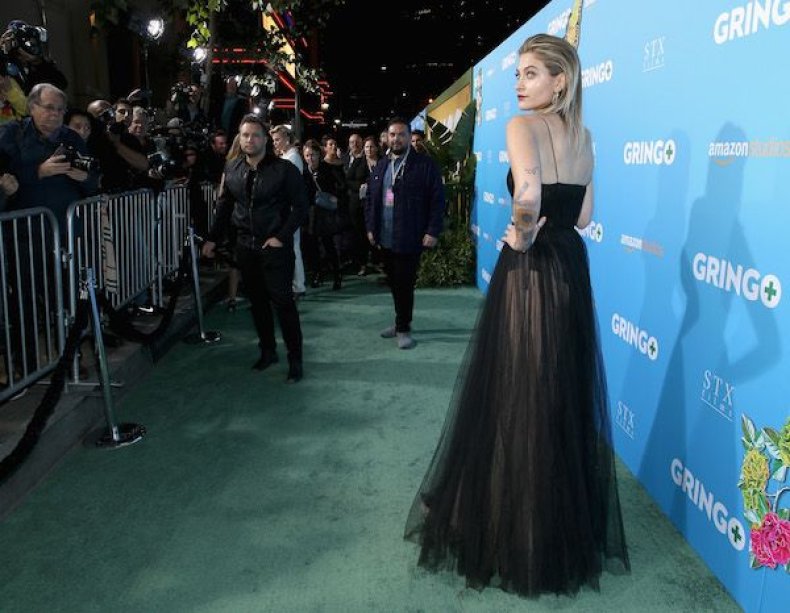 Jackson has overcome those demons, and now uses her social media platforms to speak out against cyberbullies and online trolls.
In a 2017 interview with Rolling Stone, she opened up about her turbulent teen years and admitted she was a "completely different person" now, living a sober life. She also noted that modeling helped her overcome her insecurities. "I've had self-esteem issues for a really, really long time," she said.
"Plenty of people think I'm ugly, and plenty of people don't," she continued. "But there's a moment when I'm modeling where I forget about my self-esteem issues and focus on what the photographer's telling me—and I feel pretty. And in that sense, it's selfish."