Hundreds Of Migrants Set Up This Makeshift Camp In Paris—Now French President Emmanuel Macron Is Forcing Them Out
Hundreds of migrants living in makeshift tent camps in northern Paris were forced to clear the area in sweeping police raids on Thursday morning.
More than 1,600 people who had been living at makeshift camp sites in the Porte de la Chapelle and Seine-Saint-Denis area were made to board buses transporting them to temporary shelters set up around the city, according to Reuters.
The hundreds of migrants from sub-Saharan Africa and the Middle East, including many men, as well as some women and children, are expected to be held in state-sponsored facilities while their asylum requests are processed by French immigration authorities.
Those whose asylum requests are rejected will be expected to leave France, while some are likely to be deported back to the countries they left.
Before Thursday's evacuation, hundreds of people had been living at the makeshift tent camps in Paris for months.
Many have sought to make their way to Paris in recent years, particularly after a once-sprawling migrant camp in Calais was, for the most part, shut down by French authorities in 2016.
Recently, however, French President Emmanuel Macron has vowed to crack down on immigration, with Thursday's Paris sweep representing a major step in that direction.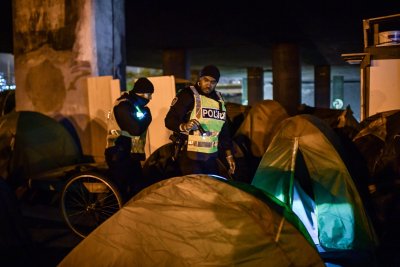 As the evacuation unfolded, Paris police prefect Didier Lallement told reporters that the city would "no longer tolerate" the erection of makeshift camp sites, according to Reuters.
Lallement vowed to maintain a police presence in the Porte de la Chapelle and Seine-Saint-Denis area over the coming weeks to ensure that migrants, asylum seekers and refugees would steer clear of the area.
Newsweek has contacted Paris's police department and the French government for further comment.
The makeshift camps that have continued to crop up across France and Europe offer stark evidence that the region's migration crisis is not yet over, despite a dimming international spotlight on the issue.
In fact, a recent report from the United Nations Refugee Agency (UNHCR) showed that large numbers of migrants, asylum seekers and refugees are still making their way to Europe via the Mediterranean, with more than 80, 000 people traveling to the region via Mediterranean routes in 2019 as of September 30.
According to the UNHCR, more than a quarter of the migrants, asylum seekers and refugees who arrived in Europe via Mediterranean routes in 2019 up to that date were children, with many arriving without their parents.