Paris Museum Le Petit Palais Presents Gustave Le Gray Exhibit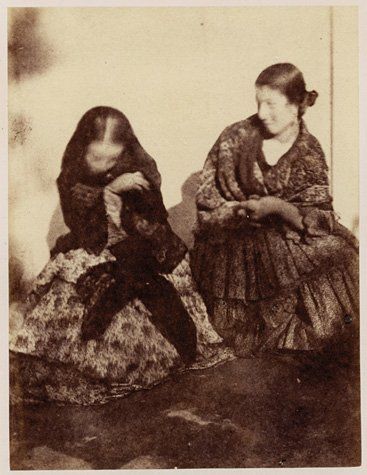 Slip through the magnificent gilded gates of Le Petit Palais in Paris for a vivid snapshot of photography's golden age. The museum's new exposition trains a long lens on Gustave Le Gray and the eclectic coterie of amateurs he coached in the 1850s on the wonders of a medium in its infancy. A 19th-century innovator, Le Gray was one of the most important French photographers of his time. Now, in 160 impeccable prints, many never before seen, the exhibit casts his circle of so-called primitive photographers as a merry band of adventurers, distinct in style and outlook. With echoes in much later modernist photography, they were true artists, 70 years ahead of their time. Modernism or Modernity: Photographers From the Circle of Gustave Le Gray (1850–1860) runs through Jan. 6.
Le Gray's own story is wildly picturesque. Born outside Paris in 1820, he trained as a painter. But as a young artist living in Rome, he fell in love with darkroom chemistry (and his Italian chambermaid). Returning to France in 1847, new family in tow, he set out to make a living as a "photographiste," a photographer-artist. It was an effervescent time, only a decade after the dawn of the medium—the daguerreotype had been revealed to the world in 1839. New negative-positive processes—first on paper, then glass—would replace that early method, enabling multiple prints, unleashing experimenters.
A quick-study chemist, Le Gray made his early mark in portraiture. His 1849 shot of Louis-Napoléon Bonaparte was the first official portrait of a French head of state. But he excelled, too, at capturing architecture, nudes, and landscapes. (His Boats Leaving the Port of Le Havre—one of 50 seascapes that brought him international acclaim—sold at auction for $1.3 million last year, fees included, setting a 19th-century photography record.) He wrote innovative photography treatises, taught eager amateurs, and took imperial commissions.
Alas, Le Gray's passion exceeded his business acumen, and by 1860 his lavish portrait studio on the Boulevard des Capucines was bust. Only 39, Le Gray left France never to return. He set sail for adventure in the Orient with Three Musketeers novelist Alexandre Dumas, doing reportage in war-torn Sicily along the way. But after an argument about Dumas's mistress, Le Gray was abandoned in Malta. Fleeing creditors, the photographer continued to Syria. He lived out his days in Egypt, a drawing teacher to the viceroy's sons, dying virtually forgotten in Cairo in 1884.
And so the accent in the new Petit Palais expo, curated by Anne de Mondenard and Marc Pagneux, on one rich, rollicking decade. The oldest Le Gray print displayed dates to 1849, when a summer cholera epidemic in Paris drove artists to bucolic refuge in the Fontainebleau forest. Given the nascent paper negative's low sensitivity to greens, the interplay of light and dark in his lush tableau of mossy rocks and trees is an early feat. In 1850, Le Gray published his first book imparting technical savoir-faire, inviting curious amateurs to visit his atelier. Le Gray's school hosted a motley crowd—monarchists and antimonarchists, aristocrats and explorers, painters and archaeologists—blackening their fingers with silver nitrate in his big stone house on the outskirts of Paris.
Some, like Henri Le Secq and Charles Nègre, tasted fame; others did not, despite manifest talent. Like Le Gray's seascapes, their work is still being discovered today. Alphonse Delaunay, a revelation, languished in anonymity until his work appeared at auction in 2007; the expo highlights his photos from Spain and Algeria. And it aims to give another pupil, Adrien Tournachon, his due. Tournachon lived in the shadow of his elder brother, the iconic photographer Félix Nadar. Cast as a ne'er-do-well mooch with none of Nadar's charisma, he was in fact an immense talent. Pagneux calls his self-portrait, scruffy under a straw hat, "one of the finest in the history of photography." Some of his best work was long misattributed to Nadar; the expo seeks to repair that injustice.
The exhibit chiefly endeavors to tease out the traits of Le Gray's circle. From his 50 known students, hundreds of prints remain, revealing a distinctive aesthetic that broke away from the academic instruction of the era and swung deep into an avant-garde. It argues that the group—primitive photographers in time but not technique—"prefigured the Modernist movement of the 1920s and 1930s."
Le Gray and his initiates privilege the mundane over the spectacular—an austere lumberyard near the atelier is choice terrain, a study in form. And they are keen to toy with the sanctity of their subjects using light, perspective, or composition. In Irish photographer Edward King Tenison's Abbey of Ardennes Near Caen (1855), the church is a backdrop, the foreground a heap of manure. Auguste Salzmann lets grasses invade his Jerusalem temple shots. When John Beasley Greene, an American archeologist born in France, renders hieroglyphics, he lets shadow wash black the inscriptions. Notre-Dame Cathedral in Paris, under major restoration in the 1850s, becomes a playground; Le Gray's pupils pull construction materials into their frames with irreverent alacrity, as in Auguste Mestral's Virgin Mary statue crowned with a wooden barrel. With extraordinary execution—Le Gray imparted his obsession with print quality—they privilege geometry, spurn symmetry and scale, and cut subjects into fragments, flirting with abstraction; every offbeat treatment is deliberate, a signature, a statement.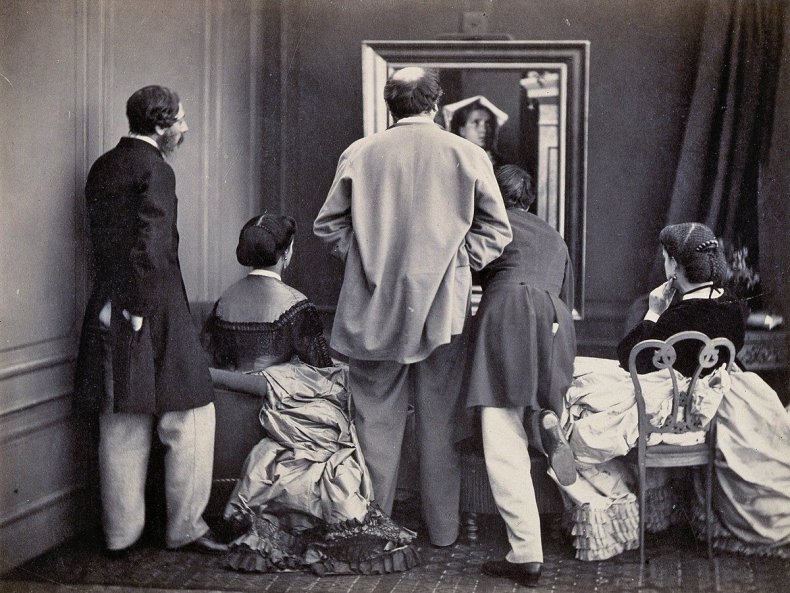 In fact, despite Le Gray's scientific contributions to the craft (developing, for one, a waxed-paper process to sharpen detail), he battled with France's fine-arts establishment to have the new medium treated as an art form. "I wish that photography, instead of falling within the domain of industry, of commerce, be included among the arts," he wrote in 1852. "That is its sole, true place, and it is in that direction that I shall always endeavor to guide it." Should naysayers remain 160 years on, Le Gray and his circle are giving a new master class in Paris.