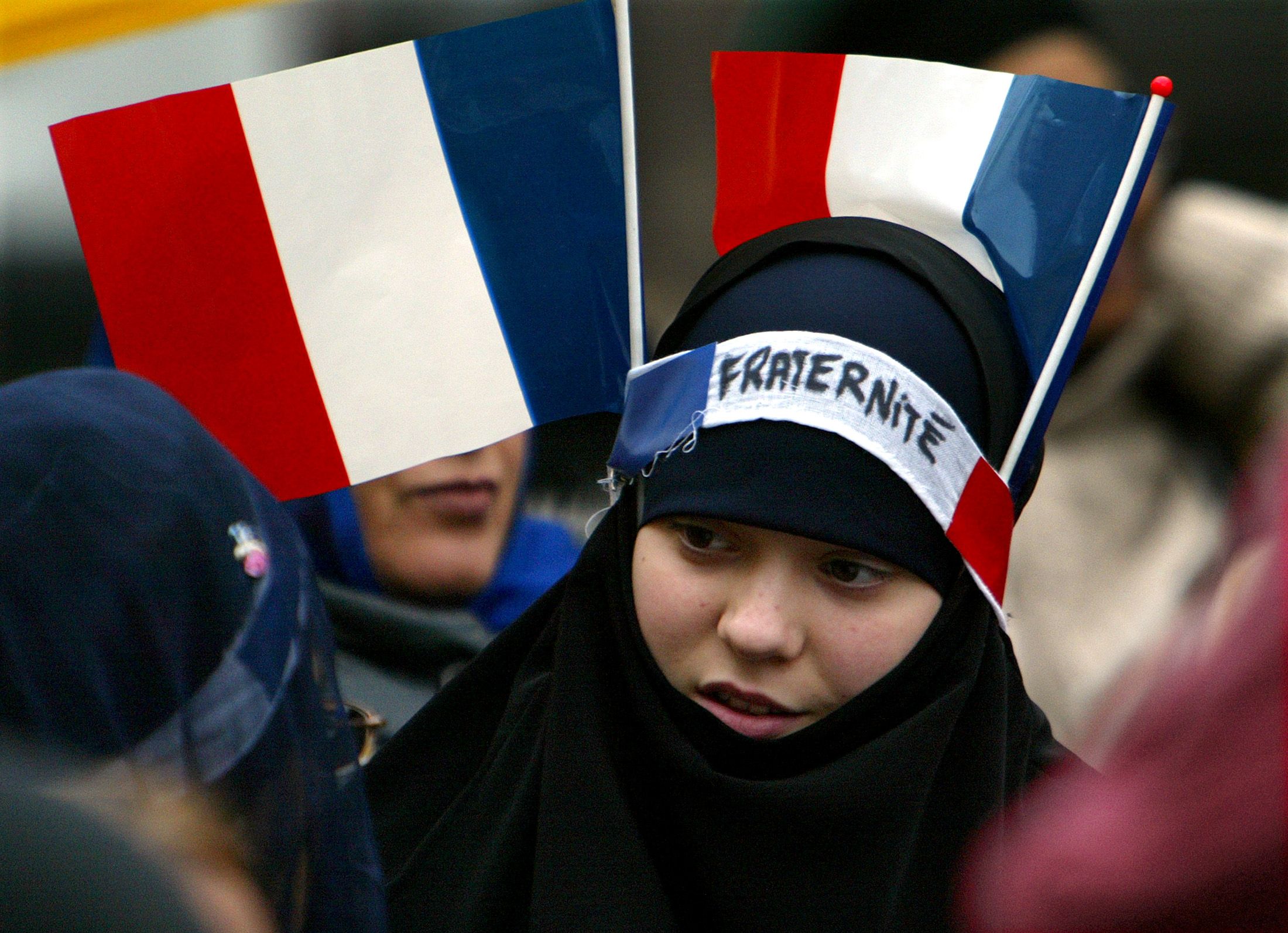 A group of Parisian Muslims announced Wednesday it is taking local politicians to court after a group of 100 lawmakers physically prevented 200 Muslims from praying on the streets of a Paris suburb.
The scuffle between the Parisian lawmakers and the praying Muslims took place last week. Local Muslim leaders say that Remi Muzeau, the right-wing mayor of Clichy, a multiethnic suburb of Paris, is trying to divide its citizens.
"You think it is a luxury to pray on the street?" Hamid Kazed, head of the Clichy Muslim Union, asked reporters.
Muslims have been praying regularly on the streets of Clichy since the mayor's office closed a local mosque in March and transformed it into a library.
Mayor Muzeau says that local Muslims have been urged to use a new, nearby mosque, but that many have refused to go and are instead praying in the streets. In response, a group of lawmakers, led by the head of Paris's regional government, arrived in Clichy last week and disrupted a group of around 200 all-male Muslims who were praying there.
The lawmakers wore sashes the color of the French flag and sang the national anthem, interrupting the praying men. Experts say this is a typical response from French politicians, who often promote the notion that France is a secular society and people should not make public religious displays.
"There are many Muslim citizens of France, but the odd thing is that the idea of France is more about absorbing others and having them come to French modes of behavior instead of having a more diverse culture," Francis Burwell, a distinguished fellow at the Atlantic Council, told Newsweek.
"In France, there has been a huge discussion about the use of the hijab, even though modern France is an incredibly diverse society."
Muslim leaders in Clichy argue that their religion does not prevent them from also being French.
"We are not Salafists, we are not fundamentalists, we are for an Islam of France, and we are for an Islam that respects the republic," Kazed stressed, in defense of his group's use of the streets for prayer.
Others Muslims in the area argued that the lawmakers' use of national symbols was discriminatory.
"They were singing La Marseillaise, throwing it in our faces, even though we're French people here. We're French. Long live France!" one Clichy Muslim told French media.
Lawmakers, however, argue that using public space for prayer is unacceptable.
"We need places of worship and decent ones for everyone," Valérie Pécresse, president of Paris's Ile-de-France region, told French media. "But at the same time, we need for everybody to live in a respectful manner with each other. And the public space cannot be unlawfully occupied."
Pécresse was accompanied by Clichy's mayor, Muzeau, who called for street prayers to be banned outright.
Street prayer has previously been an issue among France's far-right politicians. In 2011, the far-right nationalist politician Marine Le Pen compared the sight of Muslims praying on the streets to the Nazi occupation of France during World War II.