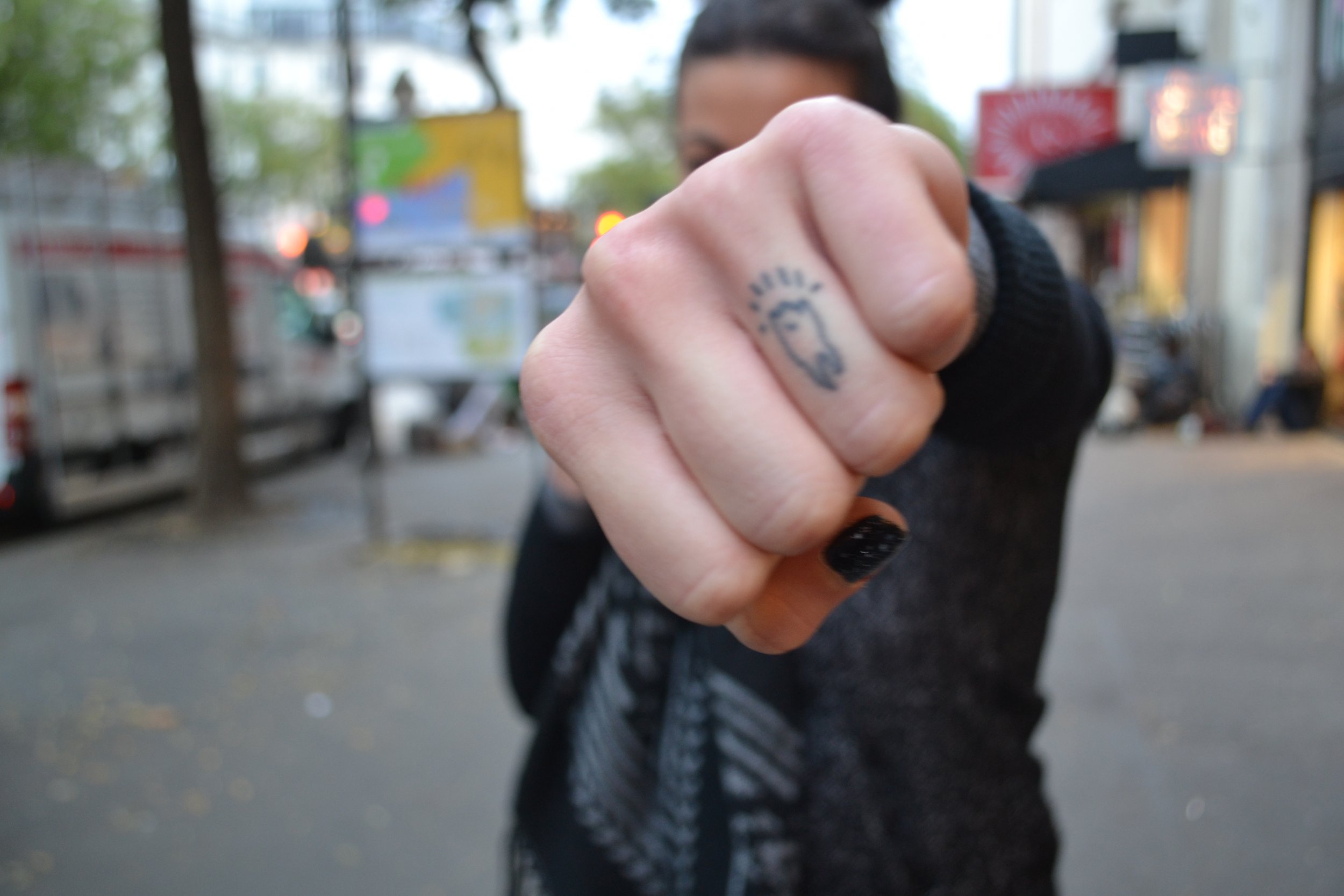 As far as young Parisians go, Laure Bailacq, 27, is as tough as they come. Tall and tattooed, with dark hair, she's a graphic designer and semi-professional boxer. On her left ring finger, she has a tattoo of a tooth. "I'm left-handed," she explains. "And I'm proud of it. Plus I'm a fighter. You have to fight for what you want in life."
Still, she admits the attacks in Paris on Friday night were "completely terrifying." She was having dinner at a sushi restaurant with four friends when the the chaos and carnage unfolded. "I had no idea what was to think," she says. She later learned that one of her friends was shot and killed inside the Bataclan.
As the identities of the 129 victims have emerged, it's clear that the young people of Paris were among the majority of victims in the ISIS attacks. From the Bataclan concert hall to the Stade de France soccer stadium, the killers overwhelmingly targeted places that are popular among young Parisians. "I've been to the Bataclan countless times," says Bailacq. "Anyone of my friends, those are places where everybody goes. They have hit my generation."
Three days after the attack, Bailacq and her friends are still uneasy. At brunch on Sunday, she caught her boyfriend staring blankly into space. When she asked him what he was thinking about, he replied, "I'm imagining what I would do if there was another attack. Would I run away? Would I knock the table over? I don't know."
In the banlieue or suburbs, far from the brunch spots, trendy cafes and sushi restaurants of central Paris, there is fear among young people, too. But it's different, especially in the predominantly Muslim neighborhood of Drancy, about 45 minutes north of the Bataclan.
Samy Amimour, 28, who was identified as one of the suicide bombers in the Bataclan, lived here in this cramped, gritty collection of houses and apartment buildings. That is until he travelled to Syria to train with the Islamic State (ISIS).
"It's horrible to think that someone here did that," says Asma, 19, a tall slender woman who declined to give her last name. "But I don't think it has to do with this community. It could have been anyone, from anywhere."
Asma watched the killing unfold with horror on TV at her parents house. On Monday, she went shopping with a friend at a mall in Drancy. It was the first time she had left the house since the attacks. "I was too scared," she says.
Unlike Bailacq, it is not terrorism that Asma fears most. Now that the initial shock of Friday's attacks has passed, she says she's afraid the country will turn against her and her fellow Muslims. Like many young Muslim women in the banlieue, Asma wears a veil: "It makes me stand-out, it makes me obvious," she says. "I'm afraid of how people will look at me. But most of all I'm afraid to go into Paris."
The expectation that Islamophobia will likely intensify is something Bailacq acknowledges, too. "For now, people in Paris are standing together, the city is full of love," she says. "But what will last will be racism. What will remain is the fear."
From the banlieue to the hip neighborhoods of downtown, the attacks on Friday seem to have led to a heightened sense of fear among Parisian youth. But for Bailacq, at least, there is a silver lining. As she puts it: "I just feel so fucking lucky."