In Paris, 1 Police Officer Killed, 2 Wounded in Champs-Élysées Shooting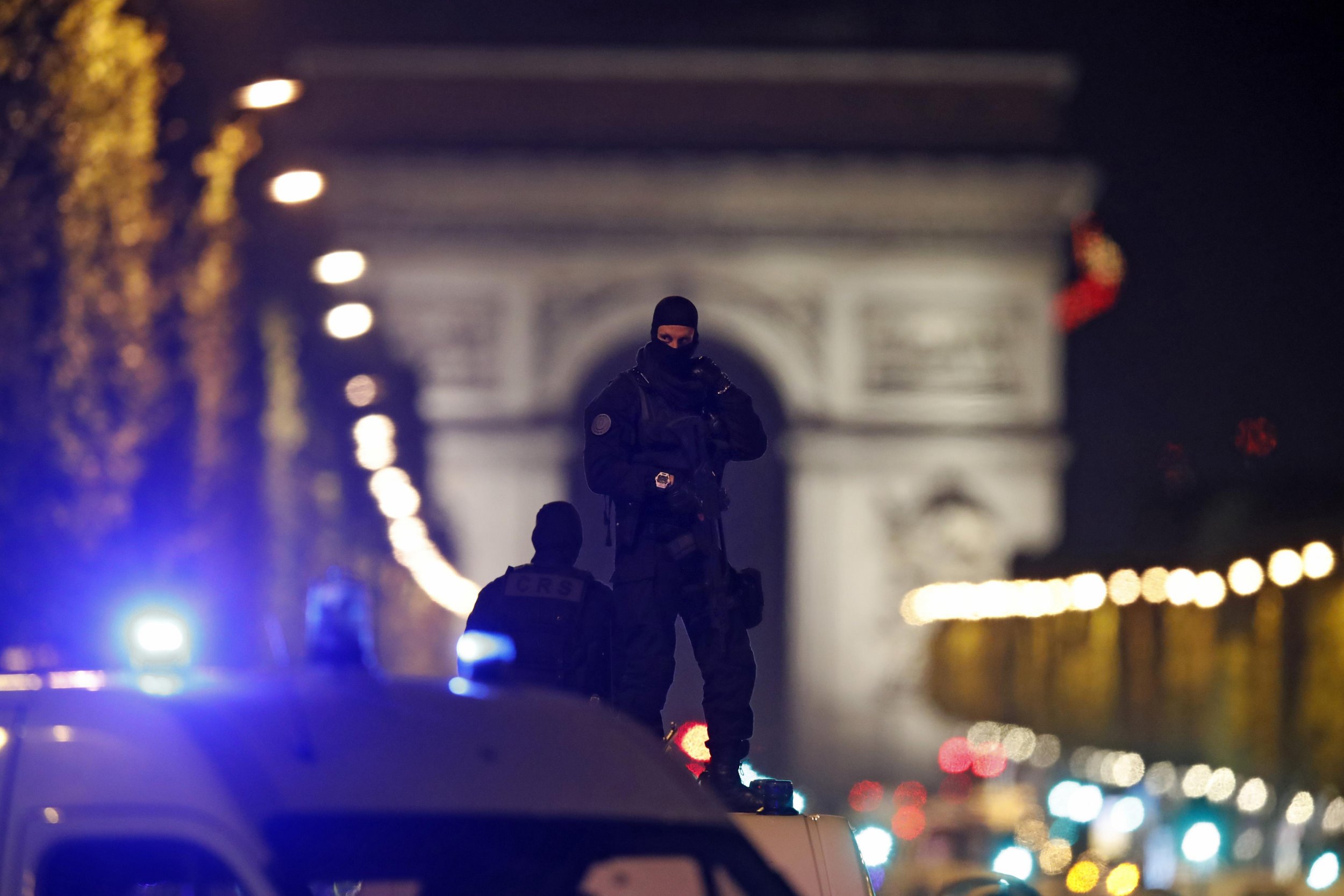 Updated | One police officer is dead and two more are injured following a shooting on the Avenue des Champs-Élysées, the popular shopping and tourism street in Paris. The Islamic State, also known as ISIS, claimed responsibility, according to the group's Amaq news agency.
The incident occurred Thursday night local time. The assailant fired on a police car from a vehicle as the police were stopped at a red light, Unité SGP Police, a law enforcement union, said. The union initially tweeted that a second officer had died but later deleted the tweet. Reuters also reported that a second officer was dead, but the outlet then said that report was incorrect. Around 11 p.m. local time, French authorities confirmed only one officer was dead.
Related: French presidential race tightens
The assailant was killed by security forces, French officials said. Police tweeted that people should avoid the area. Nearby metro stations were closed. Authorities said they had started an investigation and would be analyzing the assailant's vehicle.
Speaking before midnight local time in Paris, French President François Hollande said the incident appeared to be terrorism.
France is amid a presidential election season, with the first round of voting to take place Sunday. As news broke of the Champs-Élysées incident, right-wing presidential candidate Marine Le Pen tweeted, "Emotion and solidarity for our security forces, again being targeted." François Fillon, another candiadate, tweeted, "Tribute to the security forces who give their lives to protect ours." A third candidate, Emmanuel Macron, said on Twitter, "Tonight I want to show all my solidarity with our law enforcement."
At an unrelated press conference, alongside Italian Prime Minister Paolo Gentiloni, President Donald Trump said the Paris incident appeared to be a terror attack. "Our condolences from our country to the people of France," he said. "It's a very, very terrible thing that's going on in the world today. But it looks like another terrorist attack. What can you say? It just never ends."
Security concerns have been heightened in Paris and elsewhere in France since January 2015, when assailants attacked the offices of satirical newspaper Charlie Hebdo and a Kosher supermarket. That November, extremists killed around 130 people in coordinated attacks around the city. Last July, an assailant plowed a truck into a Bastille Day celebration in Nice, killing around 86 and wounding more than 400. There have been additional smaller-scale extremist attacks, including in the northewestern French town of Saint-Étienne-du-Rouvray, where assailants slit a priest's throat last July.
Tourism officials in Paris had said in April that the number of tourists traveling to the city had finally rebounded following the 2015 and 2016 attacks in France. The Champs-Élysées area, which stretches from the Place de la Concorde to the Arc de Triomphe, is a major tourism area.
This article has been updated to include additional details about the incident and comments by three French presidential candidates and President Donald Trump. This article was also updated to correct a false report, based on information from a French police union and Reuters, that two officers had died.