Paris Renames Métro Stations to Celebrate World Cup Players
Paris transport authorities temporarily renamed six of the city's Métro stations to honor soccer players on the French national team.
France beat Croatia 4-2 on Sunday, July 15, to win the country's second World Cup championship.
Among the changes, a stop previously honoring French poet and author Victor Hugo was modified to glorify French goalkeeper Victor Hugo Lloris, and the Champs Élysées Clemenceau station was renamed "Deschamps-Elysées Clemenceau" in honor of French coach Didier Deschamps.
The English-language publication The Local reported that "metro users loved the quick change of names and suggested more Metro stations could have been renamed."
Celebrations consumed the country yesterday, with 1 million fans swarming the famous Avenue des Champs-Élysées to see the Arc de Triomphe illuminated with France's national colors and celebrate the team's victory.
The jubilant mood extended to the Louvre museum, which tweeted a picture of the Mona Lisa adorned in a France soccer jersey.
Fans gathered at Paris's Charles de Gaulle Airport on July 16 to cheer the team upon its return from Russia. Later in the day, the players will participate in a parade down the Champs-Élysées and then dine with French President Emmanuel Macron.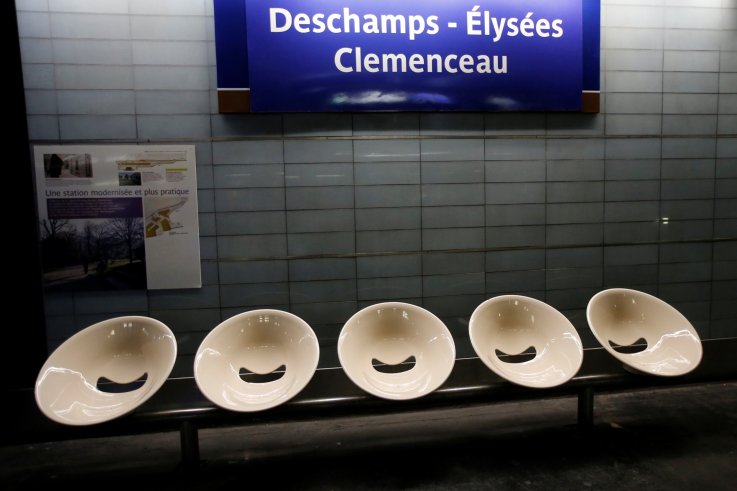 England similarly welcomed back its national team by temporarily renaming a metro station. In its best performance since 1990, England reached the tournament's consolation match, finishing fourth.
In recognition of the team's accomplishment, London's Southgate station was renamed Gareth Southgate station for 48 hours, to honor the English manager.
"The great performance of the England team this summer brought people of all ages together in celebration. We're delighted to be able to show our appreciation to Gareth and the team by renaming the station in his honor," the managing director of London Underground at Transport for London said.
Croatia was also preparing to welcome back its players, who took the Eastern European country to the World Cup final for the first time. A parade was planned in the country's capital city of Zagreb for Monday.
While Croatian fans were sad that their team failed to win the title, they celebrated how close their country had come to earning a world championship.
"For us, this means more than a mere sporting victory. Today there are still corners of the world that haven't heard about Croatia. After tonight, the whole world will know who we are," Miroslav Blažević, who coached the Croatian team to its third-place finish in 1998, told The Guardian.
Paris Renames Métro Stations to Celebrate World Cup Players | World