Is Paris Safe? Riots Continue as France Considers Declaring State of Emergency
A fresh wave of violence descended on Paris over the weekend as riot police clashed with "gilets jaunes" (yellow vest) protesters, who refuse to give ground in their fight against President Emmanuel Macron's proposed hike on fuel prices.
The nationwide protests mark the worst civil unrest in France in more than a decade, leaving the country in turmoil and Macron, who is considering imposing a state of emergency, facing the most serious crisis of his presidency thus far.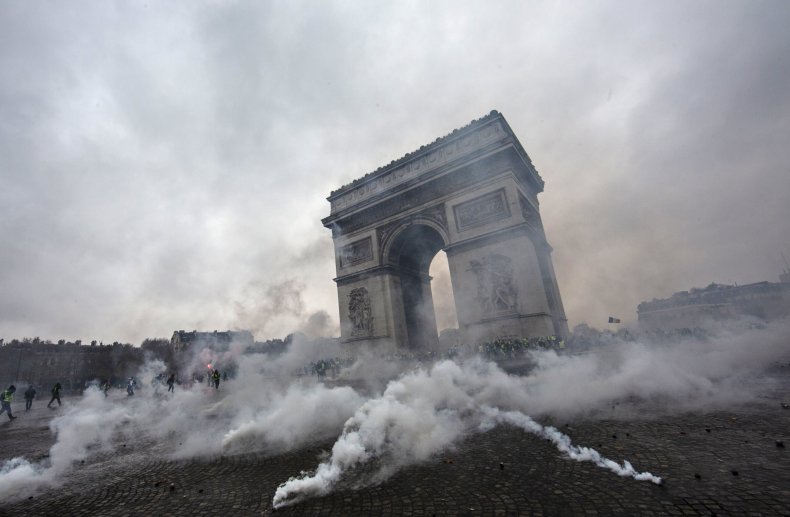 Macron's "carbon tax" looks to increase taxes on petrol and diesel with the aim of tackling climate change and transitioning to green energy. But by adversely affecting poorer people—who pay a higher proportion of their income on fuel and often live in parts of the country where public transport is worse—it fits into a narrative that has plagued Macron's presidency: reducing taxes for wealthy individuals and companies while raising them for everyone else.
As a result, the protest against that particular policy, which began in early November has evolved into a far broader anti-government movement. Its initially peaceful strategies—such as blocking roads—have been overshadowed by the violence and rioting. With another protest planned in Paris next weekend, the protests show no signs of abating.
On Saturday, cars were set alight, the base of the Arc de Triomphe was covered in graffiti, shop windows were smashed and statues were vandalized. Writing in The Guardian, the journalist John Lichfield, who has been based in France since 1997, said that it was the most intense anger he had seen in the country. "The 12-hour battle went beyond violent protest, beyond rioting, to the point of insurrection, even civil war," he wrote.
As plans for the government to meet with peaceful members of the gilet jaunes protesters continue to stall—partly because the movement lacks any clear leadership—Macron is now considering with imposing a new state of emergency that would strengthen the police's power to prevent any further escalation. A previous state of emergency in France was only lifted in November 2017, following five extensions, after the November 2015 Paris terrorist attacks.
"We have to think about the measures that can be taken so that these incidents don't happen again," Benjamin Griveaux, one of Macron's closest allies, told Europe 1 radio on Sunday, according to Reuters. "It is out of the question that each weekend becomes a meeting or ritual for violence."
Griveaux also asserted that Macron would not bow down. "We won't change course. We are certain of that," he told Europe 1 radio.