Parking Space May Be Final Frontier in the Sharing Economy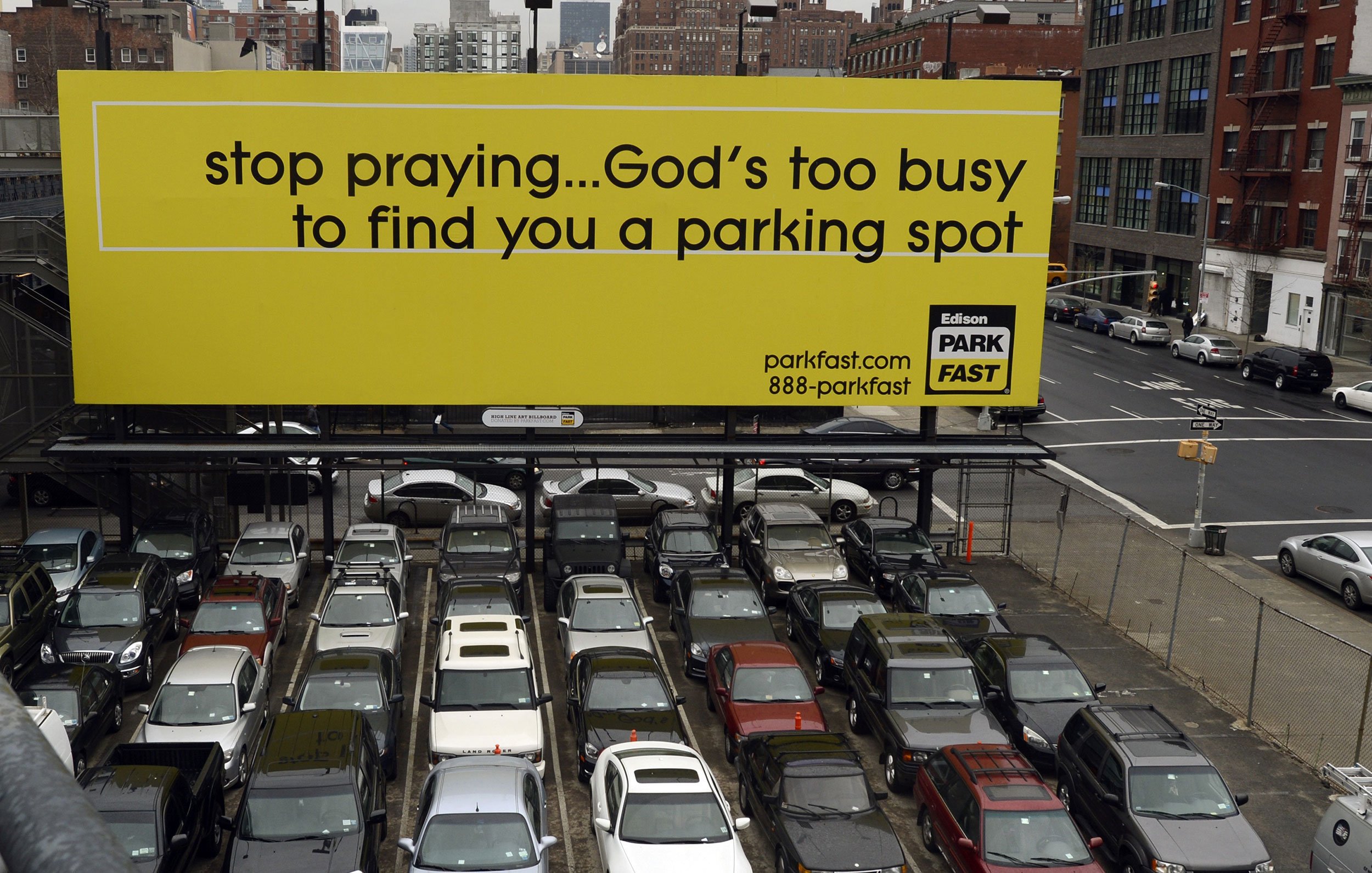 I don't know when the 1998 film The Truman Show became a touchstone for the modern, all-eyes-on-me experience, but I found myself thinking of the moment in the movie when Truman (Jim Carrey) begins to realize that his world is a figment of someone else's imagination: He is parked in his driveway when he notices that the same car keeps driving by at equally spaced intervals. It could be that the car in question is part of an elaborately staged ballet designed to make Truman think this is reality. Or it could be that the driver is just looking for a place to park.
It has been estimated that at any given moment, one out of five cars driving around a city is looking for parking. Take San Francisco (please!); in this famously parking-challenged city, it's estimated that 30% of cars on the street are hunting for spaces. There are 442,000 parking spaces in the city: 275,500 are street parking spaces, 10% of which are metered. Factor in 385,442 registered vehicles in the city, plus 60,000 car commuters, and you can see the problem—or, if you're the founders of CARMAnation, the potential solution.
"It's kind of an old-school problem but no one's really solved it," says co-founder Ilya Movshovich, who had the idea for the space-sharing app in 2013 when he was looking for a parking spot downtown and experiencing sticker shock (monthly garages go for as much $400 and metered parking as much as $6 an hour). "And while I was doing that I saw a Lyft drive by with a pink mustache," he says, referring to the local ride-sharing service. "And it triggered [thoughts of] the sharing economy and how many times have I asked a buddy, 'Hey if you're gone for the day do you mind if I park in your driveway?'"
He and co-founder Ashley Cummings mapped out a plan for a peer-to-peer sharing community that would allow people with unused spots to rent or exchange them. Launched in March 2014, CARMAnation offers three ways to play: You can offer your spot free of charge to members of the community; you can do something more along the lines of AirBnB, renting your space on an hourly to monthly basis and pocketing the profits; or you can donate the proceeds to one of five local charities (Guide Dogs for the Blind; the Bay Area chapters of the Make-a-Wish foundation and Habitat for Humanity; Raphael House, which offers shelter and assistance to low-income and homeless families; and Project Night Night, which supplies blankets, books and stuffed animals to homeless children).
It's the charity piece that sets CARMAnation apart from many startups and established companies, in an area that has become increasingly unaffordable for working-class families. "One of the reasons you see protesters in front of Google buses is that they see people in tech helping each other and they're left on the sidelines," says Movshovich. We're sitting in a Starbucks in San Francisco's Financial District as late afternoon traffic outside clogs the streets leading to the Bay Bridge. It's the perception of solipsistic techies whose "hottest startups are solving all the problems of being 20 years old, with cash on hand," as George Packer famously put it in his 2013 New Yorker piece on politics in Silicon Valley, that CARMAnation seeks to counter.
"Tech people forget there are other ages," says Movshovich. "You have to pick up your kids, you have to shop, you have to pick up your elderly mom. Not everyone can ride a bicycle. My mom does not know how to ride a bicycle; maybe because I was born in Russia, we had snow…so she can't do a bike share." (The popular Bay Area Bike Share program is seeking to expand from 700 to 7,000 bikes in the next two and a half years.)
There have been other companies in this, uh, space, the most famous perhaps being MonkeyParking. "They had a lot of controversy last year for essentially auctioning off public lands," says CARMAnation co-founder Cummings. "Basically they were allowing people to say, 'Hey, this spot is free and I'm going to allow you to park there for 10, 20 bucks.'" (Something I used to see enterprising winos do with parking spaces on New York City's Lower East Side.) The city ordered the company to shut down and last we heard they were trying again in Santa Monica.
CARMAnation benefited from that brouhaha, as the city attorney pointed to its model as a legal option and other cities took note. "Both of us started to think, this is actually bigger than we thought," says Movshovich, and they are now in talks with six U.S. cities to integrate CARMAnation into their transportation programs. "It's a big deal because it's kind of unprecedented to let something like us into their transportation program. It's beneficial for them, instead of building out more public garages." Cities in Europe and Canada have also expressed interest. "London is ripe for that," adds Cummings.
In the coming months, the two (who along with their development team and obligatory two dogs make up the CARMAnation staff) will be announcing partnerships with one of San Francisco's on-demand valet parking companies (there are at least four) as well as two of the local car-sharing companies. "It's a small thing, parking, but when you think of it on a larger scale there is a way through the sharing economy for these companies to mesh and work together," says Movshovich.
For now they are getting the word out through social media and the considerable databases of the charities they work with. Have you thought of advertising at the tow-pound, I ask them, or putting fliers under the windshields of cars, right beside the parking tickets?
"We have actually done that," says Movshovich. After sticking a flier under the windshield wiper of a car on a particularly hot day, "We got a tweet from someone whose flier got stuck to the windshield. He had to take it to get cleaned. He even sent a picture." He happened to be a CEO of a startup and declined their offer to come clean it off, but still, says, Movshovich, "That was the wrong kind of advertising."