Parkland Families Defend Judge After Hug: 'Fair to All Parties'
The families of the 2018 Parkland, Florida, mass shooting victims have spoken out in support of Judge Elizabeth Scherer following her controversial actions at a recent sentencing hearing.
Nikolas Cruz, who opened fire at Marjory Stoneman Douglas High School and killed 17 people in 2018, was sentenced to life in prison without parole on November 2 following a years-long trial. Near the end of the sentencing hearing, Scherer, a circuit judge for Broward County, shared hugs with the prosecuting attorneys in the case, leading to accusations from many legal experts that her conduct was "inappropriate" and "improper," and suggested that she was no longer acting as an impartial party in the case.
In response to these criticisms, multiple families of the Parkland victims signed a letter in support of Scherer, defending her actions and stressing that she took steps throughout the legal process to be fair to both sides.
Sharing the letter on Twitter on Sunday, Parkland parent Max Schachter wrote that the families did not fully support some of Scherer's decisions throughout the years, which he considered to be evidence that she acted impartially.
"We believe that her decisions & actions during the past 4 years exhibited an intense effort to be fair to all parties in honor of the judicial system," Schachter wrote. "The fact that we did not agree with many of her decisions demonstrates her dedication to that ideal...Judge Scherer conducted herself with patience, professionalism, restraint &, when it was all over, compassion. We have noted the social media commentary by the defense bar regarding the 'hug.'"
He continued: "Once court had concluded & the murderer was gone, the judge acquiesced to our request to speak with her. We wanted to thank her. She showed compassion by stepping down from the bench to personally share her condolences for the loss of our loved ones, an act that touched our [hearts]."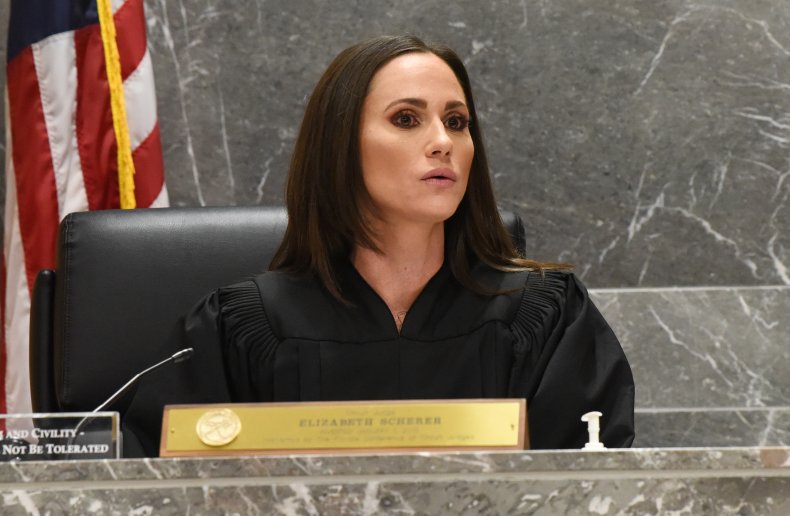 The day after the sentencing hearing concluded, Ernest L. Chang, president of the Florida Association of Criminal Defense Lawyers, sent a letter to Broward County Chief Judge Jack Tuter "to express dismay at the behavior" exhibited by Scherer. The letter also accused Scherer of "hostile and demeaning treatment of defense counsel," including public defender Gordon Weekes.
"Judge Scherer's hostile and demeaning treatment of defense counsel, one of whom is the elected Public Defender, exposed seemingly deep disdain for the role defense lawyers play in the criminal justice system," the letter read. "We also take the position that Judge Sherer's hostility reveals a temperament ill-suited to the criminal bench. Judge Scherer's comments and actions were not only offensive but were also ultimately detrimental to the integrity of the judiciary and the judicial system."
Newsweek reached out to the 17th Judicial Circuit of Florida for comment.