Parkland Families Reflect on Shooting Four Years Later, Urge Biden to Act
Four years after Nikolas Cruz gunned down students and staff at Marjory Stoneman Douglas High School—killing 17 and wounding another 17—the survivors and families of the victims called on the president and other politicians to enact more gun control legislation "before the next Parkland happens."
"One of the first interviews that I had in the wake of the shooting...I was asked by the reporter, 'What do you want to say to politicians?' and I said 'We're the kids, you're the adults. You need to do something.' It's four years late and I'm 21-years-old and I'm an adult," Parkland survivor David Hogg told CNN's New Day on Monday.
"We need to do something and frankly, President Biden needs to do something because there are certain things that he's leaving on the table that he can do right now," he said. "He can do it right now, regardless of the filibuster and regardless of what's going on in the Senate."
Gun control advocates are using the fourth anniversary of the Parkland shooting to urge Biden, who ran on a campaign that vowed to prioritize gun safety, to take matters into his own hands and move to tighten gun laws through executive action.
Hogg called on the president to create a national office of gun violence prevention and appoint a national director of gun violence prevention ahead of the State of the Union next month.
"What if this country genuinely and truly prioritized life and reducing gun violence before February 14th, 2018?" Parkland father Fred Guttenberg, who lost his 14-year-old daughter Jamie in the shooting, wrote on Twitter. "What if America understood before you were killed, or even today, that reducing gun violence is a public health issue and not a second amendment issue?"
On Monday, the White House released a statement in mourning with the families who were affected by the Parkland shooting and those who have lost loved ones to gun violence.
The Biden administration promised to "stand with those working to end this epidemic of gun violence" and continue pushing through a comprehensive plan to address the issue.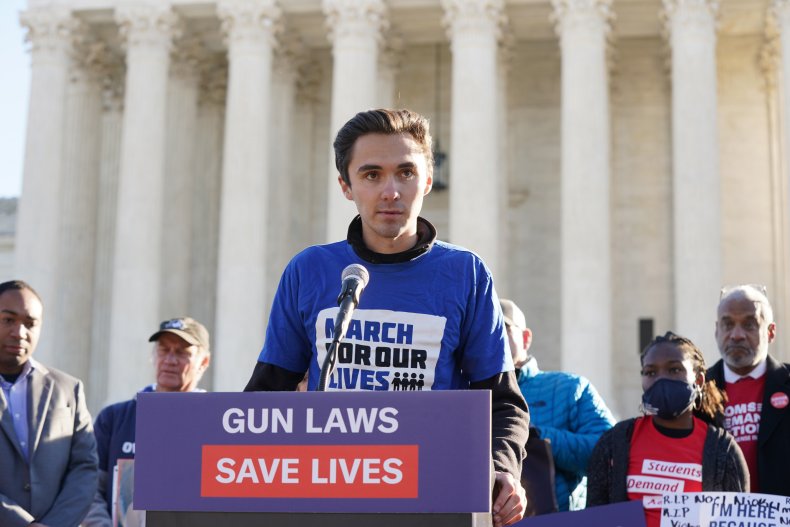 While the president noted that he has asked Congress to pass a budget that would provide half a billion dollars to reduce violent crimes and requested increased funding for the Bureau of Alcohol, Tobacco, Firearms and Explosives, Parkland survivors say they're "disappointed" that Biden hasn't fulfilled his promise to "do everything in [his] power, in office or out of office to get those assault weapons off the street."
"I'm disappointed," Hogg said. "Frankly, if I could say one thing to the president, it's that we need you to go out and act right now before the next Parkland happens. Because there are things you can do right now to help prevent it that you have not done. We need you to make good on your promises."
In the wake of the deadliest high school shooting in U.S. history, Hogg and fellow classmates found the youth-led gun control advocacy group March For Our Lives (M4OL). Roughly a month after Parkland, M4OL led an estimated 2 million people nationally in demonstrations supporting gun control legislation.
On Monday, the group announced that, in partnership with Change the Ref and Guns Down America, it was launching the Shock Market—a website that tracks the number of gun deaths and gun injuries that have taken place since Biden took office last year.
"President Biden made personal promises to Patricia [Oliver], to Manuel [Oliver], to David, that this would be a top priority for him and the fact that they haven't done everything and anything in their power, is unacceptable," Igor Volsky, founder and executive director of Guns Down America, told CNN.
Alongside Guttenberg, the Olivers also lost their son, Joaquin, during the mass shooting at Marjory Stoneman Douglas High School.
On the anniversary of his daughter's death, Guttenberg penned a moving tribute, questioning what her life would be like today had she not been shot and killed as a freshman in high school.
"Dear Jaime," Guttenberg wrote. "Today is 4 years since your voice was silenced. It is now 4 years since I last heard your laugh, saw your smile, and kissed you goodbye. It is now 4 years since I last had the typical parental worries about you and how your day was going?"
"For the past 4 years, I find myself asking 'what if' every minute of every day," he added. "What if you were sick that morning and we never sent you to school? What would your day have been like then? Would fate have intervened some other way or would you now be the beautiful 18 -year-old teenager living her best life at The University of Florida?"
Guttenberg asked if Jamie would still be alive had politicians acted earlier to pass laws that would reduce gun violence, adding that even now, it is never too late to "finally do something about gun violence."
"Under the President's watch, gun violence has continued to skyrocket," Hogg said in a press release.. "The President himself said that the buck stops with him, and yet we still haven't seen a comprehensive, detailed plan on how he intends to bring this epidemic to an end."
"Nearly 45,000 people died in his first year and it remains the leading cause of death for children in America. Young people marched, we voted, we did what was asked of us. It's time for the President to deliver for us," he said.