Parkland Father Calls Marjorie Taylor Greene 'Dangerous Fraud,' Accuses GOP of Complicity
Fred Guttenberg, who lost his daughter Jaime in the school shooting in Parkland, Florida, has denounced Rep. Marjorie Taylor Greene as "a dangerous fraud" and called out Republican leaders for failing to condemn her continued comparisons of mask mandates and other COVID-related rules to the Holocaust.
In recent days, the Georgia Republican has doubled down on the comparison, despite outrage from Jewish groups and other lawmakers.
Guttenberg, who is Jewish, told Newsweek that the failure of Republican leadership to condemn Greene's remarks over the past week was concerning.
"Marjorie Taylor Greene is a fraud, but she's a dangerous fraud and she's utilizing right now the issue of Judaism to incite people," he said. "We already know who Marjorie Taylor Greene is, she's someone who denied what happened to my daughter.... we know who she is, she's a fraud."
Greene was stripped of her committee assignments earlier this year after it emerged she had pushed conspiracy theories and "liked" posts that challenged the veracity of mass shootings at schools, including the one at Marjory Stoneman Douglas High School in Parkland in 2018.
Guttenberg said Greene's latest comments could be ignored, but "what gives her the power is the inability of people like [Senate Minority Leader Mitch] McConnell and [House Minority Leader] Kevin McCarthy to say anything about it.
"So what gives the fraud, what gives the antisemitism power is the two of them, and that's my concern. Because they're letting this go, you have to assume they're okay with the push towards antisemitism, and the incitement to violence that it's going to bring."
Guttenberg said Greene's comments are especially troubling given the recent spike in antisemitic attacks across the country.
"For Jewish people like me, my family, my friends, we're all seeing it, we're all feeling it," he said. "And what's really, really, really is so horrific about it is the inability of elected leaders, really one specific party, to say a word about it. Silence is complicity, and they are silent."
McCarthy's spokesperson pointed Newsweek to a statement released on Tuesday, where he said Greene "is wrong, and her intentional decision to compare the horrors of the Holocaust with wearing masks is appalling." He added: "Let me be clear: the House Republican Conference condemns this language." McConnell's spokesperson been contacted for comment.
Greene sparked outrage last week after comparing the House's ongoing mask mandate to the Holocaust.
Early Tuesday, she tweeted an article about a grocery store chain that will allow vaccinated employees to go maskless while wearing vaccination logos on their name badges.
Greene likened the vaccination logos to the yellow Star of David badges European Jews were forced to wear on clothing during the Holocaust.
"Vaccinated employees get a vaccination logo just like the Nazi's forced Jewish people to wear a gold star," Greene tweeted.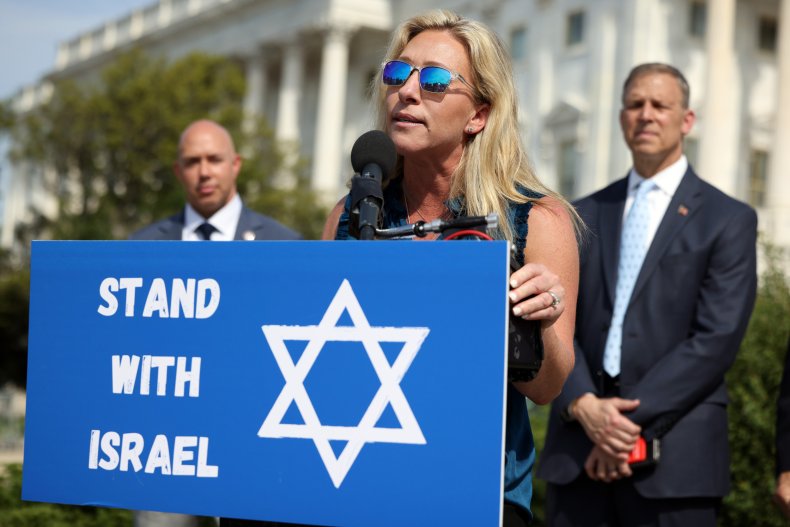 Later, she tweeted a link to an article about the University of Virginia requiring students to be fully vaccinated before returning to campus in the fall.
"It appears Nazi practices have already begun on our youth," the controversial congresswoman wrote. "Show your VAX papers or no in person class for you. This is exactly what I was saying about the gold star. This is disgusting!"
That tweet prompted Guttenberg to tweet that Greene was an "American disgrace."
"My dad's family was murdered in the Holocaust," Guttenberg wrote, tagging Greene's, McConnell's and McCarthy's accounts.
"Your ability to lie your f**king way through life on the Holocaust, Parkland, 9/11 & other events is an American disgrace. I blame the @GOP, @LeaderMcConnell & @GOPLeader for enabling & supporting everything you do."
As criticism mounted, Greene later claimed on Twitter that she never made a comparison "to the Holocaust, only the discrimination against Jews in early Nazi years."
But in an interview last week, Greene specifically compared the House's ongoing mask mandate to the Holocaust.
"You know, we can look back at a time in history where people were told to wear a gold star, and they were definitely treated like second-class citizens, so much so that they were put in trains and taken to gas chambers in Nazi Germany, and this is exactly the type of abuse that Nancy Pelosi is talking about," Greene said.
Those comments were condemned by Jewish groups, including the American Jewish Congress (AJC).
"You can never compare health-related restrictions with yellow stars gas chambers and other Nazi atrocities. Such comparisons demean the Holocaust and contaminate American political speech," the AJC tweeted. "Rep. Marjorie Taylor Greene must immediately retract and apologize."
On Monday, Jonathan Greenblatt, the CEO of the Anti-Defamation League, also hit out at Greene over her comments.
"Look, we know Marjorie Taylor Greene clocks in, Wolf, somewhere between deranged and demented, right?" Greenblatt told CNN's Wolf Blitzer during an appearance on CNN's The Situation Room. "This is a woman who thinks there are Jewish space lasers starting forest fires. She's a QAnon enthusiast. She is offensive in almost everything that she does."
Greene's office has been contacted for comment.