Fred Guttenberg, the father of a victim in 2018's Parkland, Florida, school shooting, is calling on Senator Joe Manchin to join him in the push for universal background checks on guns as mass shootings continue to erupt across the country.
Addressing Manchin on Twitter, Guttenberg wrote, "I have called on you to [halt] gun violence with me. I have called on you to push the Senate to do anything required to pass the bare minimum of background checks. I have offered to meet you anywhere. In light of this latest shooting, please meet with me. ENOUGH!!!"
Guttenberg became a prominent gun safety activist after the 2018 mass shooting at Marjory Stoneman Douglas High School, in which he lost his 14-year-old daughter, Jaime.
His plea comes hours after a mass shooting at a FedEx facility in Indianapolis left eight people dead. The attack came just weeks after back-to-back shootings at spas in Atlanta and a grocery store in Boulder, Colorado, have renewed the push for gun reform.
"I went to sleep last night & woke up to the reality of the latest mass shooting at a FEDEX warehouse in Indianapolis. I speak often of the need for the business community to join me in doing something about gun violence," Guttenberg responded to the shooting. "Sending my love to the families."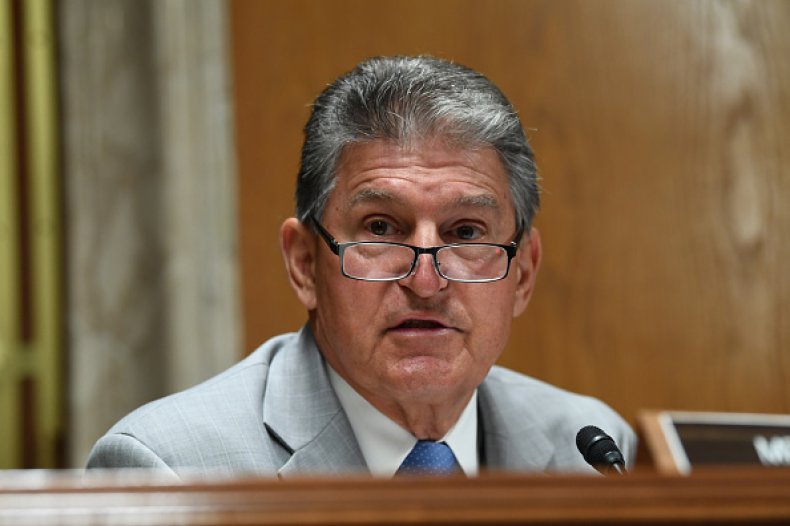 Manchin has become an obstacle to Democrats' efforts to pass legislation that would expand background checks to all gun sales.
The moderate Democrat from West Virginia has said he does not support two bills that recently passed in the House, suggesting he wants exceptions for private sales between gun owners who know each other.
"I come from a gun culture. I'm a law-abiding gun owner," Manchin said last month, adding that he supports "basically saying that commercial transactions should be background checked. You don't know a person."
He added, "If I know a person, no."
In 2013, Manchin proposed bipartisan legislation with Senator Pat Toomey to expand checks to all commercial sales, but only two of the Republican senators who supported the bill remain in the Senate.
"It is quite simple," Guttenberg told Newsweek in an email on Friday. "Passing gun safety will require every [D]emocrat in the Senate hold in support of HR8 and possibly be committed to going forward without the filibuster. He is the impediment to that but has also made other comments of concern."
He said is hoping to speak with Manchin directly but has yet to receive a response.
On Friday, Guttenberg called on not only elected officials but also corporations to join him in the fight against gun violence.
"Anyone who follows me knows that I am a former business owner and have called on the business community to do more to understand and react to gun violence. The time for action is NOW!!! I hope my former boss Alex Gorsky, CEO of Johnson & Johnson and my former colleagues from Dunkin Brands are listening," he tweeted.
Newsweek reached out to Manchin's office for comment but did not hear back before publication.