Parkland Father Fred Guttenberg Rips AOC for Comments on Israel: 'I Have Defended You, Shame on You'
Fred Guttenberg, the father of a Parkland, Florida, school shooting victim, is firing back at Representative Alexandria Ocasio-Cortez for her comments on the Israel-Palestinian conflict and accused her of making remarks that approach anti-Semitism.
"I have defended you often from Republican attacks. However, shame on you," Guttenberg tweeted on Saturday. "You are wrong and either showing a lack of understanding or something more intentional veering on anti Semitism."
Guttenberg, who lost his daughter Jaime during the 2018 shooting at Marjory Stoneman Douglas High School in Parkland, was responding to an earlier tweet from Ocasio-Cortez in which the congresswoman wrote, "Apartheid states aren't democracies."
Guttenberg also retweeted a screenshot from the Simon Wiesenthal Center, a Jewish human rights organization, that says Israel does not fall under the International Criminal Court's definition of apartheid, which it defines as "inhuman acts committed for the purpose of establishing and maintaining domination by one racial group of persons over any other racial group of persons and systematically oppressing them."
Ocasio-Cortez has defended Palestinians and criticized the U.S. for supporting Israel during the current violence in the region.
"The United States must acknowledge its role in the injustice and human rights violations of Palestinians," the congresswoman said on the House floor last week. "This is not about both sides. This is about an imbalance of power."
She added, "The president stated that Israel has a right to self-defense.... But do Palestinians have a right to survive?"
Ocasio-Cortez said her statements are supported by "extensively researched, painstaking conclusions from the UN, Human Rights Watch, and B'Tselem."
Last month, Eric Goldstein, the acting executive director of Human Rights Watch's Middle East and North Africa division, said, "To bring real change, we need to call the situation what it is: an oppressive and discriminatory system that shows no signs of going away, and that meets the legal definition of apartheid."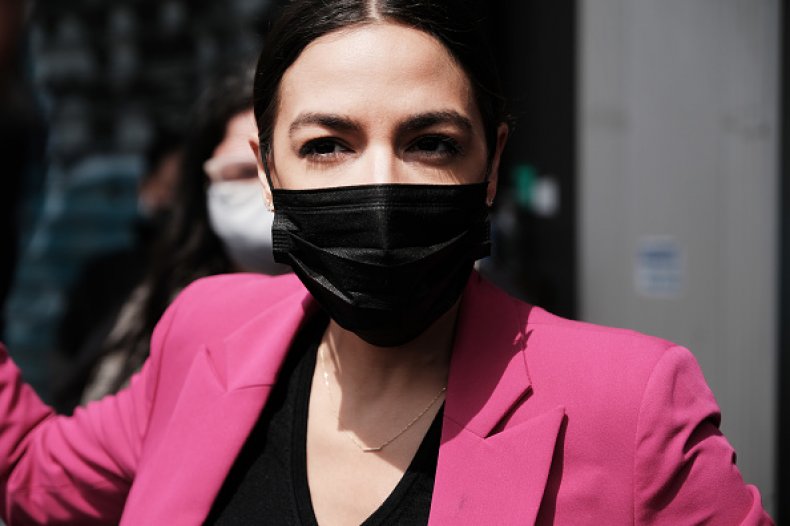 Guttenberg, who is Jewish, addressed the backlash he said he received from "nasty progressives" for calling out Ocasio-Cortez, saying that he was not seeking political support but that "as someone with family & friends in Israel throughout my life, including now, I am well aware of the terror that they face daily. I am also well aware of the plight of the Palestinian people. I am entitled to and will share my opinions."
Defending his statements, Guttenberg argued that he was not against criticizing the Israeli government but disagreed with remarks that there is apartheid in Israel.
"I will criticize the Israeli democracy just as I do ours. However, am not ok with calling it apartheid or the refusal to honestly call out Hamas terrorists," he tweeted on Monday. "That is either uninformed or veering on anti Semitism. I stand by my statement."
While Guttenberg has publicly criticized Republican Senator Ted Cruz numerous times in the past, he noted that this was one issue the two see eye to eye on.
After Cruz retweeted one of Guttenberg's tweets on Israel saying he was "exactly right," Guttenberg wrote, "Never thought @tedcruz and I would align on anything. Truth is, I do not care for him, and I can say with confidence he probably feels the same way about me. However, the fact that we agree here does not make either one of us wrong."
Newsweek reached out to Ocasio-Cortez's office for comment but did not hear back before publication.