Parkland Father to NRA President Oliver North: 'We're Not Terrorists. We're People With a Broken Heart'
A Parkland father slammed the newly elected leader of the National Rifle Association for equating gun control activists with "criminal civil terrorists," describing the remark to Newsweek as "hurtful" and hypocritical.
Fred Guttenberg, who has become a prominent gun control activist since his daughter Jaime was shot and killed at Marjory Stoneman Douglas High School on February 14, was responding to comments Oliver North made in an interview published Wednesday by The Washington Times.
"They're not activists—this is civil terrorism," North told the conservative-leaning paper. "This is the kind of thing that's never been seen against a civil rights organization in America. You go back to the terrible days of Jim Crow and those kinds of things—even there you didn't have this kind of thing."
North was seemingly equating the attacks against NRA members—including vandalism and receiving personal threats—with the plight of people fighting for racial equality in the 1960s, some of whom were beaten and murdered.
The former National Security staffer, who is perhaps best known for his vacated conviction in the Iran-Contra affair in the 1980s, became head of the lobbying group earlier this week. He seemingly wasted little time blasting the rise in gun control activism, although he opined that the swell "hasn't fundamentally changed the gun control debate." He also said his first priority would be to add 1 million members to the ranks of the NRA, the size of which has come under question.
Guttenberg slammed the remarks, and North's new position, in a Friday interview.
"Less than three months ago, I was a normal Parkland parent who had two kids," Guttenberg told Newsweek. "Now I have one. The only thing I have done is exercise my right to fight for my family's safety. No cyber warfare. No nothing. We've just effectively utilized facebook and twitter to drive a message. If I'm not mistaken, we have a presidential administration that did the same thing."
He continued, "We're not criminal civil terrorists. We're people with a broken heart," he said. "But the NRA and people like Oliver North, to them, it's a job. They could retire and go on with their life. I can't, because my daughter isn't here."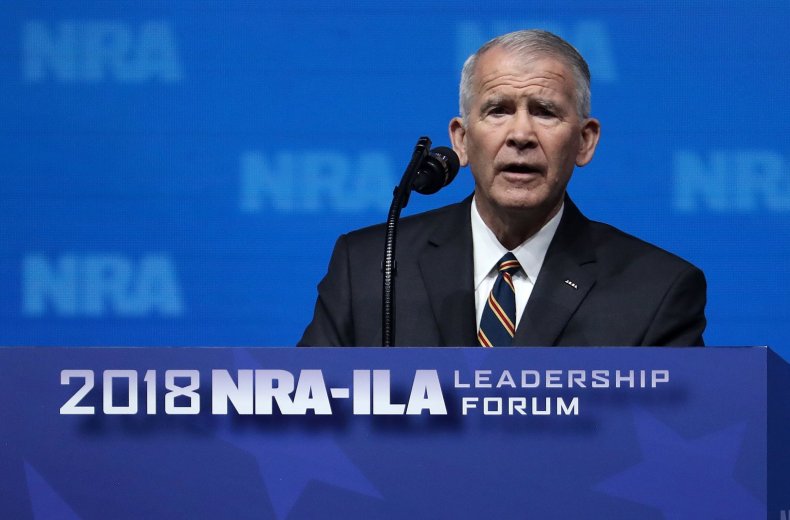 Guttenberg has founded two organizations in his daughter's memory and has been traveling the country to pressure lawmakers to enact additional gun control legislation. With Mother's Day looming, he said this week would be particularly hard on his wife and remaining son, who have stayed at "arm's length" from the divisiveness of the gun debate.
"The weekend is going to be terrible," he said. "There are all these places we just won't go to because my daughter loved them. And [on Friday], there was yet another school shooting in California. It stresses my son out," he said, referencing one person shot Friday at a Southern California high school.
But, he said, there's a silver lining in North's comments. He believes that the NRA's rancor toward activists signifies that major headway is being made in the debate over gun control—a specter that North vigorously denied. It's still unclear how the Parkland shooting and the subsequent rise in gun control activism will influence the looming 2018 elections. At least one poll in Florida has shown that it may not be the biggest issue for voters, despite other polls showing it becoming a key issue at the ballot box.
"When you look at their tactics—whining about the kids from Parkland and the dads from Parkland—that to me sounds like an organization that knows they're losing the message," Guttenberg said. "Rather than trying to defend their point of view, they come out with that nasty crap. That sounds like someone who knows they've lost."