Parkland Father Slams Hoodies With School Shooting Names and Bullet Hole Designs
The father of Parkland school shooting victim Jaime Guttenberg on Tuesday said he was "so upset" about a fashion brand's hoodies with names of schools where mass shootings occurred and holes depicting gunshots.
Two days earlier, Bstroy, a post-apocalypse streetwear fashion brand, posted four photos on Instagram of holed hoodies with the school names Sandy Hook, Columbine, Virginia Tech and Stoneman Douglas.
"Under what scenario could somebody think this was a good idea? This has me so upset," Fred Guttenberg tweeted. "If any of my followers no [sic] anybody involved with this clothing line, please ask them to stop it immediately."
In a reply to his own tweet, Fred Guttenberg tagged Brick Owens, @bRicKOwens, the founder of Bstroy.
Fred Guttenberg's 14-year-old daughter was one of 17 people killed in the Stoneman Douglas High School massacre in Parkland, Florida, on February 14, 2018. Since his daughter's death, he has become an advocate against gun violence. Guttenberg's Twitter profile states, "I will dedicate the rest of my life to the cause of gun safety."
Guttenberg's tweet earned support from many Twitter users, including Shawn Sherlock, the aunt of 14-year-old Parkland shooting victim Gina Rose Montalto.
"My 14-year-old fashionista niece was murdered in Parkland. She was a professional illustrator and aspired to be clothing designer like you," Sherlock tweeted, along with a picture of herself holding a photo of Montalto. "You should be ashamed of taking advantage of her death to make [sack of money emoji]. Today, I proudly wear her designs."
American actress Alyssa Milano quote tweeted Fred Guttenberg on Tuesday afternoon and commented, "This is disgusting."
Film producer Shaun O'Banion also replied to Owens.
"How could anyone - ANYONE - possibly think this is ANYTHING but completely insensitive, insulting, and disgusting?" O'Banion tweeted. "Cc: @fred_guttenberg (I'm so sorry Mr. Guttenberg and I hope he cancels this)."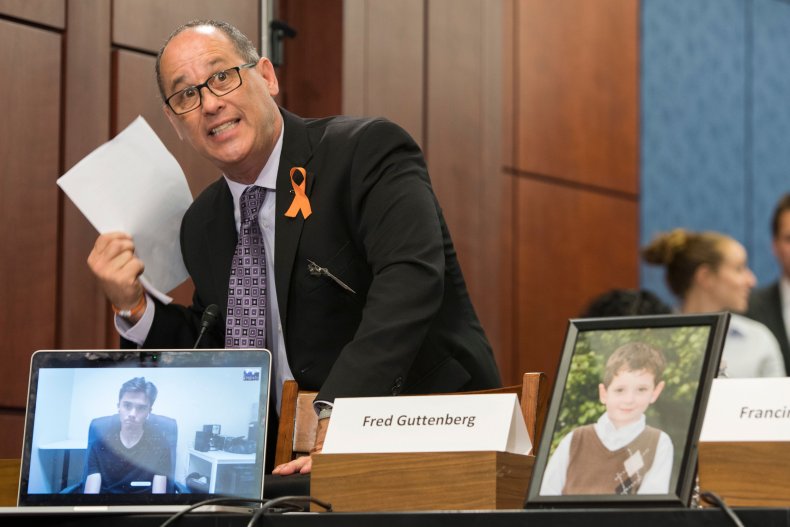 As of mid-afternoon Tuesday, Owens had not replied to Guttenberg or commented on backlash from others. On Sunday, Owens quote tweeted a post stating, "Reading the comments on the bstroy show are almost better than the clothes @bRicKOwens," and commented, "ALMOST!"
Bstroy released an "artist statement" on what inspired the collection.
"Sometimes life can be painfully ironic. Like the irony of dying violently in a place you considered to be a safe, controlled environment, like school," the statement reads. "We are reminded all the time of life's fragility, shortness and unpredictability yet we are also reminded of its infinite potential."