Rubio Praises Parkland Students but Warns Against 'Unrealistic Expectations'
Updated | Senator Marco Rubio has commended the student survivors of the Parkland, Florida, school shooting for their fight against gun violence but warned against setting "unrealistic expectations" for quickly enacting new gun control legislation.
The Republican senator from Florida applauded the actions of the students, who survived the February 14 shooting at Marjory Stoneman Douglas High School that killed 17 people, in an interview with The Guardian.
"They've done more in five weeks on gun violence than has been done in 15 years," he said. "The parents have come together, all 17, even though they don't always agree. They aren't out there saying, 'Don't vote for anything unless we have everything.'"
Rubio said an increase in partisan politics and taking an all-or-nothing stance could slow down efforts to reduce gun violence.
"The attitude of total victory—the idea that somehow some of us are going to come up here and get everything we want and just run over the other side—our system is just not set up for that," Rubio said. "We're creating unrealistic expectations and, in the process, nothing happens."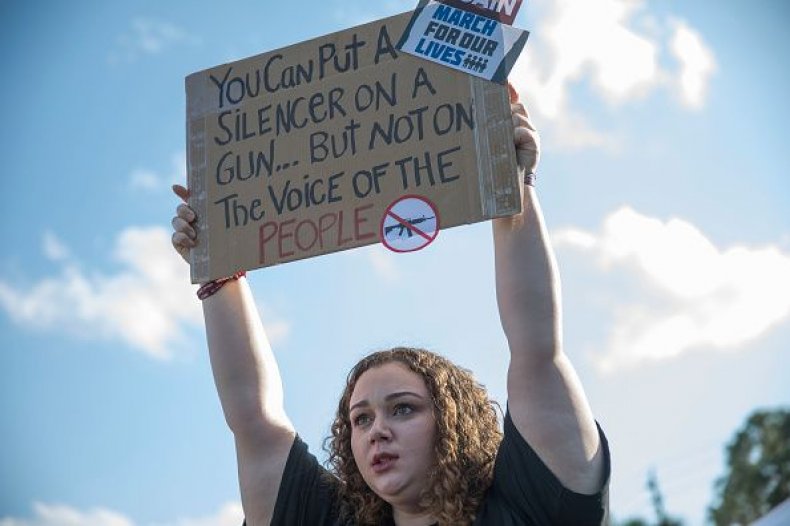 A spokesperson for Marco Rubio told Newsweek that the senator's comments are clear enough. Rubio has said repeatedly that creating policy is not a zero-sum game, according to the spokesperson, and that both parties need to work together to create a solution.
The senator has received a lot of criticism in the wake of the school shooting for accepting money from the National Rifle Association. During an exchange with a Marjory Stoneman Douglas student at a CNN town hall, the student asked if he would stop taking donations from the NRA.
"Can you tell me right now you will not accept a single donation from the NRA?" asked Cameron Kasky.
Rubio skipped around the question and said in response that he took donations only from people and organizations who believe in his agenda. After being pressed with the same question, he refused to say he would not accept NRA money.
Earlier this month, Rubio introduced gun control measures to try to prevent school shootings, including "gun violence restraining orders," which would take away firearms from those deemed at risk of harming themselves or others.
Lawmakers are set to meet with Parkland students in Washington, D.C., Friday before the March for Our Lives rally on Saturday, where students will demand safety in their schools.
Correction: A previous version of this story misquoted Senator Marco Rubio's representative as saying "zero-sum game" instead of "not a zero-sum game." The headline was also changed to more accurately reflect the fact that Rubio warned against unrealistic expectations but did not say the students had them
Rubio Praises Parkland Students but Warns Against 'Unrealistic Expectations' | U.S.