Fred Guttenberg lost his daughter Jaime over three years ago in the deadly mass shooting at Marjory Stoneman Douglas High School in Parkland, Florida. Now Guttenberg hopes the man responsible for the tragedy doesn't avoid the death penalty because of a sudden change to his plea.
On Wednesday, Nikolas Cruz, 23, pleaded guilty to 17 counts of first-degree murder for the February 14, 2018, deaths of 14 students and three staff members. Prosecutors resisted pushes from the defendant's attorney to have him plead guilty in exchange for a life sentence. It will be up to 12 jurors to determine if the 23-year-old is placed on death row.
"I want my daughter's killer to pay the ultimate price with his life for what he did," Gutenberg told Newsweek. "I want the death penalty."
The shooter had been expelled from Marjory Stoneman Douglas High School the year before the shooting and had a history of threatening, unusual and at times violent behavior.
Police said the defendant, 23, confessed to having carried out the shooting. He had previously pleaded not guilty to the 17 counts of murder in 2019. Few details were shared about what prompted him now to change his plea.
The 23-year-old's attorneys are likely to use his guilty plea to try to persuade a jury to spare his life, arguing that he took responsibility for his actions. However, the Broward State Attorney's Office confirmed there were no "plea negotiations."
Broward State Attorney Mike Satz has been pushing for a death sentence and remains the chief prosecutor on the case despite having stepped down as state attorney in January. Harold Pryor, his successor, opposes the death penalty but said his office would review every case that is eligible for the death penalty.
Twenty-seven states allow for capital punishment, an issue that's been debated for decades. Just as the two attorneys have been split on the form of punishment, so are the families of the students who were killed during the Parkland shooting as well as the victims.
"We all know he is guilty, and finally, he knows he is guilty and will share that," Manuel Olivier, whose son Joaquin was killed, told WSVN. "I'm glad it is not that easy to get rid of the death penalty. It's not like, 'I'm guilty, now I won't die because of this.'"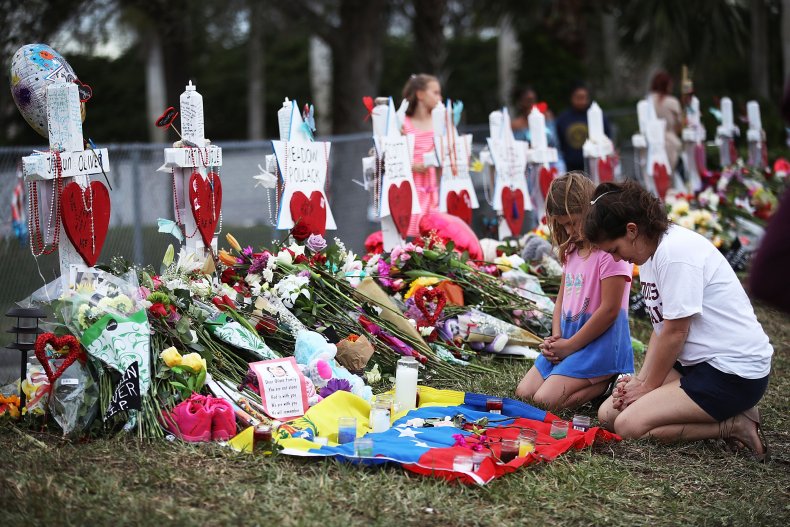 Lori Alhadeff, whose daughter Alyssa was killed, also backed a jury finding the 23-year-old's crime warranted the death penalty. She told WPLG that it was "very important" to her and her family that the 23-year-old doesn't "live a life in prison" but is "executed and killed."
Cameron Kasky, a survivor of the shooting, posted on Twitter that it's a "good thing when somebody who committed mass murder confesses to committing mass murder." However, he called the death penalty "archaic and unacceptable," adding, this is not the "Stone Age."
Given that the 23-year-old is still headed for a penalty phase—where the death penalty remains on the table—Guttenberg, who was surprised by the shooter's new plea, criticized the decision to drag out the trial.
"Based upon the choice they're making this could have been done three-and-a-half years ago. It has put my family and other families through hell," Gutenberg told Newsweek.
Gutenberg attended Wednesday's hearing. While it's "almost impossible" to remain calm in the courtroom, he said he would do whatever was necessary to contain himself so as not to "make anything worse."
After the hearing, with strength and guidance from his late daughter, Gutenberg plans to return to the cemetery to visit her.
"There may be a path to justice but not closure," he said.