Mike Pence Urges CPAC Audience to Trust the Power of Prayer in Wake of Florida Shooting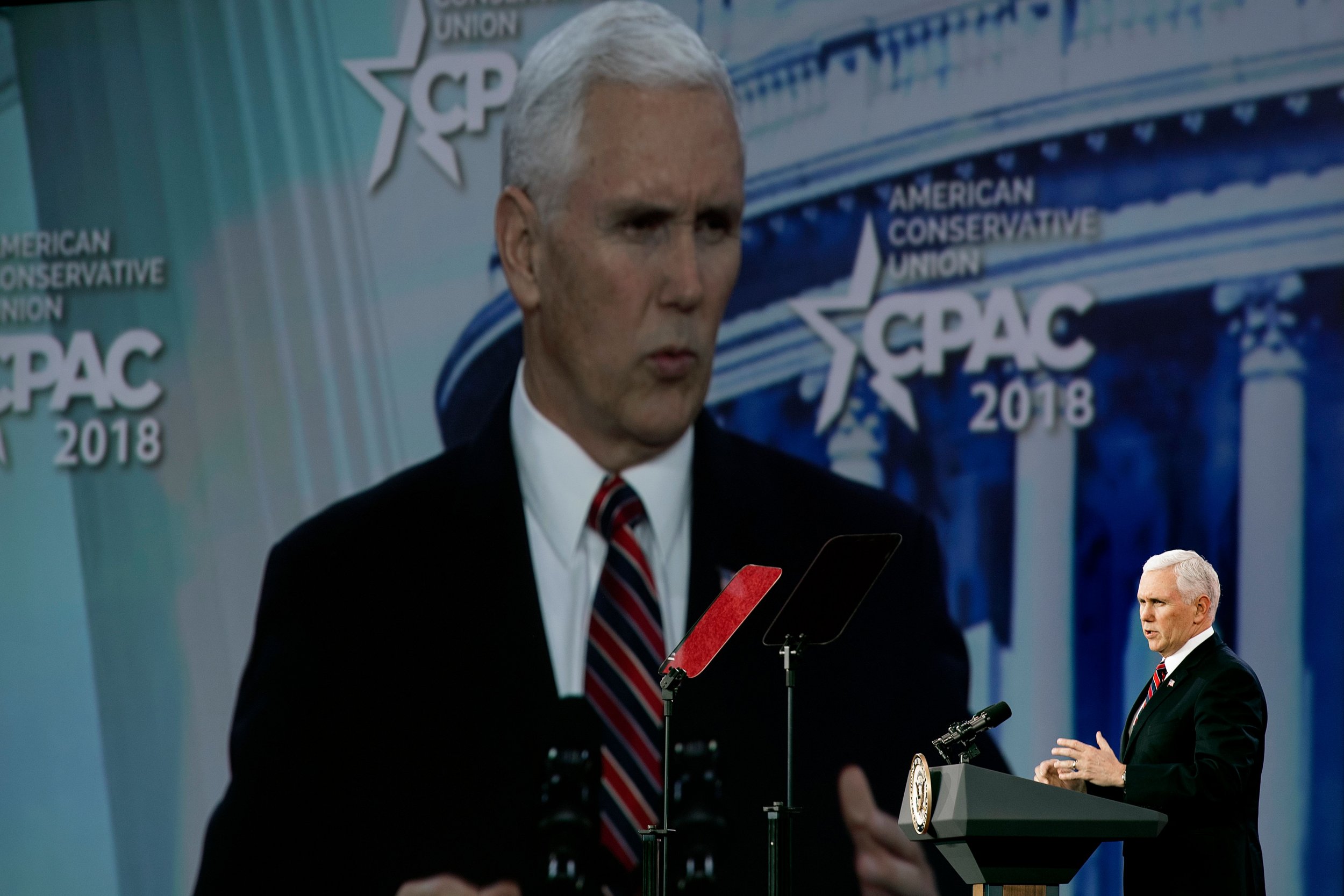 Taking the CPAC stage after NRA President Wayne LaPierre and NRA spokeswoman Dana Loesch issued shrill and angry warnings about the Parkland backlash on unfettered gun rights, America's second couple inserted the first note of calm and traditional political rhetoric into the day's proceedings.
Karen Pence, promising to "pull back the curtain" on her husband, said he was known in Indiana as "Rush Limbaugh on decaf." She then shared what she said were five things we don't know about Mike Pence. Every Friday he eats pizza and has an O'Douls, the alcohol-free beer. The feedback he most respects is from his three children. He is an amateur cartoonist, a voracious reader and, if he could buy anything in the world, he'd buy a horse.
The horse-less Vice President then strode to the podium, and opened by somberly describing the meetings he and President Trump held with the Parkland shooting victim families on Wednesday. He said Trump was ordering the DOJ to beef up gun sale background checks, and promised the administration would work with all sides to "come together ... and find American solutions and end this evil in our time."
He then delivered a standard cheerleading speech for the Trump administration, saying Trump had made good on every campaign promise, from tax cuts to allowing states to defund Planned Parenthood and pulling out of the climate accord. He drew a standing ovation when he mentioned moving the U.S. embassy in Israel to Jerusalem. The Mexico border wall, he promised, was still to come.
He also hit a rare conciliatory note, after a morning in which speakers have been urging the crowd, repeatedly, to turn around and hiss or boo at the rows of "fake news" journalists working in the back of the ball room. "We are becoming too disconnected from each other," the vice president said. "Increasingly we have lost sight of who we are as a people. Here in the United States of America, there will always be more that unites us, than will ever divide the good and great people of this country. So let's try to reconnect in the days and debates that come ahead."
The fundamentalist Christian veep then closed with a call to faith. "Lastly, I believe we should try to reconnect to something deeper ... someone who I believe has always been the source of our strength and, more than that, our hope." Quoting the late Billy Graham, spiritual adviser to many presidents and pols who died yesterday at age 99, he urged the audience to trust the power of prayer.