Parkland School Monitor Admits 'All the Signs Were There' About 'Crazy, Racist' Nikolas Cruz Before Shooting
A monitor at Marjory Stoneman Douglas High School in Parkland, Florida, described to investigators the moments alleged shooter Nikolas Cruz entered the campus before beginning his deadly rampage—and said staff always suspected he would be behind any such atrocity.
Andrew Medina, 39, was unarmed and in a golf cart as he watched Cruz, 19, leave an Uber vehicle with a backpack and a large black bag before "walking with a purpose" and "head down" toward a school building.
Medina told detectives in an interview after the shooting on Valentine's Day that he recognized Cruz, who was a former student at the school—though could not at the time recall his name—and began to tail him while texting other security guards to alert them. Cruz looked around at Medina before starting to run to the building, disappearing into it. Medina radioed to a security colleague inside the building.
The unarmed monitor, who is also a baseball coach, then heard multiple "suspicious" bangs within a minute and reported them on the radio, though he was not sure at first it was gunfire.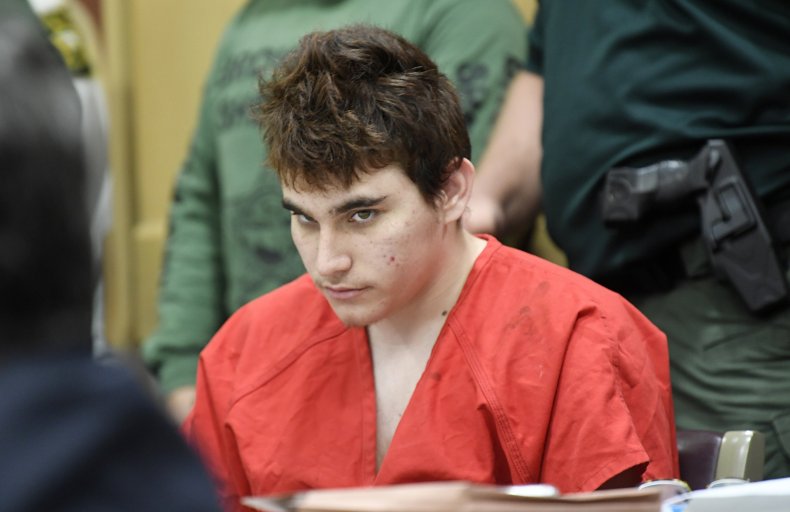 Medina went to fetch the school's only armed member of staff, school safety officer Scot Peterson, who confirmed there was a shooter on campus but remained outside the building Cruz had entered, a decision for which he has been criticized.
"I knew the kid from the school from last year. We had a problem with him," Medina said in the video of his interview, released by Broward State Attorney's Office as part of its criminal case against Cruz, accused of murdering 17 people, many of them students, and injuring 17 more.
Medina described Cruz as "crazy" and said he wore camouflage masks to jump out and scare fellow students. He also said Cruz was known for "a lot of racist stuff" and for a long time had issues at the school.
"I knew who the kid was because we had a meeting about him last year and said if there's going to be anybody who's going to come to this school and shoot the school up, it's going to be that kid," Medina said.
"Because he had problems with everybody, like all of the security people. He was one of those kids who...was rebellious, you know. He had '666' on his book bag. He had the...swastika, he had all that crazy stuff.
"So they got rid of him out of the school. They withdrew him out of school because he had issues. All the signs were there, so they got rid of him."
Medina added, "We always was watching him. He was one of those kids you always kept an eye on."
When Medina heard the gunfire, he said "you could feel the percussion coming out of the building, it was so loud."
But he admitted to being hesitant to immediately escalate his suspicions to the highest warning code on the radio as he did not see the gun himself. Recent training at the school played on his mind, and he feared that he could be responsible for triggering a false alarm and a huge emergency service response by overreacting.
"We've been doing this training at the school, you know—don't yell it unless you've got a good visual, because you go Code Black, they shut the whole [school], you got all those cops out there for nothing, then—I don't want to be the guy who caused that, you know," Medina said.
Cruz is awaiting trial and faces the death penalty if convicted. His alleged actions on February 14 reignited America's gun control debate. Survivors of the Parkland school shooting launched a national campaign against gun violence in schools, culminating in a march on Washington, and called on legislators to tighten gun laws to protect students.
President Donald Trump wants to see more armed teachers in schools across America as a response to Parkland and other campus shootings.