Video: Parkland Shooter Nikolas Cruz Punches Own Face, Says He Hears Demons in Confession Tapes
Prosecutors in Florida released hours of footage on Wednesday showing the interrogation and chilling confession of alleged Marjory Stoneman Douglas High School shooter Nikolas Cruz.
In the video, Cruz, 19, can be seen punching himself in the face multiple times, rambling about demons, and pretending to shoot himself in the head, while muttering "just kill me." The interrogation occurred hours after he was captured and arrested on suspicion of killing 17 students and injuring several others at Marjory Stoneman Douglas High School on Valentine's Day.
"I hear demons," Cruz told Broward Sheriff's Detective John Curcio. "A voice, demon voice."
"The voice is, is in me," he continued. "To me, it's me and then my bad side…It's a voice. The voice is in here and then it's me, it's just regular me, just trying to be a good person."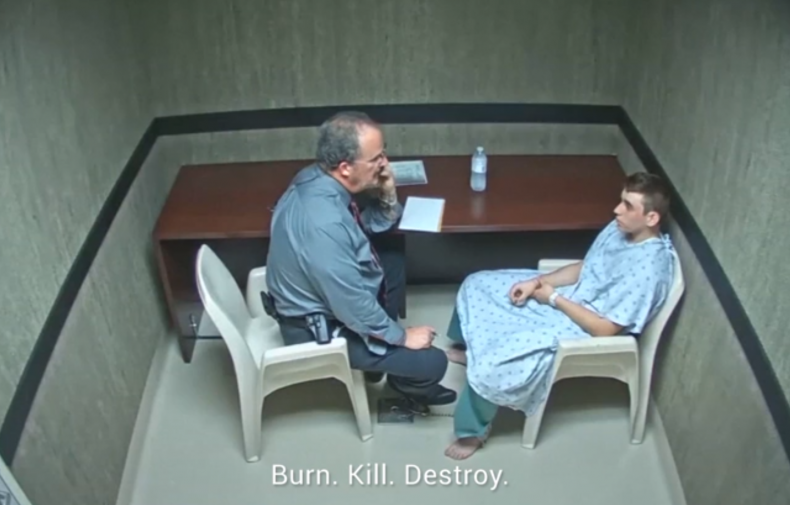 Cruz told authorities that this voice—which he claims got worse after his mother died last November—instructed him to purchase three AR-style rifles and three shotguns in order to kill the students at his former high school.
He then called himself a "coward" and started hitting himself while muttering "stupid" and "worthless."
"I want to die," Cruz said, after being left in the interrogation room alone. "At the end, you are nothing but worthless shit, dude…You deserve to die because you are fucking worthless."
Cruz's attorney attempted to block the release of the tapes, arguing it would influence jurors. However, the judge allowed a portion of the footage to be released on Wednesday by the State Attorney's Office.
"It's painful [to watch]," Ryan Petty, whose daughter was killed in the massacre, told WPLG. "I mean, it's clear to me we've got a sick individual that I think at the time was coming to grips with what he had just done."
"I don't like to think about that day, to be honest. But if we're going to figure out how to stop this, we've got to try to understand it."
The video surfaced two days after police released a redacted 217-page transcript of the same interview, where Cruz revealed to Curcio that the "demon" voice—which he described as male and around his age—demanded that he start shooting people at an unspecified park a week before the Parkland shooting. He then admitted that he didn't know why he carried out the orders.
Cruz was charged with 17 counts of murder and 17 counts of attempted murder.