Florida Panel Investigating Parkland Shooting Approves Trump-Backed Recommendation to Arm Teachers
As the grief following a shooting at Marjory Stoneman Douglas High School settled in, the tragedy begged the question, "How can we stop this?" Months after 17 people lost their lives, a commission released a draft of their recommendations for solutions.
Ahead of the January 1, 2019, deadline, the Marjory Stoneman Douglas High School Public Safety Commission released a draft of the recommendations they would present to Florida's governor, speaker of the House of Representatives and the Senate president. Among the proposed solutions to prevent and quickly stop school shootings, was the suggestion of arming teachers.
The report pointed to several moments during the shooting that, had employees been armed, the shooter could have been stopped, noting that one armed school resource officer (SRO) was not enough. In one instance, football coach Aaron Feis came face-to-face with the shooter and was fatally shot while saving the lives of students.
In August, the Coach Aaron Feis Guardian Program was created. It allows the sheriff and school to allow employees to carry a firearm in schools to respond to an active shooter situation. Participants must be volunteers that:
Have an active license to carry a concealed weapon
Complete 132 hours of comprehensive training
Complete 80 hours of firearm instruction
Complete 16 hours of instruction in precision pistol
Complete Eight hours of discretionary shooting instruction
Complete Eight hours of instruction in active shooter or assailant scenarios
Complete 12 hours of instruction in legal issues
Undergo psychological evaluation
Pass initial and random drug tests
Complete ongoing training, weapon inspection and firearm qualification
Complete 12 hours of a certified nationally recognized diversity training program
The guardian program currently only allows certain employees, such as security guards or administrators to carry a firearm. However, Polk County Sheriff Grady Judd told the South Florida Sun-Sentinel the program needs to be expanded.
"In the ideal world, we shouldn't need anyone on campus with a gun, but that's not the world we live in today," Grady said. "One's not enough. Two's not enough. We need multiple people in order to protect the children."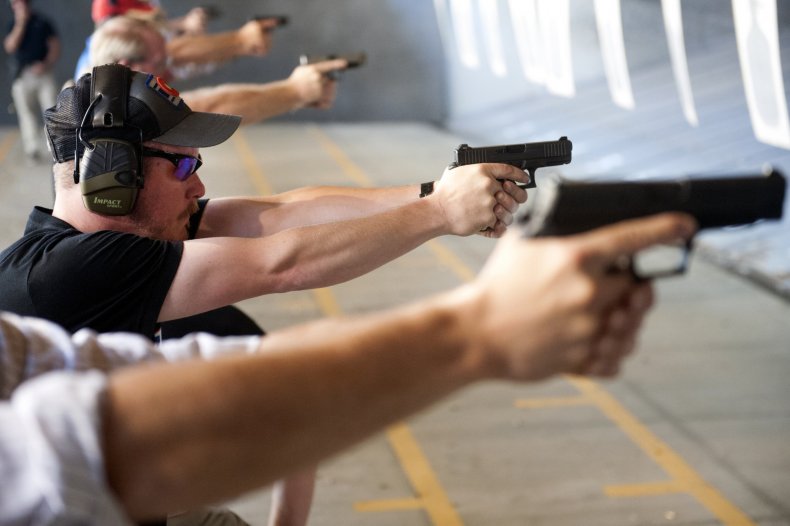 On Wednesday, the commission voted 13-1 to recommend expanding the state law to also allow classroom teachers to volunteer to carry a firearm and respond to an active shooter threat, according to WLRN. For the recommendation to be put in place, it would require approval from the state legislature as well. Teachers would solely be allowed to use their firearms during an assailant situation.
"I, along with the rest of the commissioners who watched all of the surveillance videos that we have, cannot unsee the things that we've seen," Democratic State Senator Lauren Book, who is on the commission, said. "And [I] cannot argue [with the idea] that we need to have more good guys with a gun on school campuses."
Ryan Petty, whose daughter Alaina was killed during the shooting, said teachers' defenselessness convinced him that allowing them to volunteer for the program was the right thing to do. He called not giving them the opportunity to protect themselves when at the wrong end of a semiautomatic rifle a "disservice to teachers."
Max Schachter, whose son Alex was killed, is on the commission and was the single vote against allowing teachers to be armed because they should focus on teaching. Instead, he supported arming administrators and would prefer other tactics, such as putting smoke cannons in hallways to temporarily blind shooters.
Debra Hixon, whose husband, Chris, was killed during the shooting, told the commission that given his background in the military and security, he would have been ideal to be armed on February 14. However, she explained that for teachers, it would be a distraction to be armed and there would be a higher probability of something going wrong than a shooter being in the classroom.
The concept of arming teachers is one President Donald Trump has supported. In the aftermath of the shooting in Florida, Trump tweeted that armed educators and others within the school would protect students. Given the proper training, the president called it a "big and very inexpensive deterrent," but added that it should be up to each state to decide if they'll implement.
Along with arming teachers, the commission recommended increasing the training of school resource officers and implementing a ratio system to determine the number that would be employed. School populations, including staff and teachers, were broken down into increments of 500, beginning with less than 500 and the last bracket being over 3,500. Then, a point value would be assigned to determine the number of school resource officers or guardians a school would have.
At least one law enforcement officer would also be placed on every elementary, middle and high school campus, as well, according to the commission's recommendations.
The draft is not a final recommendation list and could change before the deadline, which is the end of the year.