Father of Parkland Shooting Victim on Mission to Memorialize Daughter Through Orange Ribbons, Advocacy
It's been a little more than two months since 14-year-old Jaime Guttenberg was shot and killed at Marjory Stoneman Douglas High School in Parkland, Florida. For her father, Fred Guttenberg, those intervening days have largely been spent thinking about the last time the two spoke. It was the morning of February 14, the day of the shooting,and the Guttenbergs were running behind schedule.
"What I can't remember about that morning—and it will haunt me for the rest of my life—is if I said 'I love you,'" Fred Guttenberg said in a recent interview. "What was the last thing I said to my daughter? How can I not remember that simple little thing?"
He tries to push back the thought, but it always resurfaces. He says he needs to keep busy, doing something—anything, really—from morning to night to avoid sinking into depression. Like many of the Parkland survivors and their family members, Guttenberg has chosen activism. The former business owner estimates he spends anywhere between 40 to 80 hours a week plugging away at his nascent nonprofits, Orange Ribbons for Jaime—a nonprofit that will benefit dance studios and other causes Jaime cared about—and Orange Ribbons for Gun Safety, a forthcoming political organization advocating for more comprehensive gun control.
Later this week, he'll be flying to Washington, D.C., and working there. When he's home, he's firing off emails, staying up to date on the news cycle, hosting local fundraisers, giving interviews, contacting representatives, setting up a website. He's become one of the most public-facing parents in the aftermath of the shooting, going toe-to-toe with Marco Rubio during a CNN town hall on gun reform.
His wife and son, who are also grieving, have been "incredibly" supportive, Guttenberg says.
"They wish I'd slow down," he says. "But, there's just too much to do."
"I'm dedicating my life to this," he continued. "Other than taking care of my wife and my son, there's nothing else I think about wanting to do. There's nothing else I care about. Doing things I used to do, I don't enjoy because I don't have my daughter anymore. I have to find ways to use my time that feel important to me."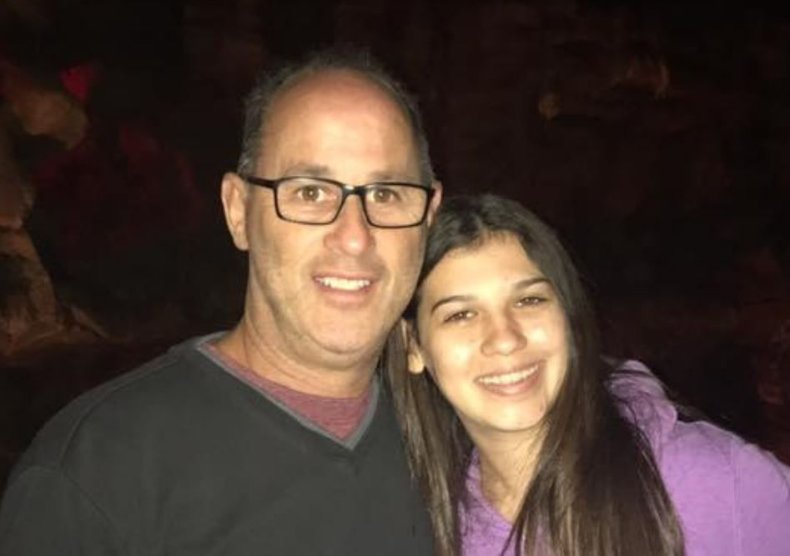 Guttenberg knows additional gun control legislation won't happen overnight, though that is something he's working toward every day and is actively advocating for with Orange Ribbons for Gun Safety. He's also concentrating his efforts on establishing the orange ribbon as the official symbol for gun violence awareness. Jaime would like that, he thinks. She loved the color orange. Her dance teammates, whom she had known for the better part of a decade, even wore orange to commemorate her in a now-viral photo, inspiring other dance troops across the country to do the same.
The power of that photo—the way it went viral, and seemed to resonate with people—was something Guttenberg had never experienced. He decided the gun safety movement was lacking a universal symbol—like pink ribbons and breast cancer.
"About 10 days after her murder, I found out orange was also the color of the gun safety movement," Guttenberg said. "So why shouldn't we have an orange ribbon, an orange ribbon for Jaime?"
"We Americans, we love our symbols," he continued. "People need to have something to identify with, that they can walk around with and that identifies them as part of the cause."
He's already started handing out the ribbons. At the March 24 March for Our Lives protest, he carried hundreds of them, handing them out to whoever wanted one. Eventually, once he gets a better website up and running, he'll give them away to donors or sell them to fund his advocacy efforts. He has already raised more than $100,000 via a GoFundMe page.
His plan is to cement the ribbon into the public consciousness, so no one will ever forget Jaime, or why she died. He thinks the country is at a turning point, and it needs to be capitalized on now before attention fades, as it seemingly does with each of the hundreds of mass shootings that have happened over the last few years. Already, according to a poll from Gallup, the public's interest in the topic has decreased by half since March, falling from a record high.
"My daughter was a lot of things," he said. "She was the toughest person I know, not just the toughest kid I know. She made people feel good, she made them laugh, she wanted to be a pediatric physical therapist. Everything she did in her life, she did it with a purpose."
"So, if something like this happens again and I didn't do everything I could…" he said, trailing off. "No, my daughter's memory means more than that."