Since Parkland Shooting, NRA-Backed Bills Have Advanced in Large Numbers in State Legislatures
Since a gunman shot and killed 17 people at a Parkland, Florida, high school in February, state legislatures across the country have responded to activists by introducing a number of gun control measures. But while the Parkland shooting has generated a new wave of gun control activism, many state lawmakers have pushed back with bills that protect their constituents' Second Amendment rights.
Republican governors in Florida and Vermont have signed gun violence prevention packages into law in the two months since the Parkland shooting. "Red flag" legislation, which would enable family members and law enforcement to request court orders to temporarily prohibit dangerous people's access to firearms, are before legislatures in 28 states and Washington D.C., according to gun-control advocacy group Everytown for Gun Safety. But in some rural states, Second Amendment advocates are digging in their heels on the gun rights.
While the National Rifle Association (NRA) has opposed dozens of state gun control bills across the country, it has also endorsed more than 25 bills that were introduced in state legislatures this past legislative session. Some of the bills were largely uncontroversial tweaks to hunting regulations, while others sought to implement "stand your ground" laws, expand access to concealed carry permits, overturn magazine ammunition limits, allow off-duty law enforcement officers to serve as school security guards and prevent private organizations from limiting firearms on their premises.
Several have become law. One could become a constitutional amendment.
In Iowa, lawmakers in both chambers passed a joint resolution in March that would begin the process of adding an amendment to the state's constitution affirming the right of citizens to keep and bear arms as well as subject any restrictions on that right to the strictest legal scrutiny. Voters will eventually have to pass the amendment by referendum in order to amend the state constitution.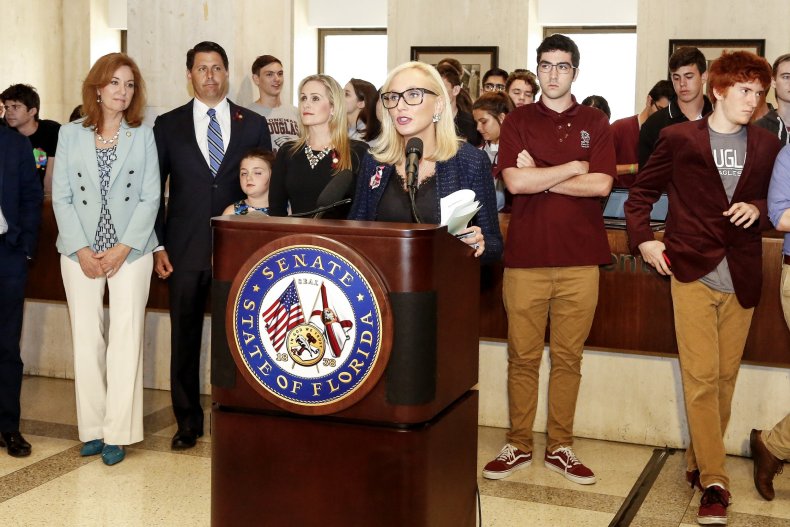 In March, West Virginia Governor Jim Justice, who switched his party affiliation from Democrat to Republican last year, signed a bill, dubbed "a parking lot protection bill" by the NRA, that prohibits certain employers from banning firearms on their premises.
"Stand your ground" bills became law in Idaho and Wyoming. "Stand your ground" laws eliminate requirements that law-abiding citizens attempt to retreat, or remove themselves from a situation, before using deadly force in self-defense. That type of law garnered widespread attention during the Florida trial of George Zimmerman, who claimed self-defense after killing Trayvon Martin in 2012.
In Colorado, the Senate passed a bill that would repeal the state's ban on large-capacity ammunition magazines instituted after a 2012 mass shooting at a movie theater in Aurora, Colorado. The bill is scheduled for an April 25 hearing in the Colorado House of Representatives.
At least one law sought to protect not just gun owners' guns but also their private data. Nebraska Republican Governor Pete Ricketts signed a bill into law last week that exempts personal info associated with firearm records from public records requests.
Additionally, Republicans in South Carolina are ready to renounce statehood altogether if the federal government overreaches on guns. A bill currently in committee would allow the legislature to debate seceding from the U.S. entirely if the federal government began confiscating legally purchased firearms in the state.
Despite the advancement of some pro-gun bills, gun control advocates say they have the upper hand.
"The gun lobby can try to spin it, but the truth is the NRA's deadly agenda is failing in statehouses across the country, as lawmakers from both sides of the aisles in red, blue and purple states -- from Kansas, to Vermont, to Florida -- are passing common-sense gun safety legislation that will help save lives," Shannon Watts, founder of Moms Demand Action for Gun Sense in America told Newsweek in a statement. "Momentum is on the side of gun safety and lawmakers should take notice."
The NRA did not immediately respond to a request for comment.